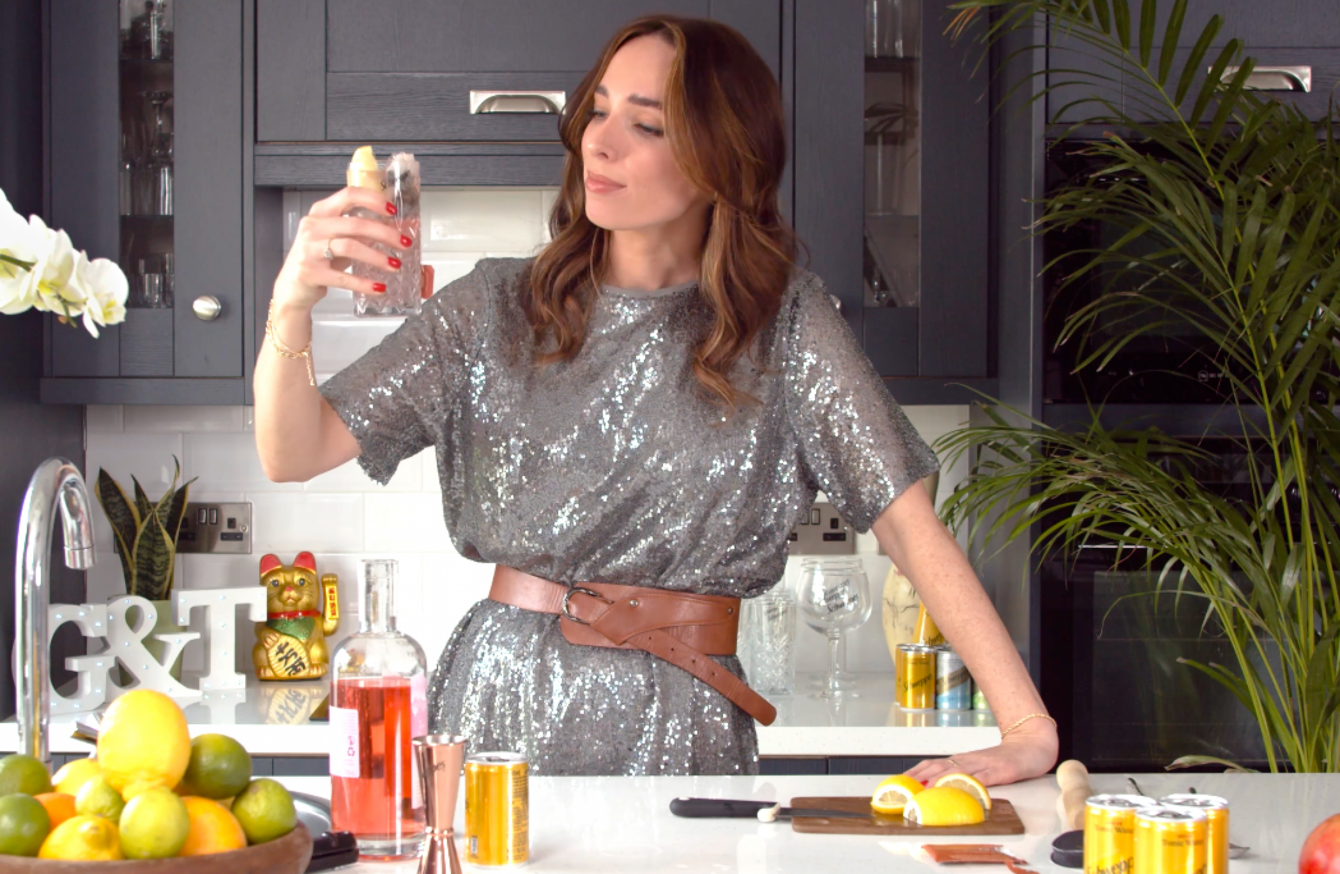 Source: Journal Media Studio/YouTube
NO DRINK SAYS 'cheers' quite like a gin and tonic. It's a Christmas classic for a reason – and the classic tonic and lemon combo is a winner all year round.
But what if you want to give your G&T a lift this festive season? Add a little razzmatazz as you raise a glass?
This Christmas, we've teamed up with Schweppes and cocktail lover Ciara O'Doherty to bring you an anyone-can-do-it guide to drinks that will create a little magic at home. Our mission: to bring bubbles to every festivity and add sparkle to every 'Sláinte', whether that's a night in with loved ones or a Zoom catch-up with your crew.
Over the next few weeks, Ciara will be sharing some inspiration for every occasion – from a cosy night in, to a festive get-together (over video, of course). And today we're kicking the series off in style with three ways to add sparkle to any G&T. 
"Everybody knows and loves this drink, so we're going to add a sparkly twist," says Ciara. "Because of course it's sparkly season."
1. The G&Tea
Yes, you read that right: a G&Tea. "The G&Tea is such a fun cocktail to whip out during the festive season," says Ciara. "The floral tea bag not only adds a gorgeous flavour, it's a great talking point."
By simply infusing the gin for a couple of minutes, you can take your gin and tonic to the next level. "You can use any floral teabag you have," says Ciara. "Have a little root in the cupboard and see what's there. It might seem a little weird in the beginning, but it's going to be beautiful."
35ml gin – any pink gin or fruity gin will work perfectly
1 floral tea bag (eg jasmine)
150ml Schweppes Classic Tonic
Lemon slice
Pour your gin into a highball glass. Add the tea bag and let it infuse for around two minutes; then remove the tea bag, and fill the glass up with ice. Add tonic water and top with a lemon slice.
Cheers!
2. The Light & Bright
A grapefruit wedge adds extra zing to this twist using light tonic water.
35ml Irish Gin
200ml Schweppes Classic Slimline Tonic Water
Wedge of pink grapefruit
Take a copa glass or large balloon wine glass and fill to the top with ice. Pour in the Irish Gin and mix with Schweppes Classic Slimline Tonic Water; then drop the grapefruit wedge into the glass. Enjoy!
3. Perfect G&T
To give a festive feel to your classic G&T serve, use orange peel and juniper berries for a real winter wonder.
35ml Premium Gin
150ml Schweppes Signature Crisp Tonic Water
Orange peel and juniper berries
Fill a copa glass with cubed ice. Pour the gin over the ice and mix with Schweppes Signature Crisp Tonic Water. Gently stir in orange peel and juniper berries, and raise your glass!
Whether you want to add fizz to a festivity or sprinkle some sparkles on a cosy night in, there's a Schweppes serve for you this Christmas. Schweppes – we've got the tonic, you've got the spirit. For more inspiration check out our In The Mix cocktail hub, or visit instagram.com/SchweppesIreland.