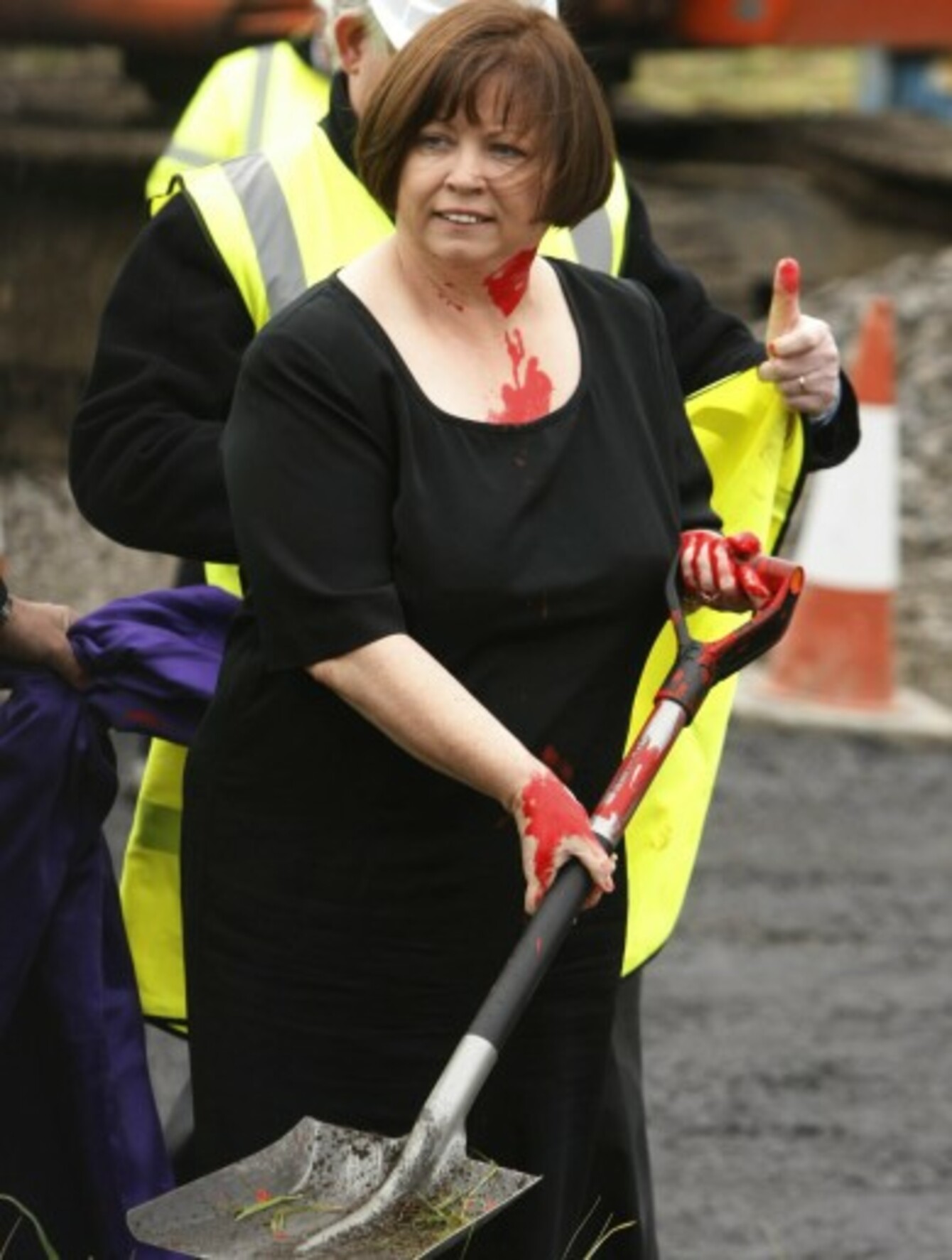 Remember this? Mary Harney gets painted in November 2010.
Image: Niall Carson/PA Archive/Press Association Images
Remember this? Mary Harney gets painted in November 2010.
Image: Niall Carson/PA Archive/Press Association Images
LAST WEEK IT was a roll of sellotape and this week the Taoiseach's car had to endure a downpour of eggs.
But Enda Kenny isn't the first politician to have various items pelted at him. He joins an ever-growing list of world leaders and decision makers to have a variety of funny headlines written about such incidences (just Googling "objects thrown at politicians" will throw up almost 60 million results).
Shoes, pies and eggs remain the most popular objects to hurl at politicians but some throwers like to be a bit more inventive. Here, TheJournal.ie has documented some of the more famous YouTube-able events of the past 12 years.
Tony Blair, purple powder
In 2004, protesters threw a purple-coloured powder into the chamber of the House of Commons, hitting Prime Minister Tony Blair before the speaker suspended proceedings. The exchange between the PM and Michael Howard before the purple haze descends is quite heated as well:

(We think the woman in the purple dress takes some of the dramatic effect away).
Mary Harney, red paint
In November 2010, Mary Harney, then Health Minister in Ireland, saw her popularity plummet to such low depths that she had red paint flung at her while opening a new facility at Cherry Orchard Hospital in Ballyfermot (main article picture).
Dublin City Councillor Louise Minihan received a two-month sentence and was fined €1,500 for criminal damage and assault after admitting responsibility.
Gardaí take away a bottle of red paint and a handbag after the incident. Image: Niall Carson/PA Archive/Press Association Images
Silvio Berlusconi, a little souvenir cathedral
Yes, really. One just like this, in fact:
The Italian premier had his nose broken and two teeth knocked out when a man attending a political rally threw the statuette of Milan's Duomo gothic cathedral straight in his face.
Berlusconi spent the night in hospital in December 2009 after the incident but appeared in good spirits the next day.
Lord Mandelson, green custard
The UK's business secretary Lord Mandelson had green custard thrown at him by a member of the Plane Stupid group which was set up to campaign against a third runway at Heathrow in 2009.
Trying to be fair and polite, the thrower – 29-year-old Leila Deen - told the politician it was only custard before she hurled it at him.

Sarah Palin, rotten tomatoes
Back in December 2009, a man was arrested in Minnesota after allegedly throwing two tomatoes at Sarah Palin. Bad aim and Palin's own good luck saw the guy miss and hit two police officers instead.
Although we couldn't find an image or a video of the incident (well played Palin PR people), look how awesome the one-time US VP nominee was at signing books that day:

The incident also inspired this
great post
from Gawker, defending the tradition of throwing foodstuffs at people we don't like. And pointing out that tomatoes are a whole lot less offensive than turnips, the first vegetable to be thrown in protest.
Barack Obama, a paperback
This is an odd one. Obama had a paperback book thrown at him during a rally in Philadelphia in October 2010 – but the thrower – later described as an "over-exuberant supporter" didn't mean any harm and he also wasn't protesting about anything.
Why did he do it? Because he was the book's author and he wanted the president to read it. Obviously.
Here's the slow-motion video of the event (plus, bonus streaker):

George Bush, a shoe
In probably the most famous act in the things-being-thrown-at-world-leaders category is the George Bush shoeing incident of 2008.
During the US president's trip to Iraq in December of that year, an angry reporter let fly.

Bush isn't the only politician to consider footwear a deadly weapon. There is a whole Wikipedia page dedicated to the art of
shoeing.
Dominique Strauss-Kahn, Tony Blair, Greece's George Papandreou and the former president of Egypt Hosni Mubarak have all been brought to heel (see what we did there?) by the levelling of a sandal. And that's without even mentioning Alex Ferguson and the
dreaded football boot.
John Prescott, Bill Clinton and others, raw and rotten eggs
Former deputy Prime Minister of the UK John Prescott sent his campaign team into a flurry on 16 May 2001 after he punched the man who threw an egg at him at point black range:

Former US President Bill Clinton is a man not so easily flustered. On being egged by an anti-globalisation protester (remember them?) just a day later in Warsaw, Poland, Clinton continued on his stroll while smoothly removing his jacket. He later remarked that it was "good for young people to be angry about something".
Just because you are a megastar, doesn't mean everyone is pleased to see you.
While campaigning for the governorship of California in 2003, Arnold Schwarzenegger seemed to have learned from earlier incidents. He said the egging was a great sign of America after quipping that the guy now owed him some bacon:

Nicolas Sarkozy, a pie
The ex-French president joined the pied group of politicians quite early in his career when noted Belgian pie-thrower Noel Godin got him in 1997. He was then the mayor of Parisian suburb Neuilly-sur-Seine…and quite annoyed by the whole incident:

Other mentions here have to be given to non-political figures such as billionaires Bill Gates and Rupert Murdoch for their headline-making pieings.
Have we missed any famous throwing incidents? Let us know in the comments section.