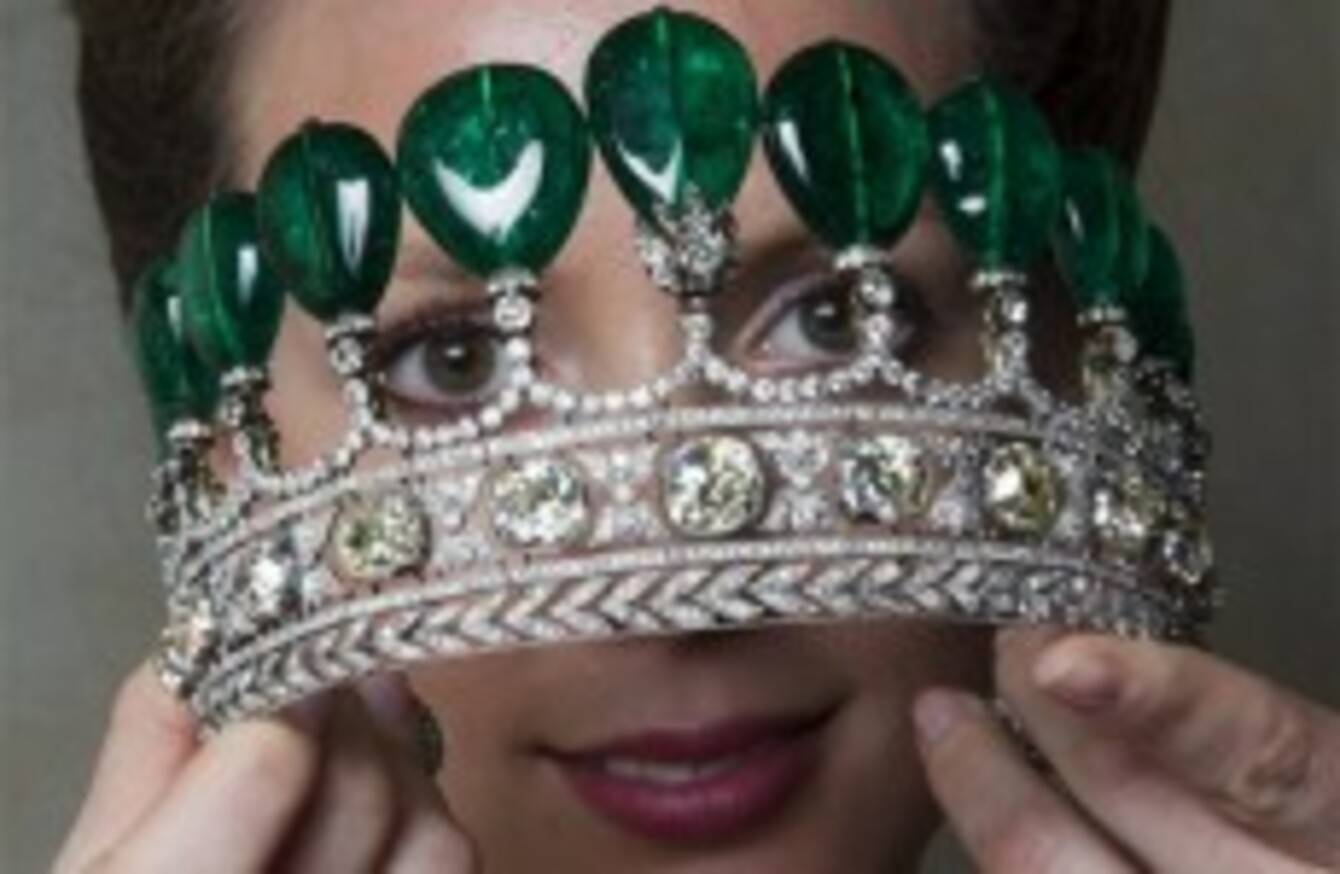 An extremely rare emerald and diamond tiara dating from around 1900 which fetched €8.9m at auction.
Image: AP Photo/Keystone, Salvatore Di Nolfi
An extremely rare emerald and diamond tiara dating from around 1900 which fetched €8.9m at auction.
Image: AP Photo/Keystone, Salvatore Di Nolfi
AUSTERITY, what austerity? Spring auctions in Switzerland have fetched nearly €140 million in sales of rare jewels, watches and wine, some at world record prices, in the past week.
Christie's said Thursday it has sold more than €75.8 million in three days, including record amounts of €7.65  million paid for a 56-carat heart-shaped diamond that is internally flawless and €5 million for a 130-carat Burmese sapphire — an amount that "stole the show".
An antique Imperial Mughal necklace brought in more than €3.5 million, more than an Indian jewel has sold for at auction previously, and a rare 1928 Patek Philippe wrist watch sold for €2.5 million, the most ever paid for a simple chronograph at auction.
A 1942 steel Rolex watch went for upwards of €702,000; a bottle of 1945 Romanee-Conti red burgundy wine went for €87,000 — the most ever paid at auction for a 75-centiliter bottle.
And at a Tuesday evening auction, Sotheby's said it brought in €62.4 million for luxury goods.
Buyers set record prices, paying €8.9 million for a rare emerald-and-diamond tiara that a fabulously wealthy German prince, Guido Henckel von Donnersmarck, commissioned for his second, Russian-born wife around 1900. It sold for a record €8.73 million; an intensely pink 11-carat diamond from the mines of India sold for €7.57 million, the ninth highest price ever paid for a diamond at auction.
WWII spy's jewels
Sotheby's also sold off jewellery that once belonged to the Duchess of Windsor Wallis Simpson and to a former American World War II spy who married into Spanish aristocracy and rubbed shoulders with world leaders and Hollywood celebrities.
The auction house said it sold more than €702,000 of necklaces, brooches and earrings featuring emeralds, diamonds and rubies that had belonged to New York-born Marie Aline Griffith, who worked for the CIA's predecessor OSS in Madrid during World War II before marrying a Spanish nobleman to become Countess Alina de Romanones.
The fervor for doling out cash at record-setting prices along the elegant shores of Lake Geneva contrasts sharply with the hardships being felt elsewhere in Europe due to the eurozone debt crisis and austerity measures.
"The week of May jewellery, watches and wine sales in Geneva was marked by strong bidding with moments of passionate enthusiasm," said Francois Curiel, president of Christie's Switzerland.
But the bidding, most of it anonymously, comes from buyers around the world, much of it done in telephone calls by professional agents on the buyer's behalf. Christie's called it their most successful jewellery sale ever in four decades in Geneva.
David Bennett, chairman of Sotheby's European and Middle Eastern jewellery sales, called the auctions evidence of an "extraordinary appetite" among connoisseurs for rare pieces.
- AP
Auctions

A Christie's employee displays the Imperial Mughal necklace with eleven polished baroque spinels. (AP Photo/Keystone, Christian Brun)

Auctions

In this April 1, 2011 file photo a Christie's employee presents an unmounted heart-shaped diamond, D colour, internally flawless, type IIa diamond, weighing 56.15 carats, with excellent polish and symmetry during a press preview in Geneva, Switzerland. (AP Photo/Keystone, Christian Brun, File)

Auctions

A Sotheby's employee shows a Cadenas diamond bracelet watch which belonged to Wallis Simpson. (AP Photo/Keystone,Salvatore Di Nolfi)

Auctions