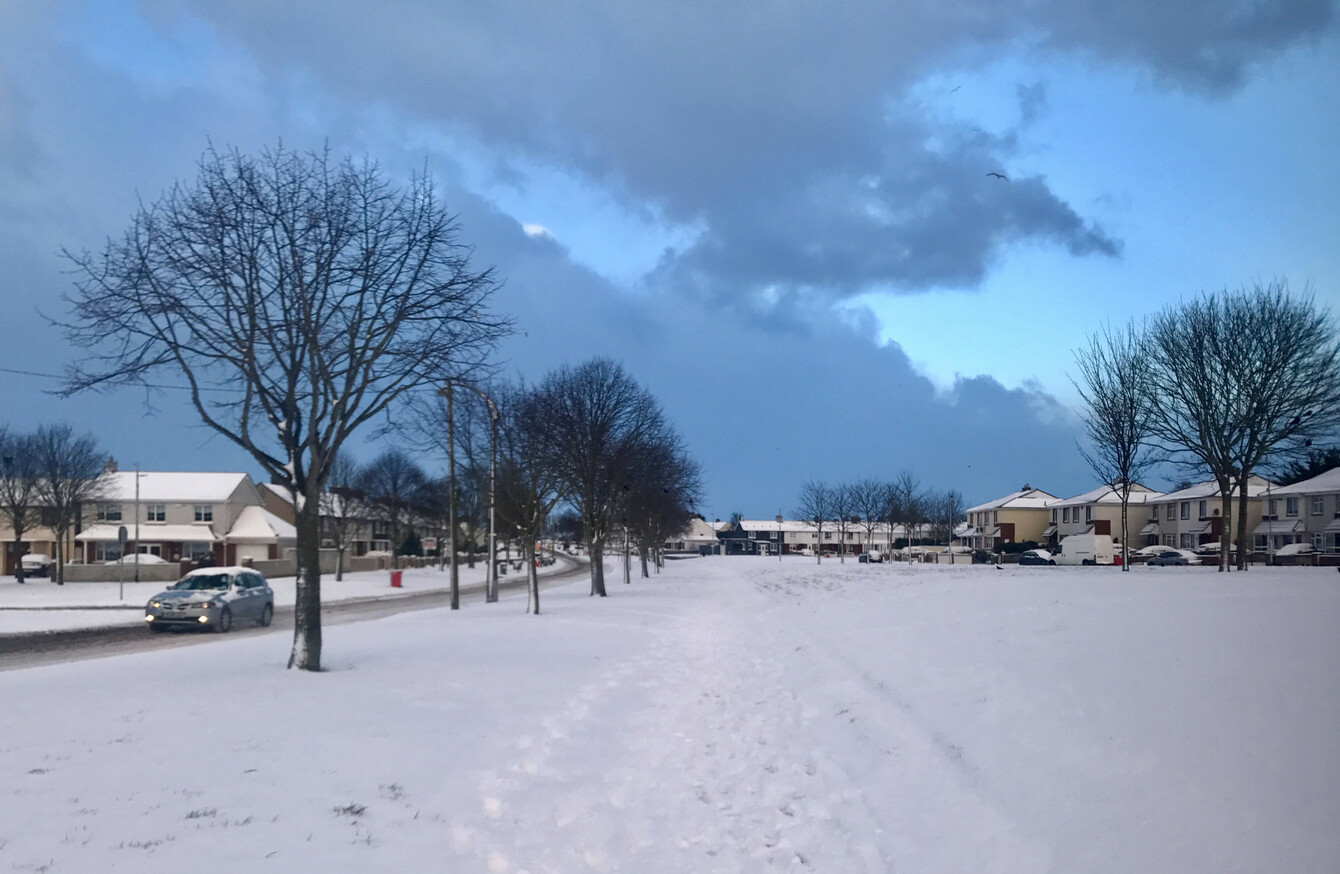 Image: Leah Farrell via Rolling News
Image: Leah Farrell via Rolling News
MANY PLACES ACROSS the country woke up to heavy snow this morning, but Met Éireann is warning that conditions are going to get a lot worse over the coming days.
Due to heavy snowfall overnight, a Status Red weather warning has been issued for Dublin, Kildare, Louth, Wicklow and Meath.
Met Éireann said accumulations of up to 10cm of snow fell throughout the night.
Speaking on RTÉ's Morning Ireland this morning, Met Éireann's Evelyn Cusack warned that there is going to be further heavy snowfall over the coming days as Storm Emma arrives in from the west and clashes with the Beast from the East.
However, looking at today, further snow showers are developing and moving in over the Irish Sea currently and are going to move westwards across the country throughout the day.
There will be little change in conditions this evening and tonight, with the snow showers continuing and snow accumulating on the ground.
Met Éireann is forecasting a severe frost will lowest temperatures of up to -6 degrees.
Storm Emma's arrival
Conditions are expected to deteriorate further tomorrow as Storm Emma moves in from the west.
By midday tomorrow, Met Éireann expects up to 25cm of snow to have fallen.
Cusack has warned of a possibility of more heavy snowfall tomorrow evening and tomorrow night. Temperatures will drop as low as -4 degrees tomorrow night.
Cusack explained why the conditions are expected to worsen tomorrow night: "There's a storm system just off the west coast of Portugal this morning heading towards Ireland and this has a lot of rain associated with it.
"This system, Storm Emma, as it hits Ireland there's a strong possibility of it turning back into snow."
Cusack said there will be further complications tomorrow evening due to the strong wind that Storm Emma will bring with it.
"This will produce very poor visibility," she said.
Sean Hogan from the National Emergency Coordination Group (NECG) also spoke on Morning Ireland and said that the snowfall overnight has been much heavier than anticipated.
"There will be more snow throughout the day, it will freeze, it will be dangerous and we're advising people to think very carefully about driving," Hogan said.
Looking forward to the coming days, Hogan said that the wintry conditions are set to last for another four to five days.
"We are anticipating very difficult conditions on Thursday night. That combined with the very strong wind we're expecting, blizzard conditions, that's not something we have seen in this country since 1982."