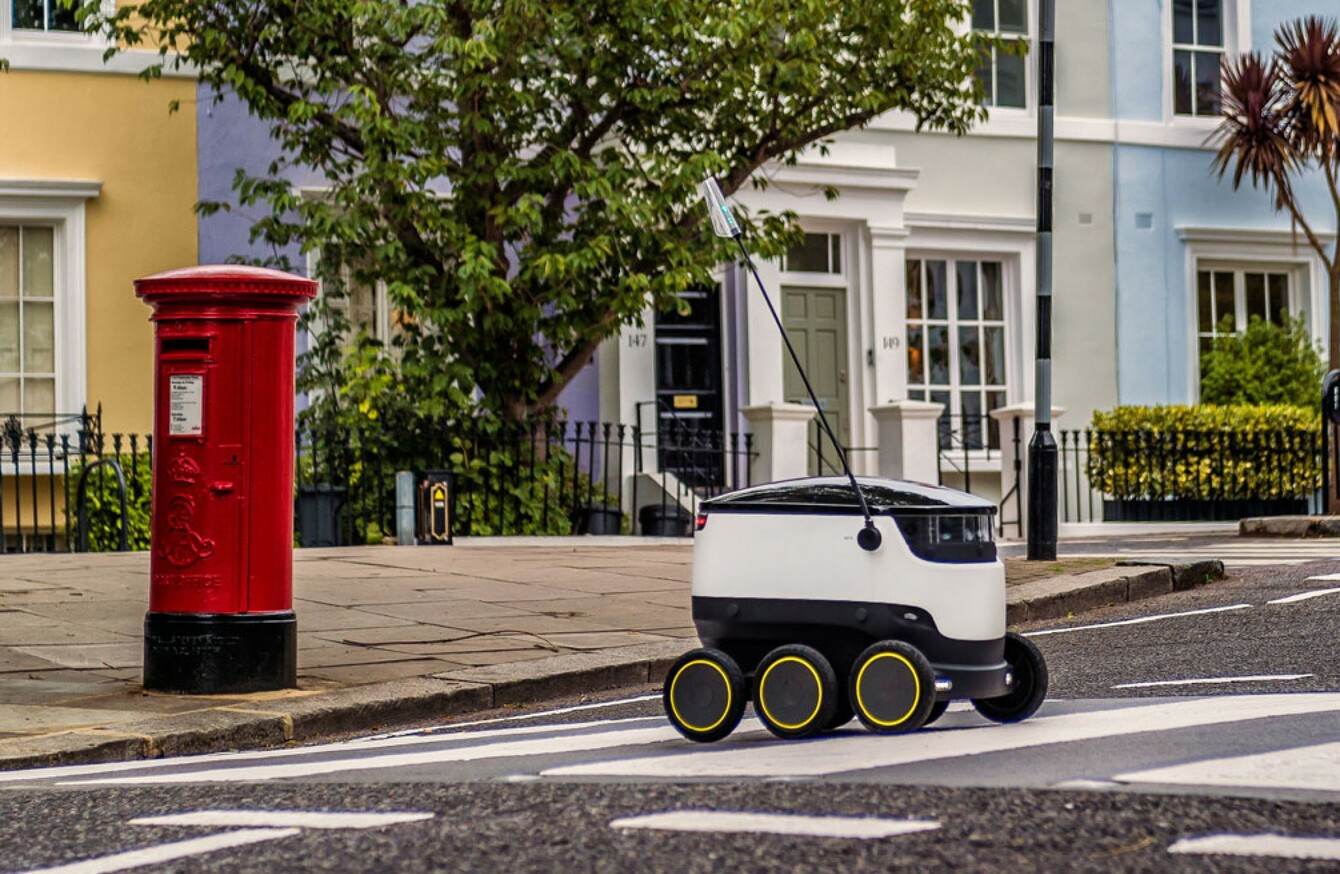 ONE OF THE minds behind video-calling software Skype has big plans to drive the courier industry into extinction – and he's going to do it using robots.
Ahti Heinla was one of the co-founders of Skype, the video messaging service that was built in Estonia in the early 2000s and later bought by Microsoft in 2011 for $8.5 billion.
The Estonian developer left Skype in 2008 and two years ago launched a new startup called Starship Technologies, which has since then manufactured an army of delivery droids that can, for the most part, drive autonomously with the help of human monitors in control centres.
However, they're not for sale. Instead they operate as an on-demand delivery service that small businesses can use to deliver a package within a 5km radius.
The first batch of robots is currently roaming the streets of a number of European cities, including London, Dusseldorf, Hamburg and the Swiss capital Bern.
Heinla said his company's business model is to aggressively compete with courier companies on price, charging roughly one-tenth of what it costs for a real-life courier.
"Human couriers today cost something like €5 per delivery. That's a ballpark figure because it depends on many variables, but the robots will be lower cost than that," he told Fora during a recent interview.
"There are no theoretical limits to how low we can go with the price or cost with the robots, with human couriers there is a theoretical limit and that is minimum wage."
He added that the lower cost will allow a lot of businesses, like small grocery stores that are priced out of providing delivery, the option to bring a new service to their customers.
Bigger picture
With Starship Technologies, Heinla has joined a horde of startups – as well as some of the world's biggest tech companies – all keen to grab a hold of the autonomous delivery market before it completely takes off.
Dominos Pizza earlier this year the company released a self-driving delivery robot called DRU (Domino's Robotic Unit) in Australia and last month delivered its first pizza using an air-based drone in New Zealand.
Google and Amazon have also made moves to make flying drone delivery a reality in the US, but they have hit a snag with regulations requiring line of sight for pilots – effectively ruling out plans for automated fleets dropping off packages nationwide.
Meanwhile, ride-hailing giant Uber is making a long-term bet on flying drone taxis to revolutionise the city transport business.
However, not every business is jumping at the prospect of autonomous delivery robots taking over the work of humans in the near future.
At last month's Web Summit, Deliveroo founder Will Shu said that he has no interest in adding autonomous drones deliveries to his food-delivery service – and even questioned if shifting couriers' work to drones was a responsible approach for the global workforce.
Unlike the troubles experienced by Google and Amazon with getting the green light for their drone projects, Heinla said he has not met much opposition to the presence of his robots on city footpaths.
However, he said getting approval to operate can be time-consuming in some regions like the UK, where permission needs to be granted from each local council.
Other regions have been more quick to jump on the robot bandwagon, with Heinla name-checking Washington DC – where he said laws were introduced specifically to allow his drones on footpaths.
"There are some countries where you don't need any sort of licence. In Austria, for example, robots like this are legal and have been for quite some time," he said.
Threats
Because of the robots' novelty and expensive underpinnings, Heinla admitted that there was a risk that the devices could be prone to theft. However, he sees production as easily the biggest hurdle that could stymie the company's growth.
The company plans a roll-out in Washington before the end of the year and then another 10 cities in 2017.
"Manufacturing them quickly enough and getting all the logistics hammered out like how to ship them and clean them, those are the issues we are solving now," Heinla said.
"It is not an easy business to build. We are a startup and a lot startups these days build apps and theoretically it is all done and collecting money, in reality in hardware is a lot more complicated."
Written by Killian Woods and posted on Fora.ie