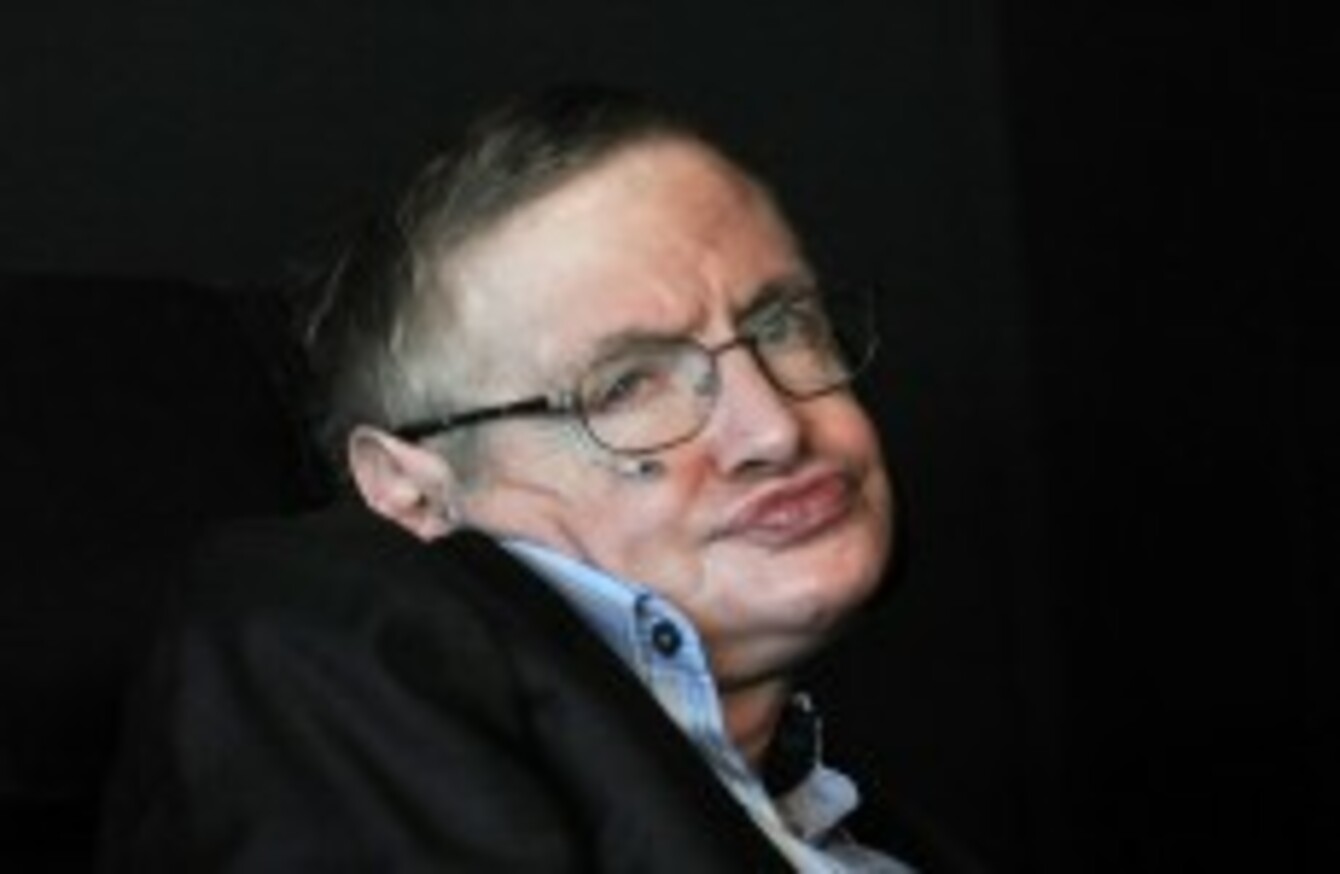 British physicist Stephen Hawking
Image: Evan Agostini/AP/Press Association Images
British physicist Stephen Hawking
Image: Evan Agostini/AP/Press Association Images
STEPHEN HAWKING, THE physicist who has helped us understand many of the mysteries of the universe, turns 70 today.
It is another milestone in the life of a man who will be remembered for generations to come as one of the important thinkers of our time.
Diagnosed with motor neurone disease related to amyotrophic lateral sclerosis, also know as ALS or Lou Gehrig's disease, when he was just 21 years old, he was not expected to live very long.
But live he did, and with gusto, going on to discover (in 1974) that black holes emit thermal radiation due to quantum effects, which was a huge scientific discovery, and then writing the best-selling book A Brief History of Time in 1988.
Today, though mostly paralysed and unable to speak, he uses a computerised voice simulator to communicate, and writes and lectures consistently.
In 2007, he took a zero-gravity flight, becoming the first quadriplegic to do so – and said that he took part because he wanted to encourage public interest in space.
Hawking has never let his physical limitations prevent him for pursuing his passions, and in an interview with the New York Times spoke about how his diagnosis has taught him not to pity himself.
His advice to other disabled people was to "concentrate on things your disability doesn't prevent you doing well, and don't regret the things it interferes with. Don't be disabled in spirit, as well as physically".
Currently the Director of Research at the Centre for Theoretical Cosmology at the University of Cambridge, he continues to inspire and educate people around the world through his work.
To celebrate his birthday, we bring you seven of his best quotes:
On thinking: "Quiet people have the loudest minds."
On curiosity: "It surprises me how disinterested we are today about things like physics, space, the universe and philosophy of our existence, our purpose, our final destination. It's a crazy world out there. Be curious."
On his life: "I have always tried to overcome the limitations of my condition and lead as full a life as possible. I have traveled the world, from the Antarctic to zero gravity… Perhaps one day I will go into space."
On death: "I regard the brain as a computer which will stop working when its components fail. There is no heaven or afterlife for broken down computers; that is a fairy story for people afraid of the dark."
On fear of death: "I have lived with the prospect of an early death for the last 49 years. I'm not afraid of death, but I'm in no hurry to die. I have so much I want to do first."
On the biggest mystery he would like solved: "I want to know why the universe exists, why there is something greater than nothing".
On women: "They are a complete mystery." (Which prompted this witty riposte by Guardian writer Jean Hannah Edelstein.)
Watch Stephen Hawking's talk on the big questions about the unverse for TED:
Video via TEDtalksDirector