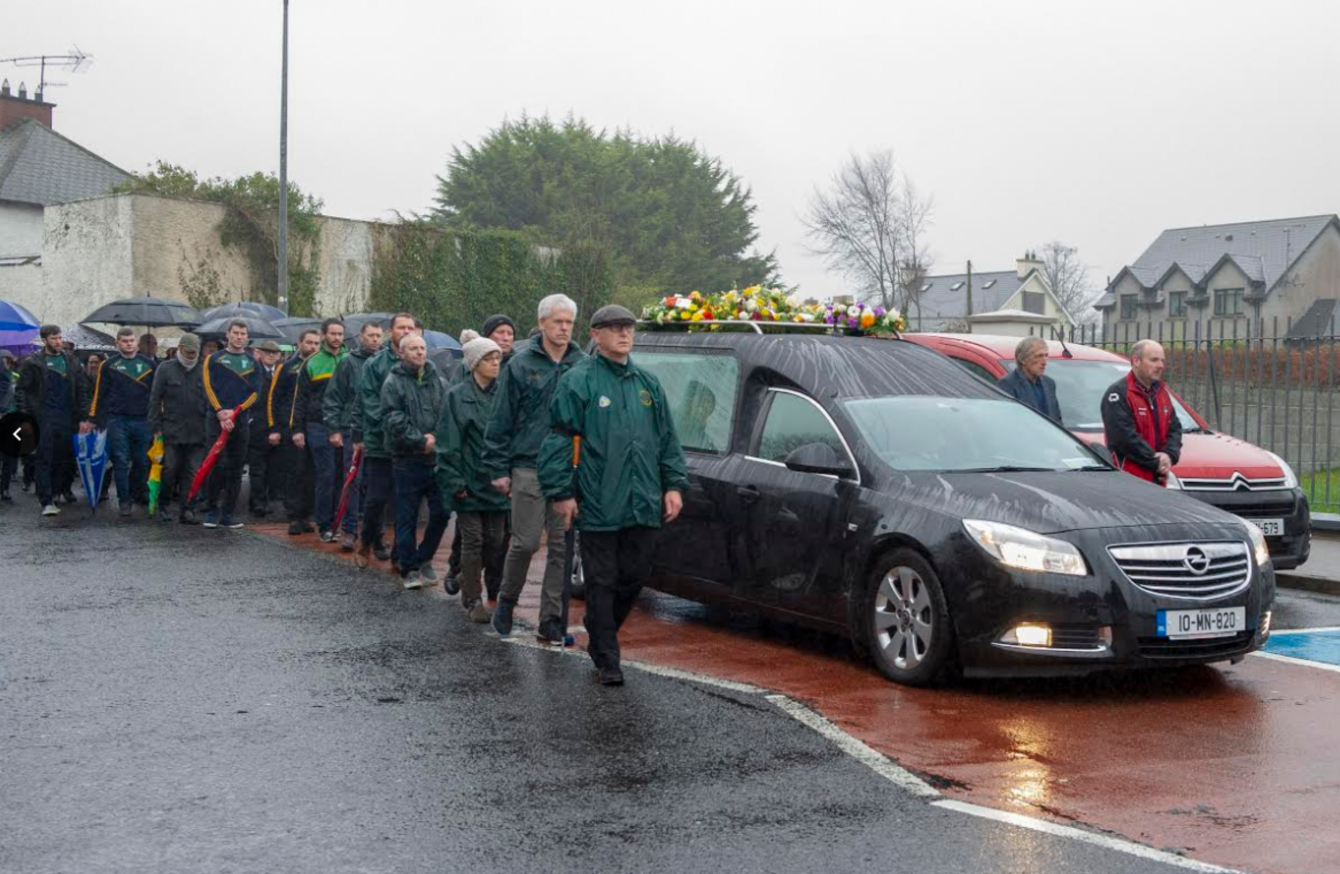 Mourners follow the hearse carrying Stephen Marron's remains in Castleblaney this morning
Image: Ciara Wilkinson
Mourners follow the hearse carrying Stephen Marron's remains in Castleblaney this morning
Image: Ciara Wilkinson
HUNDREDS OF MOURNERS packed into St Mary's Church in Castleblayney, Co Monaghan this morning to pay their last respects to local father-of-two Stephen Marron.
The 47-year-old from Drumillard, Castleblayney, died following a two-car collision on Main Street in Castleblayney on Tuesday night.
His wife Helen, their children, his parents and sisters led mourners to St Mary's Church, which holds 600 people and was filled to capacity.
Symbols representing Stephen's life were brought to the top of the church.
His daughter Andrea, 9, brought up two family photographs and his son Franco, 6, brought up a plaque which was a Christmas present from them to be given to their dad for Christmas.
Chief concelebrant and parish priest Canon Shane McCaughey told mourners: "On Tuesday night last, Stephen was surprised by death and the suddenness and sadness of his passing has caused much heartache and grief for his family and this community."
Describing Stephen, he said: "It is difficult to list all the things he did for the parish. From selling tickets to delivering envelopes, no task was too awkward nor no challenge too great."
'State of shock'
He had helped delivering hot meals to the poor and elderly and later started "delivering from the chip shops in the evenings."
In relation to his involvement with the Church, Canon McCaughey said: "Stephen progressed to be a collector and then a Minister of the Word.
"He was the first chairperson of the Parish Safeguarding Committee, and eventually to assistant sacristan."
"The only reason he was working on Tuesday night was because he had planned an outing with Helen and the children this weekend."
After the prayers of the faithful, Fr McCaughey also asked for prayers for all those who had been involved in the incident on Tuesday night and their families.
Speaking to the media shortly before the Mass, he said Mr Marron's his family were "in a state of shock".
He also revealed that Stephen's parents lost another child, a daughter, 25 years ago.
Little treat
"They have gone down this journey before; in November 25 years ago they followed the small coffin of an 11-year-old girl to this church," he said.
"I know the Toy Show was on last night on RTÉ and the children of the country were so much looking forward to that. I know Stephen's son and daughter were so much part of that as well.
"Stephen's own children were preparing this weekend to go away for a little treat over to Galway, Stephen had arranged for his wife and children to meet Santa Claus.
"It is such a sad time in the mouth of Christmas for a family to be distraught and to be so hurting when the rest of our country rightly so is celebrating Christmas, the birth of Christ, the coming of Santa Claus and all those good things."
Garda Michael Devlin, who was also injured during Tuesday night's incident, is still recovering and members of his family attended Mr Marron's funeral.
Mr Marron was laid to rest in the cemetery beside St Mary's Church.
Comments have been closed as legal proceedings are ongoing in relation to the above story.