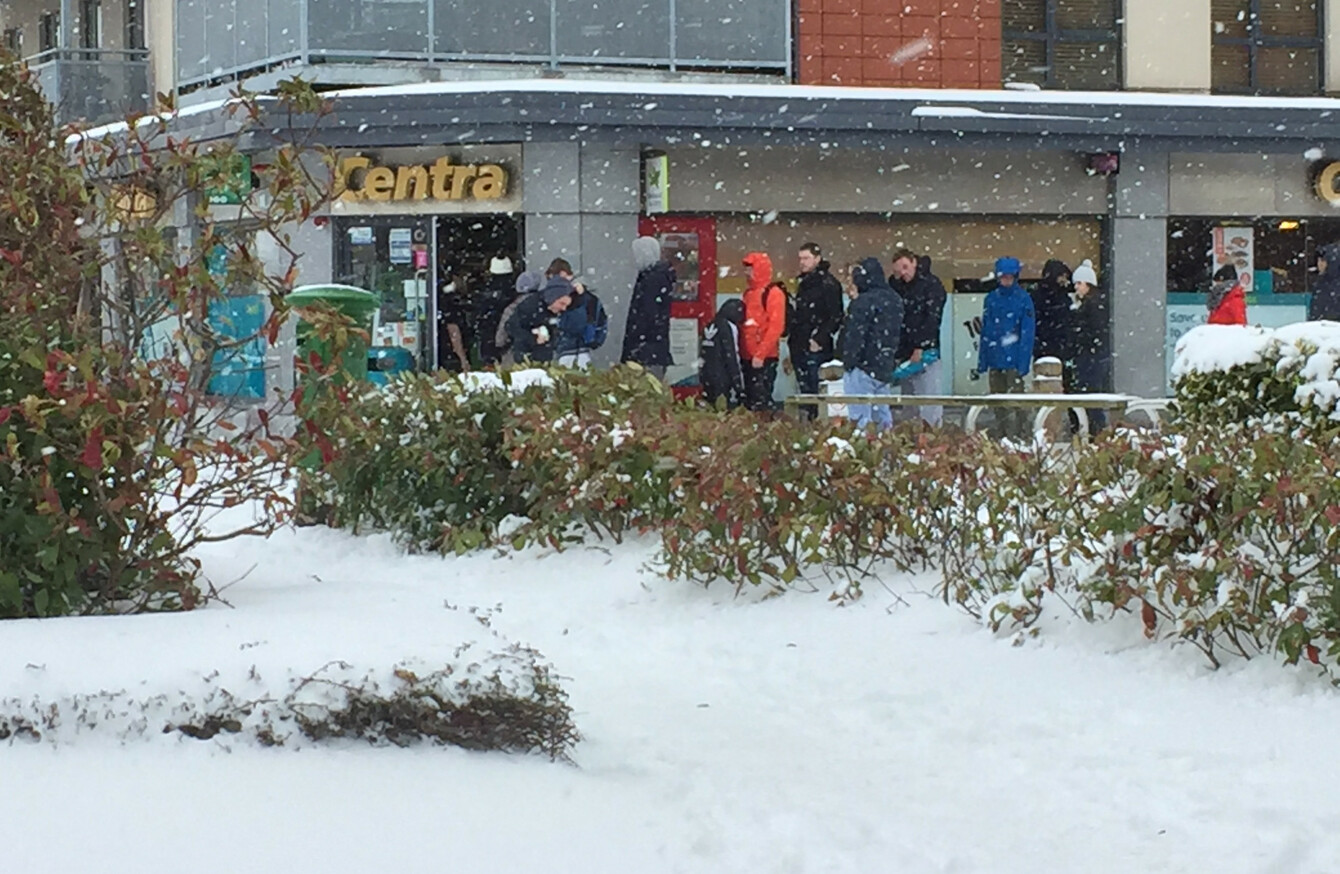 Royal Canal Park in Dublin 15.
Image: Louise Hassan
Royal Canal Park in Dublin 15.
Image: Louise Hassan
Updated 4.38 pm
TAOISEACH LEO VARADKAR has said the government is working with retailers to ensure that the delivery of food to shops is a priority but most stores will not reopen until tomorrow.
Most of the major supermarket chains have shut their doors today and will reopen tomorrow but some stores in areas not as badly affected are reopening this evening.
The severe weather conditions mean that motorists are advised to stay off the roads unless their journey is completely necessary.
Speaking this afternoon following a meeting of the National Emergency Coordination Centre, Varadkar said that deliveries to stores are included in such necessary travel.
The government, working together with Retail Ireland, are working together to prioritise the delivery of food to shops across the country. This is necessary travel, where the roads are clear and the same applies to the food supply chain.
Most retailers are remaining closed today in adherence to the advice from government that people stay at home.
All Dunnes Stores in Ireland are closed today and Tesco Ireland has made the same decision.
Tesco has said that its stores will reopen tomorrow.
Aldi Ireland said earlier that all of its stores throughout the country will remain closed today but now says after reviewing the situation that some will open later.
The Aldi stores that are reopening are mainly concentrated in the west and northwest of the country.
Lidl Ireland kept some of its stores open throughout today and a number of its stores that were closed have begun reopening from 4-pm.
Lidl Ireland has put a list of its stores that are open on its Facebook page. It includes over 50 stores including some in Dublin.
Convenience retailing group BWG Foods, which includes stores such as Spar, Londis, Mace and XL, have said that the "vast majority" of its stores will be open tomorrow.
Decisions on whether these stores open is made by the local shop owners and some have remained open today.
"The vast majority of our 1,040 community based Spar, Eurospar, Londis, Mace and XL stores will be open for business over the weekend and beyond," the company said in a statement.
BWG Foods  yesterday that it was expecting to handle over 1 million transactions throughout the day.
Met Éireann has estimated that between 10 cm to 40 cm of snow fell in different parts of Ireland last night but that it has yet to get accurate figures from nationwide weather stations.
A Status Red weather warning remains in place in Munster, Leinster and Galway until 6 pm this evening but has been extended until 9 am tomorrow morning in some Leinster counties.