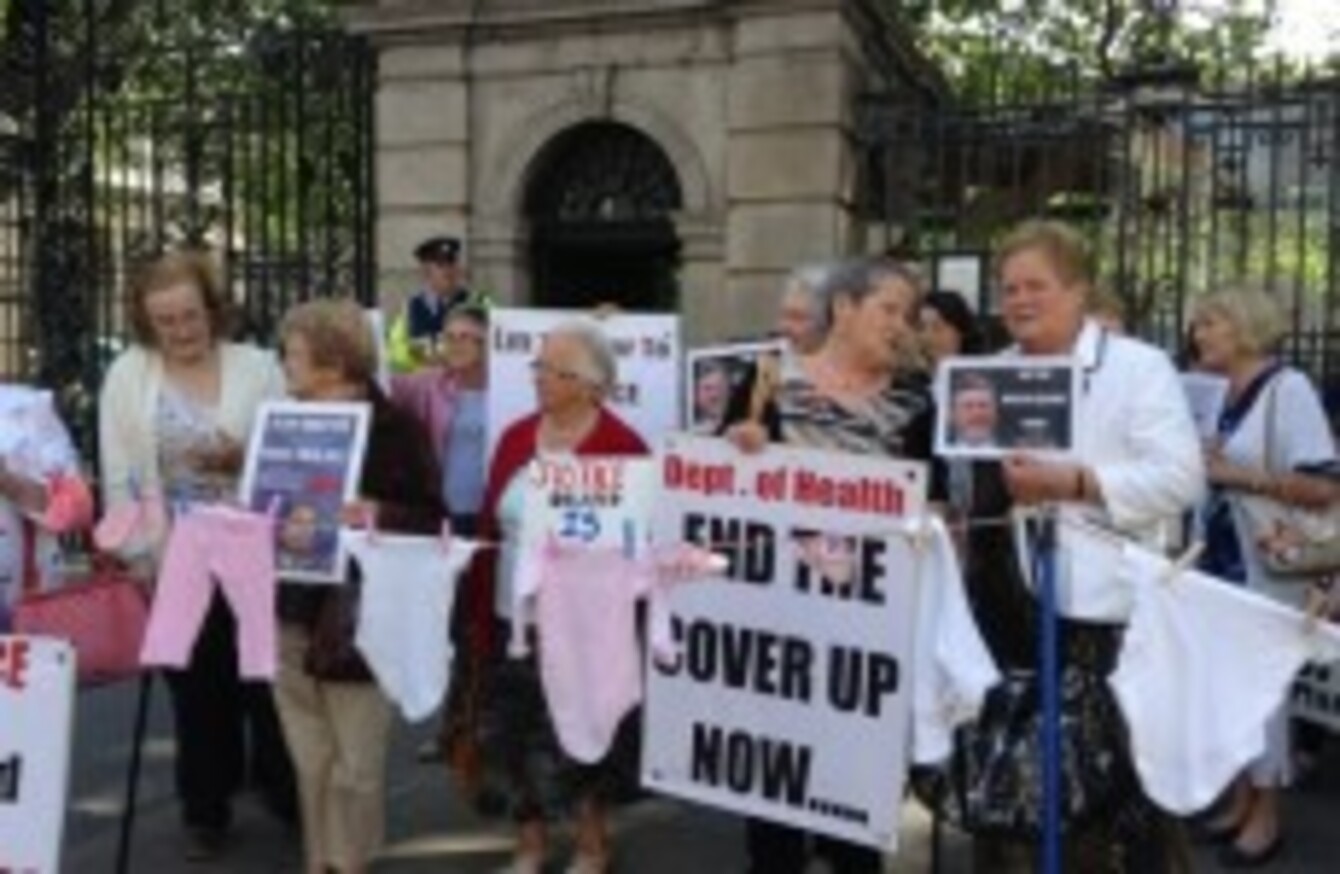 A 'Survivors of Symphysiotomy' protest outside Leinster House last month
Image: Sinéad O'Carroll/TheJournal.ie
A 'Survivors of Symphysiotomy' protest outside Leinster House last month
Image: Sinéad O'Carroll/TheJournal.ie
THE MINISTER FOR Health James Reilly is due to meet with groups representing victims of symphysiotomy on Thursday ahead of the anticipated publication of a long-awaited report into the outdated surgical procedure.
Reilly has asked Patient Focus and Survivors of Symphysiotomy (SoS) to meet with him at the Department of Health on Thursday morning at 11am in order to get further details from them before a final decision on their case and possible redress is made.
Symphysiotomy, a procedure where the pelvic hinge was deliberately severed, was carried out on around 1,500 women in Ireland betweeen 1942 and the late 80s. Some victims of the practice have been left incontinent and have problems walking.
The practice was carried out in Irish hospitals between 1942 and the late 1984 – purportedly to facilitate childbirth and as an alternative to a Caesarean section – by obstetricians who were alleged to be opposed to family planning.
Victims have spent over a decade seeking a redress scheme, the removal of the statute of limitations – a legal bar to justice for the victims – and more recently the publication of a report by Oonagh Walsh into the practice.
Reilly received the Walsh report on 31 May and both he and and Junior Minister Kathleen Lynch will seek further details from the women in advance of making a decision on the publication of the report, redress and the statute of limitations.
Sheila O'Connor of Patient Focus told TheJournal.ie yesterday she does not know what to expect from the meeting but said that she and her colleagues will push for a resolution on the matter as soon as possible.
"These women are very, very elderly. I've been involved since 2004 and an awful lot of women have died, especially in the last year or two and that's a big concern for us. If it goes on much longer only younger women will be left," she said.
She added that she and others would have preferred the matter to be dealt with "a couple of governments back" but said that Minister Reilly had been "engaging with us" and expressed her hope there would be a resolution soon.
A spokesperson for the Department of Health declined to comment.