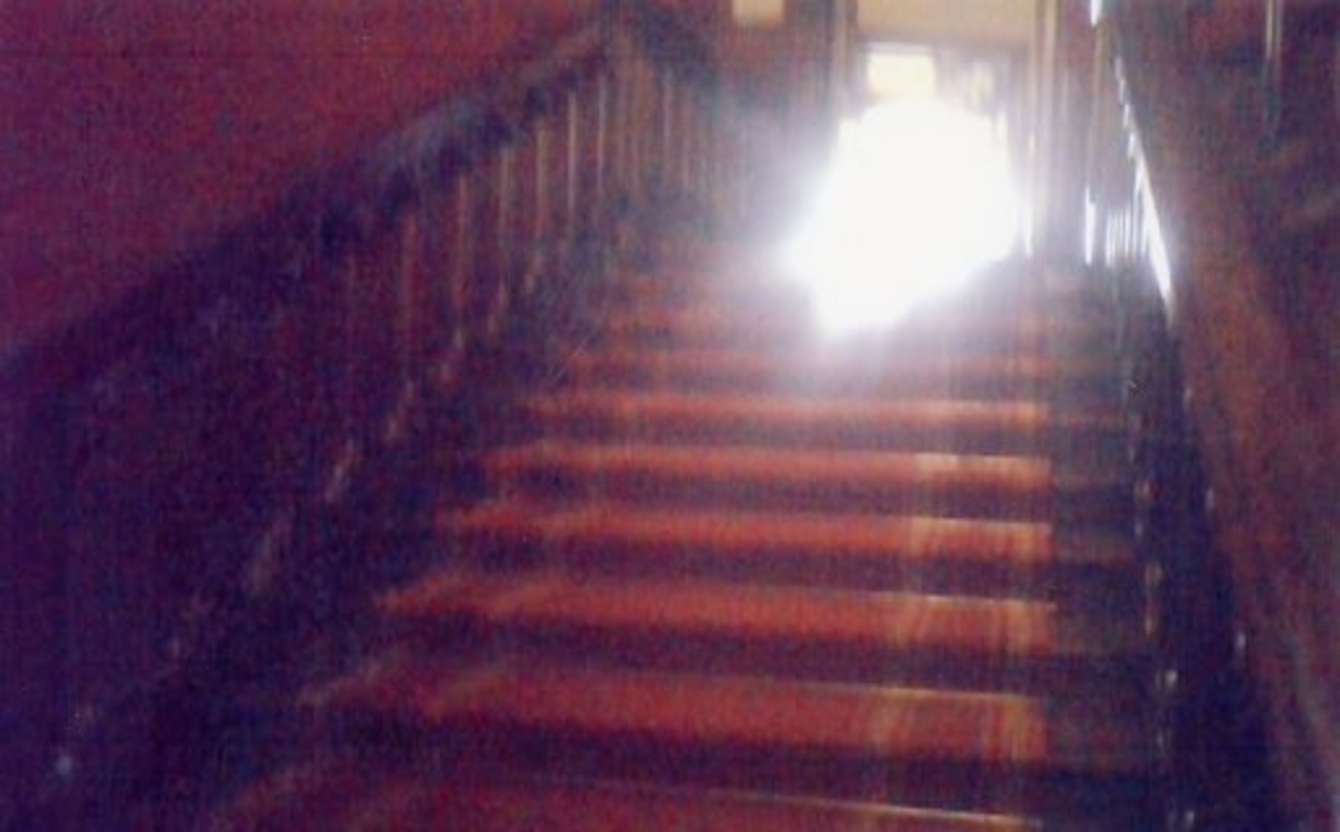 This photo, taken on a phone camera with no flash, appears to show a white light associated with ghosts.
This photo, taken on a phone camera with no flash, appears to show a white light associated with ghosts.
TWO TEENAGE TOURISTS claim they have real photographic evidence of a ghostly presence inside Kilkenny Castle.
Trishna and Monica Rehan (17 and 15 respectively) and their mother Patricia, who is originally from Kilkenny, were on holiday visiting their grandmother when they visited the castle, built in 1195, and took a photo on a mobile phone of an internal staircase.
The Office of Public Works, which manages the castle, does not allow photos – so rather than having a look at the photograph they took, the teenagers merely continued on their way.
It was only afterward that the teenagers noticed a bizarre white light that they couldn't explain.
It was around 4pm on Monday evening and we were in the Castle. You are not allowed to take pictures but I decided that I wanted to take one anyway. I didn't notice anything when I was taking the picture, it was only afterwards when I was having a look that I saw the ghost," Trishna told the local Kilkenny People newspaper.
Monica added further intrigue to the claims by saying she had overheard a boy elsewhere in the castle say he had spotted a ghost. "I heard a man telling someone about how a little boy had seen a ghost that morning in one of the bedrooms and I got a weird feeling when I was inside in the Castle," she said.
"There was no light there when the picture was being taken, there was just a big empty stairs. The windows are tiny and I would have noticed the sun's reflection if that is was caused the illumination on the photograph. I was dark enough inside when we were taking the picture and the phone had no flash."
The girls' mother, Patricia, also said she felt something strange in the area.
"I got a shiver and I felt a bit weird when I was walking up the stairs. I felt a presence when the photo was being taken… There was definitely something spooky going on and to me there is a ghost in the photograph. It is close to where the boy said he saw the ghost and the two girls were definitely spooked out by it."
The Castle was home to the Butlers of Ormonde until it was sold to a Castle Restoration Committee in 1967, before being passed into the hands of the OPW. There are as many as 41 ghosts said to roam its grounds, many of them of the Butler family.
A painting of the tenth Earl of Kilkenny, Black Tom, hanging behind the reception of the Castle, was slashed in mysterious circumstances last month.