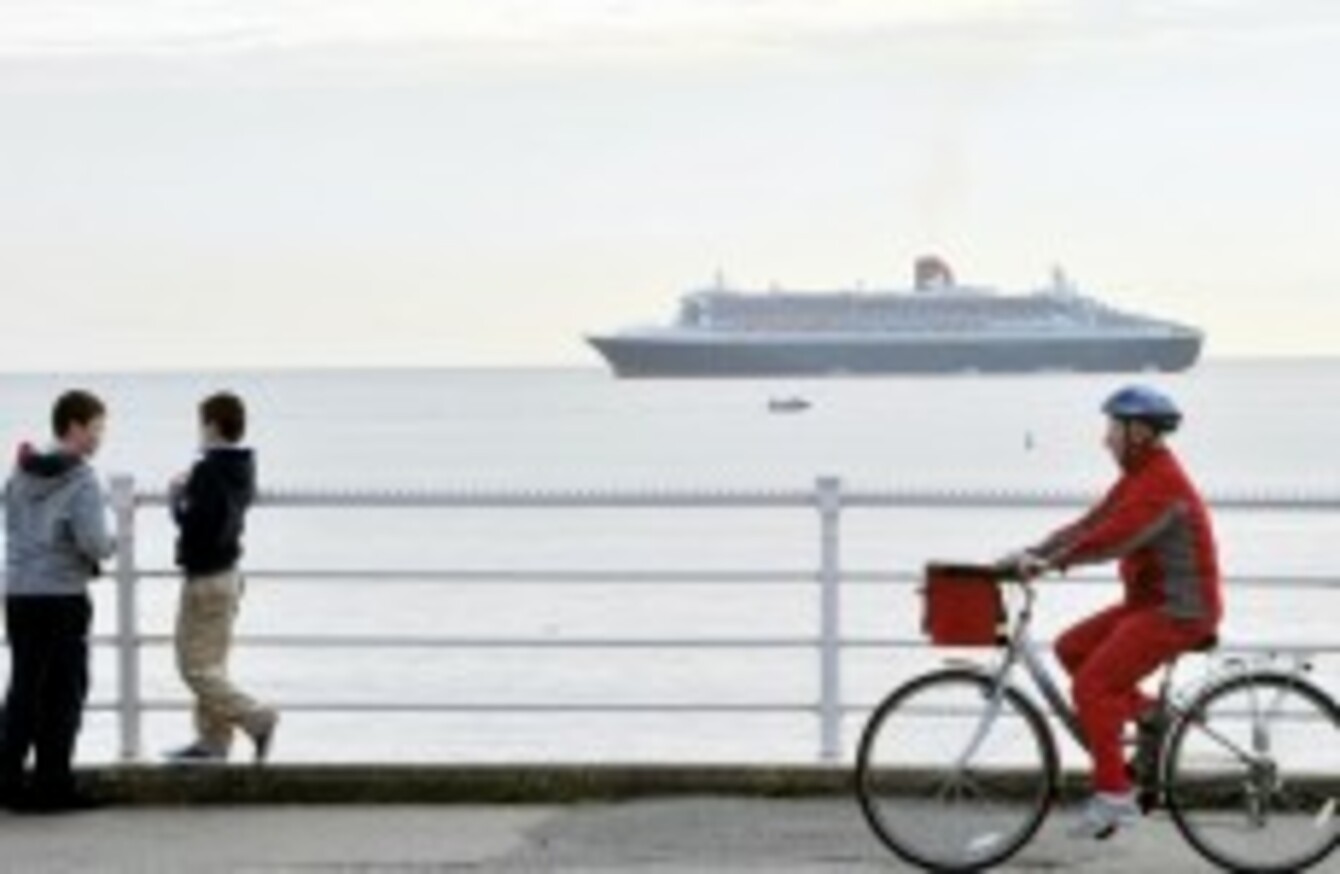 The world's largest ocean liner, the Queen Mary II, docks for the day in Dún Laoghaire on Thursday
Image: Laura Hutton/Photocall Ireland
The world's largest ocean liner, the Queen Mary II, docks for the day in Dún Laoghaire on Thursday
Image: Laura Hutton/Photocall Ireland
EVERY SATURDAY MORNING we take a look at all the best comments left on the site by you lot over the past week.
This week there was a lot of talk about the Bus Éireann dispute, the hearings on the upcoming abortion legislation, 'rusty' water in Donegal, Jim Corr's financial woes, and the furore over penalty points.
So here, in no particular order, are the standout comments from the week that was.
The top 5 articles which received the most comments this week
1. Poll: Should vaccinations be compulsory for children? (274 comments)
2. Poll: Should more gardaí be armed with taser guns? (267 comments)
3. US abortion doctor Kermit Gosnell found guilty of murder (234 comments)
4. 16 objects you inexplicably collected as a kid (198 comments)
5. Rabbitte: No point comparing Ireland's oil prospects to Norway's (173 comments)
Some of the best comments left on the site this week

(Video: Chris Hadfield/YouTube)
Dublin city's newest bridge is going to be getting a name soon and the shortlist has been whittled down to 17 possibilities. Conor McBreen got 555 thumbs up for his practical suggestion:
Just don't name it after Chuck Norris. Nobody crosses Chuck Norris.
People can be very particular about how they want their sandwich, as we found out in the comments beneath the article about the worst things that happen at a deli sandwich counter, with a lot of people complaining about how deli staff make the sandwich. But as Niall Quinn explained with this comment (which was described as "food porn" by another commenter), there's a skill to it:
I used to work in a deli, and I made every roll like it was my own. Butter spread evenly. Sauce on the bread. If they wanted two sauces, one on the top half and one on the bottom, so neither side of the roll got soggy. Flattest fillings went in first so the others would sit on top well. Sausages were cut in half, so ya got some across each bite. I'd hold my left hand against the outside edge of the roll as I put salads on so they'd all go in the roll. We had spicy wings n' spare ribs too, and since the boss was a dick, I'd take the meat from them and throw them in if the customer seemed cool. Lastly, when chopping it, I'd hold the roll tightly shut, so that nothing spilled out unless it really didn't fit. I'm not saying this cos I think I'm great btw – everyone making rolls, wraps or sandwiches should make the damn things properly !
This week saw Chris Hadfield, the astronaut credited with making space popular again for an entire generation, return to Earth after five months aboard the International Space Station. Commenters were overwhelming in their praise for him, with suggestions that he should be invited to be the Grand Marshall of next year's Patrick's Festival. Eoin Byrne got a lot of thumbs up for this:
Commander Hadfield: making space, Canadians, moustaches and singing dads incredibly popular. Is there anything this man can't do?
Several people suggested this next comment should be included this week. In the article about things you can't describe no matter how hard you try, one of the things was describing what language deaf people think in. Alvean Jones, who is deaf, explained what it's like:
Deaf from birth here…

I think in both English and ISL, depends on the situation.

:)

It's not necessary to be able to hear to think in English. I mean, I can read, yes? I can speak with a strong Deaf accent.

Most of the time I think visually when thinking of concrete situations. (A simple example… I need something in the shop, I think of the item I need and I just go. When it comes to philosophy, or wording a report, then and only then do I think in English. Get me?)
One of the stranger stories this week was the one about the medieval baptismal font stolen from the grounds of a Meath church – and then quietly returned in the early hours of the morning, exactly where it had been. Neil Jackman (who has written a few pieces for us about heritage sites in Ireland) commented on the importance of artefacts like this:
Absolutely delighted that it's been returned intact. It's a bit of a nudge that maybe we should all be paying a bit more attention to the vulnerable heritage sites in our areas. The National Monuments Service and National Museum who are the legal guardians of these places are massively underfunded so it would be great if people could just keep an eye out.
These monuments belong to all of us, and to future generations. They are also part of what makes Ireland such a special place for overseas visitors, so they can play a real and important role in the economy.
Should Gardaí be armed with Tasers? The poll earlier this week kickstarted a major discussion among commenters with many people feeling strongly about one side or the other. Stewie Griffin served as a Garda for 14 years and explained why he was in favour of them being used (you can read his full comment here - we've taken an extract of it):
I've served for 14 years now and ive been attacked numerous times put in hospital once. Have to say i was lucky the last time i was attacked, completely random. Girl crying on street asked what was wrong boyfriend came out of nowhere with fists flying, sucker punched me however i managed to get off a dart of pepperspray that put him down after a short while, had i not had that im not sure if i would have got to my asp before worse happened. For me its a no brainer Tazors should be deployed in force.

One more example and i dont wanna give too much away but stopping a car searching it and the criminals inside then having that vehicle connected to an attempted murder later that day. Obviously not had weapon at that stage but think if they did they would let a guard walk away ?? no on your life.

People here know they have a great police force people do want guards better kitted out but iits government and government departments are the problem they don't want to pay for it thats all. Its always been policing on the cheap in ireland. I do look forward to European regulations forcing them to have the guards armed with better gear. The only objectors would be those who the police deal with on a very regular basis of course they would hate to have armed police
You may have spotted this already but you can now change your thumb choice on articles on the site if you're reading on an iOS or Android app. So if you've ever felt guilty about red thumbing someone, you can switch it back (although a lot of commenters reacted by giving every comment on the article red thumbs. You lot can be cruel sometimes…). Seán Ó Briain had already had red thumbs spread over into real life…:
Someone messaged me on facebook once just to say sorry for giving me a thumbs down by accident. This is what your are doing to people!!
… while John Barnes must have come close to a record for the number of red thumbs he received (597 at last count) for this:
I hate puppies
The 5 most popular comments on the site this week
1. The most popular comment by far this week came from Richard who got more than 3,400 thumbs up for his comment on the article about some of the best wi-fi network names of all time. (For the record: the wi-fi network he's referring to was the enigmatically-named TeachMeHowToDougie):
Damn some of those are great!

And I still don't know how to dougie or even know what it is… I'm reluctant to Google it after the whole lemon party fiasco!
2. The second most popular comment this week came from the same article about wi-fi names. Niall Mullins got 1,392 thumbs up for this rather nice post:
There should be a green thumb option on here for the authors that compile this kind of material. Thumbs up there!! Some great laughs and some great inspiration for the names i can come up with for my neighbours now! :D Nice!
3. In third place was Michael Hickey who got 930 thumbs up for his suggestion beneath the article about the Fine Gael Senator who called on Ireland to bring in a tax on smartphones and to use the money for suicide prevention:
Sure why not tax every bowl of cornflakes eaten aswell……how about stop taxing people so much, maybe that would help the suicide rate
4. John F got 914 thumbs up for his contribution to the list of Irish slang phrases that don't always translate when you're abroad:
I see an obvious one was left out for PC reasons.. but I'm dying for a fag will always get a few dodgy looks other side of the atlantic! :-)
5. Last but not least, in fifth place this week with 907 thumbs up was Joe McAndrew, with his suggestion which also came from the article about a tax on smartphones:
How about a 1-4% tax on TD pay instead?
Spot any comments which you think were good? Let us know: mail christine@thejournal.ie with any suggestions for next week's comments of the week.