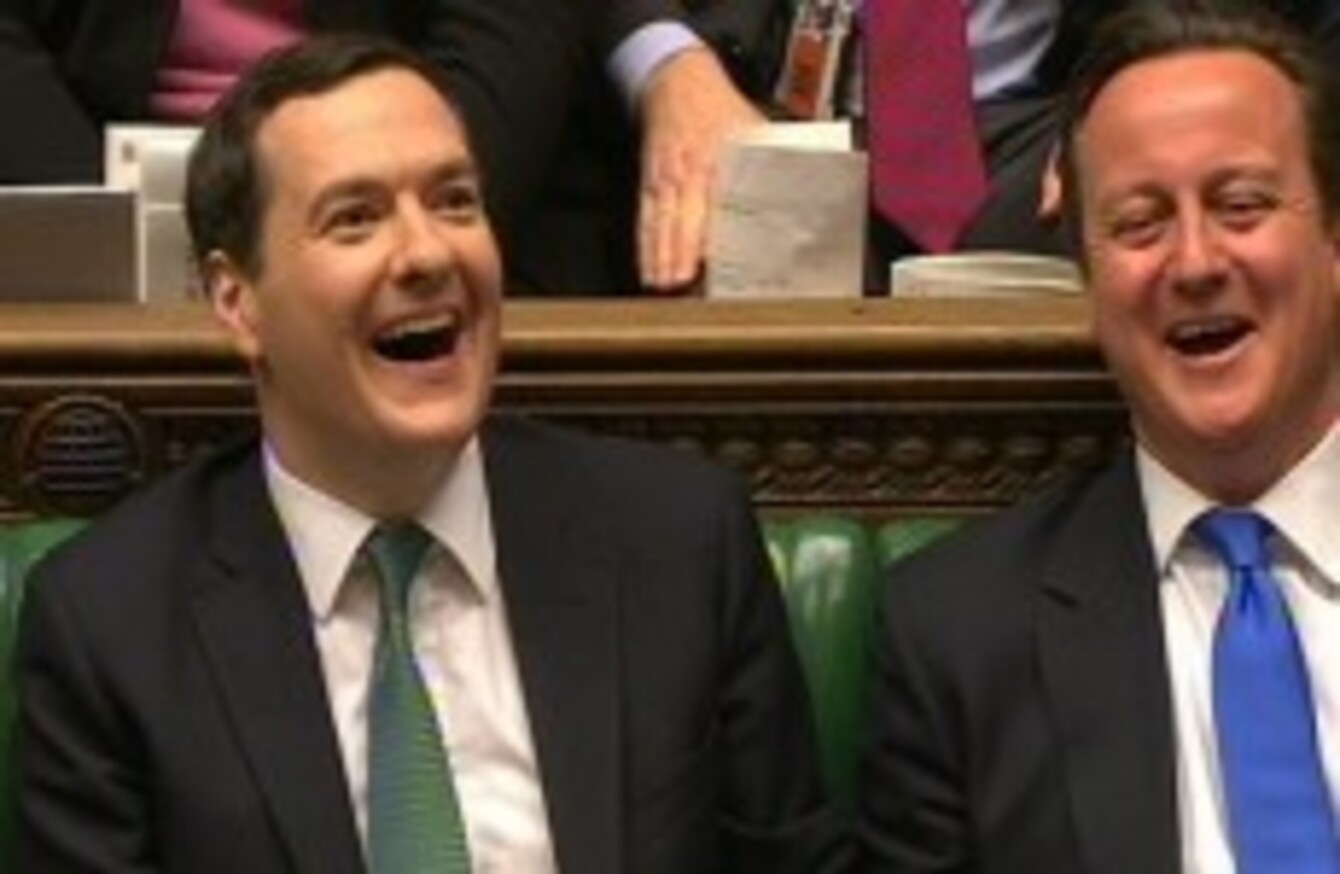 British chancellor George Osborne and Prime Minister David Cameron (File photo)
Image: PA/PA Wire/Press Association Images
British chancellor George Osborne and Prime Minister David Cameron (File photo)
Image: PA/PA Wire/Press Association Images
THE BRITISH CONSERVATIVE Party wants to be known as the 'Workers' Party' in an attempt to move away from its traditional image as the party of the rich and privileged and to appeal to working class, blue collar voters.
While the party is not undergoing any official name change, Prime Minister David Cameron and Conservative HQ are telling MPs to refer to themselves using the 'Workers' Party' title in public statements, according to Politics.co.uk
"The Conservatives are the Workers' Party and we are on your side," party chairman Grant Shapps is expected to say at an event today as Tory strategists plot an appeal to working class voters who have traditionally voted Labour.
Shapps will be accompanied by the former British prime minister and Tory leader John Major who once spoke of achieving a "classless society". Major will be put forward as an example of how those who come from less privileged backgrounds can rise to the top.
Major grew up in Brixton in inner city London, left school at 16, was for a time unemployed and went onto become leader of the Tories, succeeding Thatcher as prime minister in 1990 and winning re-election in 1992.
By contrast, current Tory leader David Cameron is a millionaire, who went to Eton college and Oxford.
Already this week, a Tory MP, Robert Halfon has suggested that as well as rebranding as the 'Workers' Party', the Conservatives should replace their tree logo with a ladder indicating it is a party of hard-working people who want to get on in life.
"Let's value public sector workers — nurses, doctors, police and teachers — millions of whom put service above self. Let's support working people by strengthening the minimum wage and fight for a living wage — achieved through further tax cuts for lower earners," he told The Sun yesterday.
The Guardian, traditionally a Labour-supporting newspaper, has pointed out that the name of the Workers' Party has had a long and troubled history, having been taken by former supporters of the Official IRA.
It is also used by the Socialist Workers' Party who advocate a Trotskyist, socialist society – the very antithesis of Conservative Party values and aims.