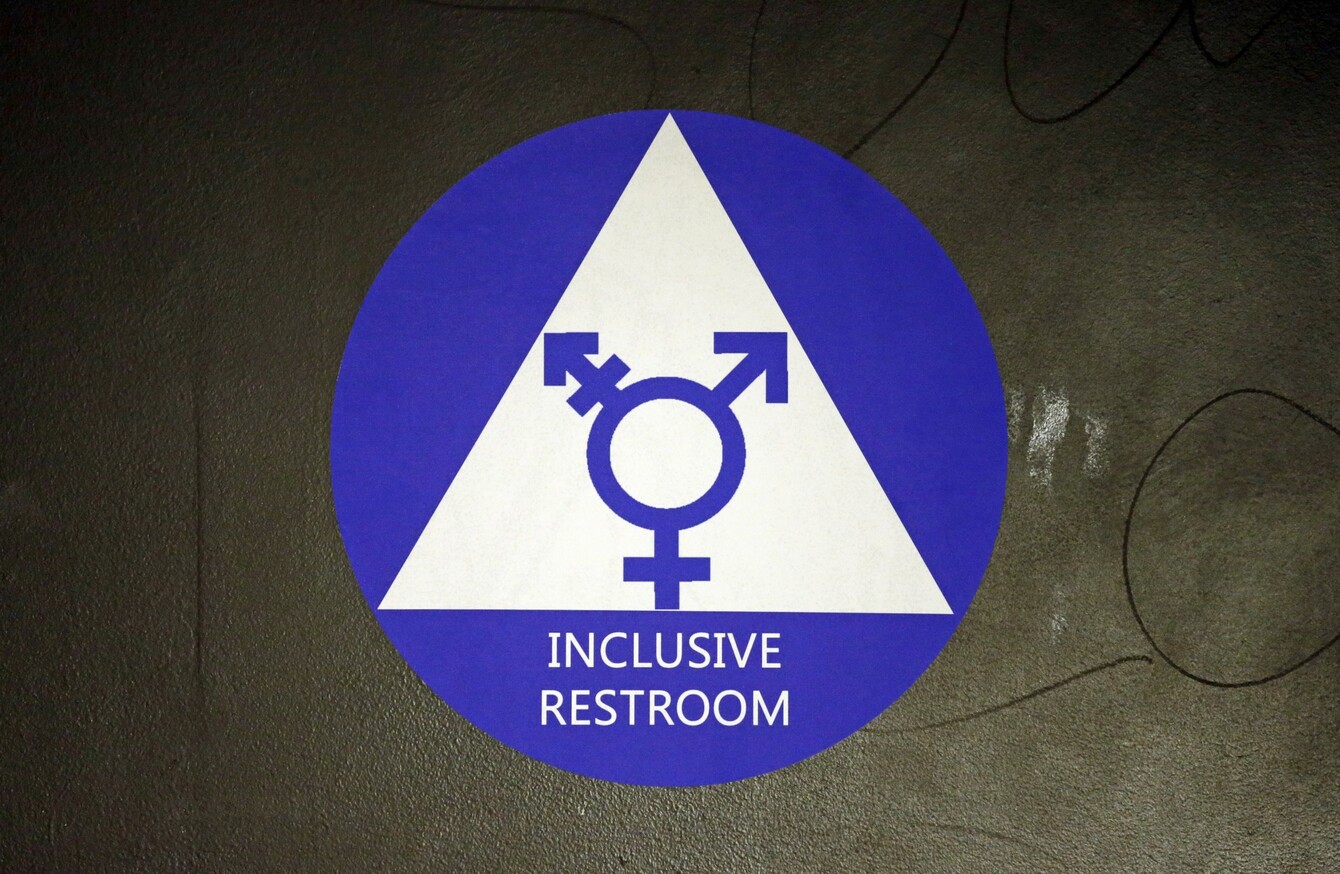 A new sticker designates a gender neutral bathroom at Nathan Hale high school in Seattle.
A new sticker designates a gender neutral bathroom at Nathan Hale high school in Seattle.
ELEVEN US STATES sued President Barack Obama's administration today over federal guidelines telling public schools to let transgender students use the bathroom of their choice, the latest twist in a bitter legal standoff with the White House.
The move led by Texas further escalates a national feud over an issue that has become a lightning rod both for the transgender community, and conservatives pushing back against new civil rights they perceive as a threat.
Writing to public school districts and universities on 13 May, the Justice and Education Departments laid out guidelines on creating a safe environment for transgender students.
Building on existing laws against sexual discrimination, the letter asks schools to let youths use the bathroom matching their gender identity – rather than the sex on their birth certificate.
In a joint filing seeking to quash the Obama directive, the states accused the federal government of trying to rewrite laws by "executive fiat."
Accusing the government of "running roughshod over commonsense policies protecting children and basic privacy rights," the states urged the judge to rule the directive unlawful.
Texas is the lead plaintiff in the complaint filed in US District Court in Wichita Falls, Texas, joined by Alabama, Arizona, Georgia, Louisiana, Maine, Oklahoma, Tennessee, Utah, West Virginia and Wisconsin. Nine of the 11 states are ruled by Republican governors.
"Social experiment"
Although non-binding, schools that fail to comply with the Obama directive could potentially face lawsuits or reduced federal aid.
In announcing the measure, Attorney General Loretta Lynch warned that "there is no room in our schools for discrimination."
The administration argues that gender identity is protected under Title IX, a provision under the Education Amendments of 1972 that bars schools receiving federal funding from discriminating based on a student's sex.
The states' filing in Texas lists the US government and several federal agencies and their chiefs as defendants.
The complaint reads:
Defendants have conspired to turn workplaces and educational settings across the country into laboratories for a massive social experiment, flouting the democratic process and running roughshod over commonsense policies protecting children and basic privacy rights.
The letter tries to rewrite Title IX by executive fiat, mandating all bathrooms and showers open to both sexes, while simultaneously permitting different sex athletics subject to limited exceptions.
"The new policy has no basis in law."
Other Republican-ruled states, including Mississippi and Kansas, have also indicated they will ignore the guidelines.
#Open journalism No news is bad news Support The Journal

Your contributions will help us continue to deliver the stories that are important to you

Support us now
In a hint that the so-called "bathroom wars" could be headed all the way to the US Supreme Court, the states' complaint cited comments made by Justice Ruth Bader Ginsburg before she donned the black robe and joined the top court bench.
"Separate places to disrobe, sleep, perform personal bodily functions are permitted, in some situations required, by regard for individual privacy," Ginsburg wrote in a 1975 Washington Post editorial, while serving as a professor at Columbia Law School.
"Ill motives" 
A pitched legal battle is already underway between the Obama administration and North Carolina over a state law requiring transgender people to use public restrooms corresponding to their sex at birth. Both sides have filed dueling lawsuits.
The battle is part of a wider debate on equal rights in the United States, where a flurry of initiatives have targeted the lesbian, gay, bisexual, transgender (LGBT) communities since a historic Supreme Court decision last year legalized same-sex marriage nationwide.