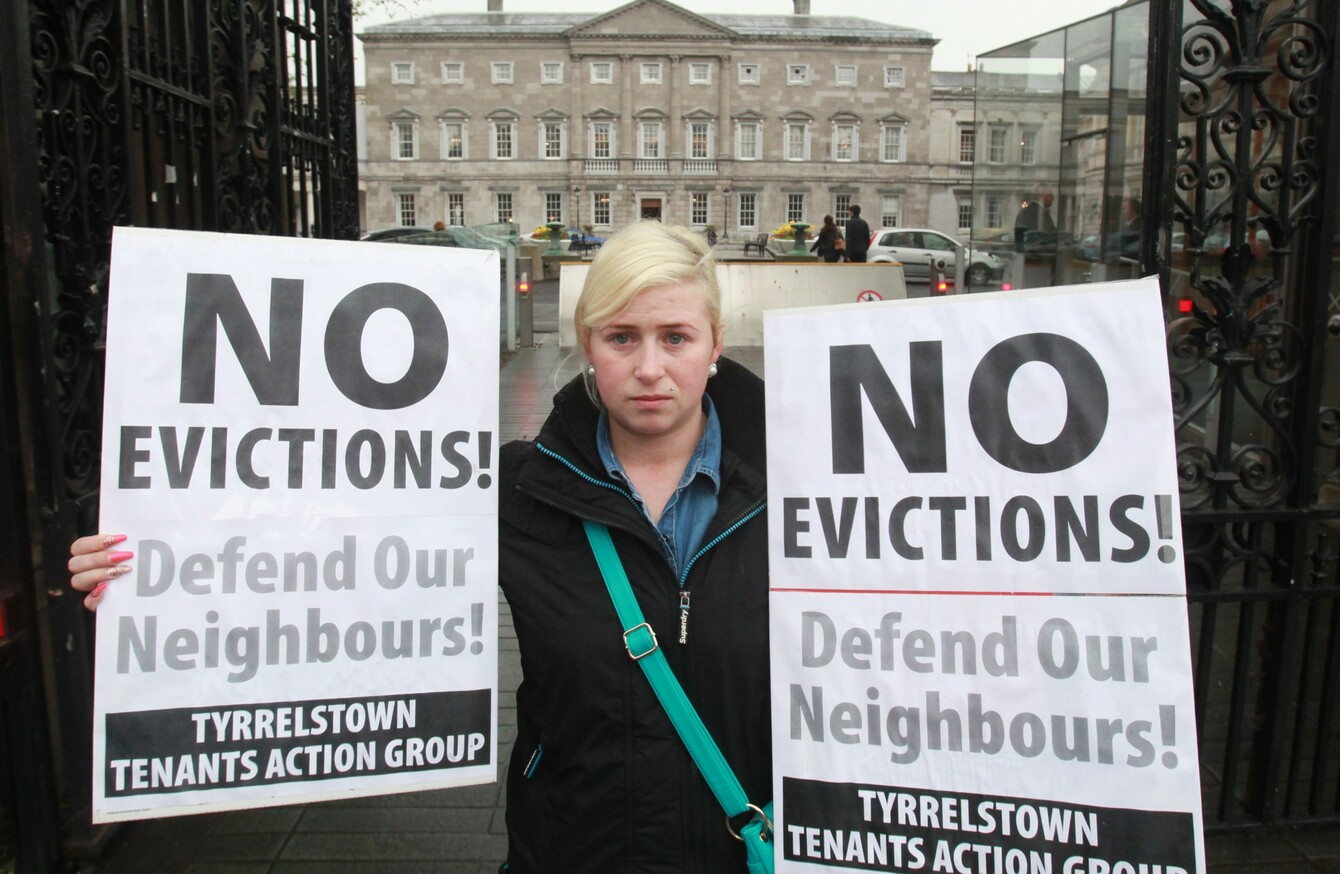 Gillian Murphy from Tyrrelstown protesting outside Leinster House.
Image: Leah Farrell
Gillian Murphy from Tyrrelstown protesting outside Leinster House.
Image: Leah Farrell
HOUSING MINISTER SIMON Coveney has said it is unclear if the Limerick tenants who are being evicted from their apartments are protected under the Tyrrelstown amendment, which is due to commence next week.
A number of tenants living in the Strand apartment complex in Limerick were given eviction notices after the properties were bought by a vulture fund.
Coveney told TheJournal.ie during a Facebook Live interview yesterday evening that his department are investigating the situation.
We are doing a little work to get the detail on that case…
Unfortunately, in Limerick what is not clear at the moment is if that new law will apply to the Limerick case because law can't apply retrospectively and so if the notice has been given, an eviction notice has been given, then we can't necessarily apply the law retrospectively, but I am looking to get involved in that case to see what we can do.
Tyrrelstown 
Last year, the tenants in the Tyrrelstown estate faced eviction after they received letters from a vulture fund telling them they would have to vacate their homes once their leases ran out.
The resistance to the evictions in Tyrrelstown last year resulted in the government introducing the 'Tyrrelstown amendment' into legislation.
The so-called 'Tyrrelstown amendment' aims to prevent large number of residents in a development being evicted all at once. However, it does allow for 10 tenants to be evicted at any one time.
The legislation was passed just before Christmas – but the commencement order doesn't kick in for a week.
Coveney described the new law as a "huge change and very important change in Ireland".
Speaking to Limerick Leader reporter Anne Sheridan, parents of an 11-week-old baby boy, Hungarian national Krisztina Berta and her fiance Angel Catala from Spain, said they have been ordered to leave their apartment.
They told the newspaper that they have looked for other accommodation in the city but demand is very high.
An online petition, addressed to Minister Coveney, calls for the evictions to be stopped. The petition has over 1,600 signatures.