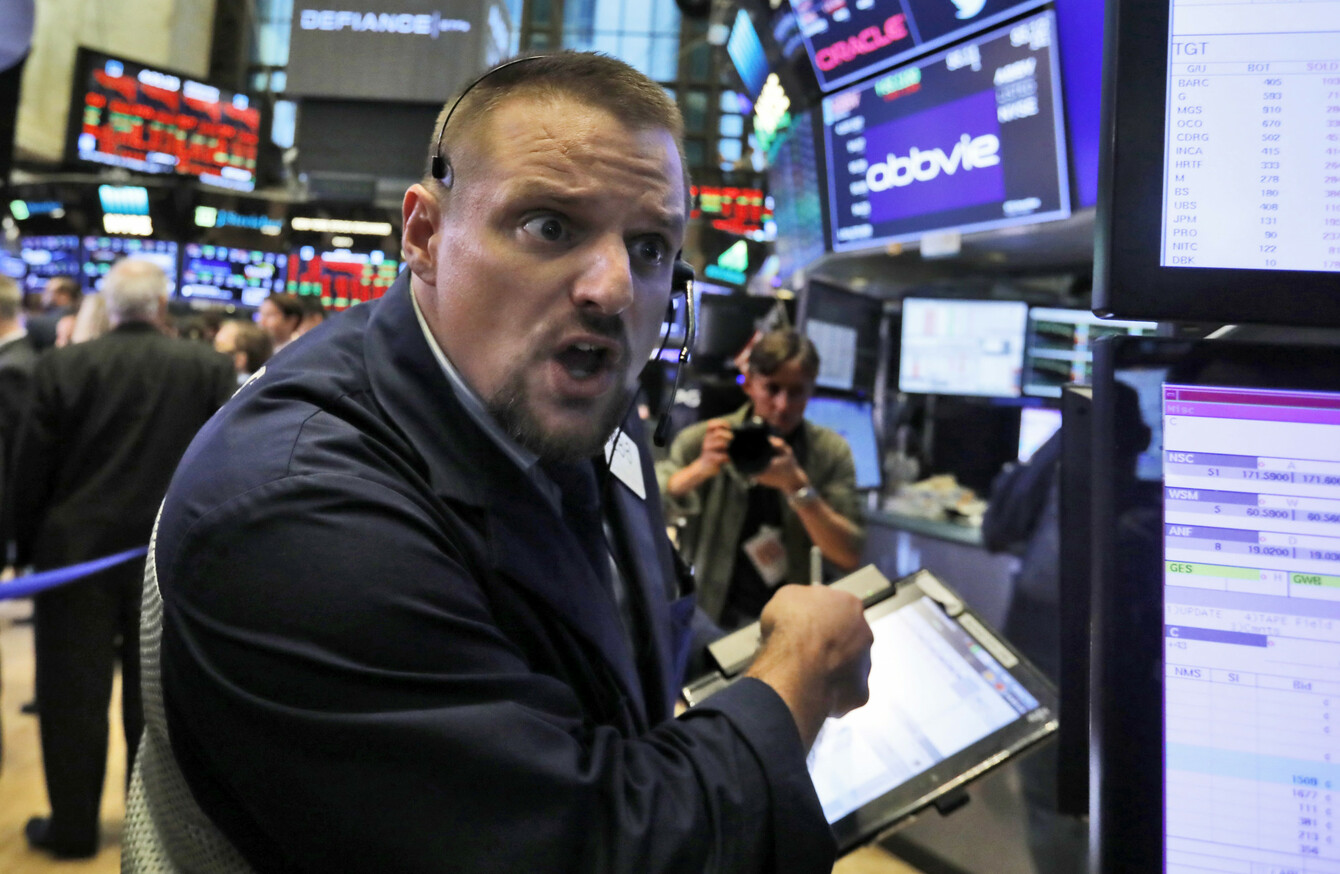 Trader Michael Milano on the floor of the New York Stock Exchange.
Image: Richard Drew/PA Images
Trader Michael Milano on the floor of the New York Stock Exchange.
Image: Richard Drew/PA Images
US STOCKS HAVE plunged to their worst loss in eight months, as technology companies continued to drop.
The Dow Jones Industrial Average fell 831 points.
The losses were widespread, and stocks that have been the biggest winners on the market the last few years, including technology companies and retailers, suffered steep declines.
Apple and Amazon both had their worst day in two and a half years.
The Nasdaq composite, which has a high concentration of technology companies, had its biggest loss in more than two years.
Alec Young, managing director of global markets research at FTSE Russell, said investors fear that rising interest rates and growing expenses are going to erode company profits next year.
"The tax cuts juiced earnings this year and that's not sustainable," he said.
"The market's starting to say that the glass may be half empty."
The S&P 500 index sank 94.66 points, or 3.3%, to 2,785.68.
The benchmark index fell for the fifth straight day, which hadn't happened since just before the 2016 presidential election.
The Nasdaq composite tumbled 315.97 points, or 4.1%, to 7,422.05. It's fallen 7.5% in just five days.
The Dow Jones Industrial Average gave up 831.83 points, or 3.1%, to 25,598.74. 
Source: CNBC Television/YouTube
After a long stretch of relative calm, the stock market has suffered sharp losses over the last week as bond yields surged.
Stocks had come close to big drops in the last few days, but each time they recovered some of their losses. That didn't happen today as stocks fell further late in the day.
Apple gave up 4.6%t to $216.36 and Microsoft dropped 5.4% to $106.16. Amazon skidded 6.2% to $1,755.25.
Industrial and internet companies also fell hard. Boeing lost 4.7% to $367.57 and Alphabet, Google's parent company, gave up 4.6 % to $1,092.16.
Rates
The biggest driver for the market over the last week has been interest rates, which began spurting higher following several encouraging reports on the economy.
Higher rates can slow economic growth, erode corporate profits and make investors less willing to pay high prices for stocks.
Technology and internet-based companies are known for their high profit margins, and many have reported explosive growth in recent years, with corresponding gains in their stock prices.