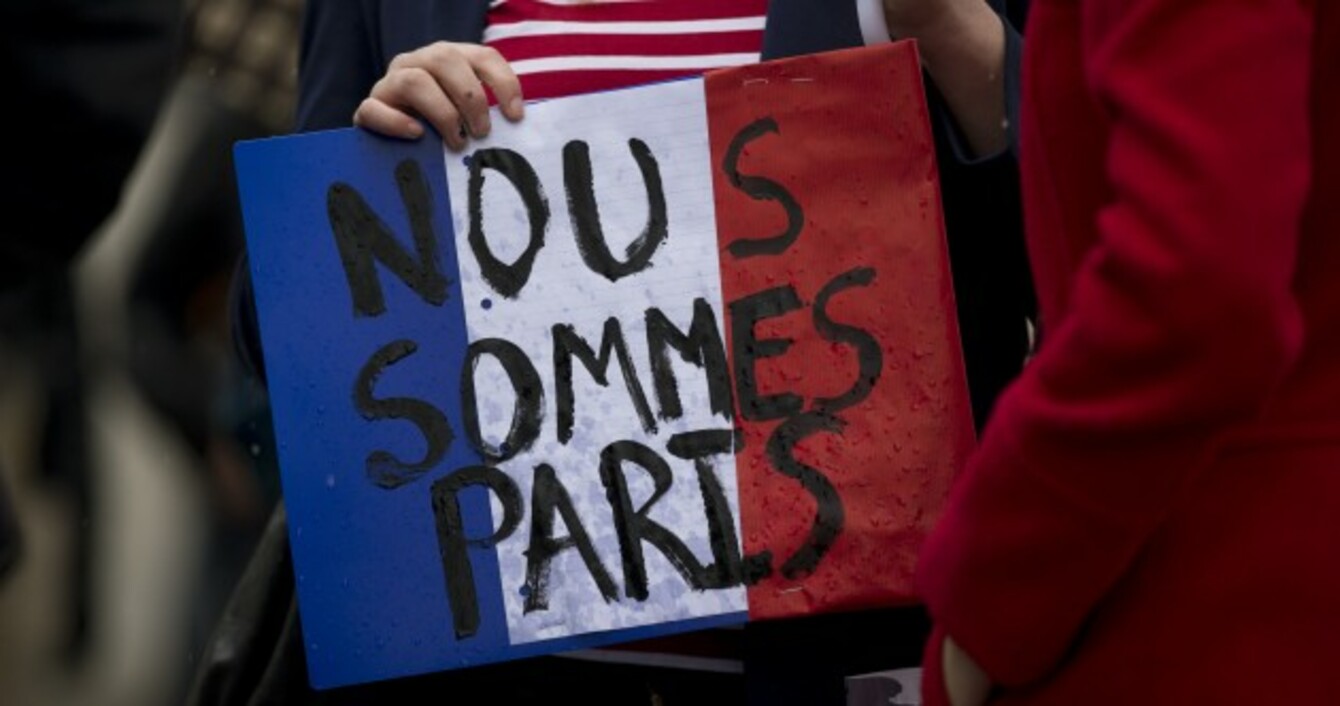 Image: Associated Press
Image: Associated Press
This is an act of war. An act committed by a terrorist army, Daesh, against France, our values, who we are, a free country that speaks to the entire planet.
French President François Hollande on the terror attacks in Paris.
This is an attack not just on Paris. It's an attack not just on the people of France. But this is an attack on all of humanity and the universal values we share.
US president Barack Obama joined the condemnation.
There is no end point with grief. You won't suddenly be okay – and that's okay too. The main thing I've learned from being bereaved is to appreciate the people you love and make sure they know that you love them.
TheJournal.ie reporter Órla Ryan shared her  story of losing her father (pictured), granny, granda and friend.
New anti-burglary plan will send strong message to criminals in CONSTITUENCY- NAME.
The latest template statement distributed by Fine Gael to councillors and election candidates. It happens quite frequently.
Source: Christchurch Boys' High School/YouTube
Be gallant, be gracious, and be grateful for the opportunities you have.
Jake Bailey, an eighteen-year-old student at a New Zealand school. Bailey was diagnosed with cancer, and doctors told him he would die if he did not receive treatment within three weeks, but he was allowed out on day release to deliver the speech.
Indeed, just as Ireland had in the run-up to the Nice referendum, when of course we should remind ourselves that the Irish people said no, only to be told that really isn't good enough Ireland – you're a little country you must rethink this and vote again and you were bullied into submission the second time around.
Ukip leader Nigel Farage's thoughts on the upcoming Brexit referendum, and how he expects a push from European politicians, the heads of multinational corporations and "unelected commissioners" ahead of the vote.
He's not the David Attenborough of the Irish health services, observing from a distance while they career out of control.
Fianna Fáil's health spokesperson Billy Kelleher on Minister Leo Varadkar.
Not one of them understood then, nor understands now, the meaning of free speech: unless you fight to defend opinions that offend and horrify you as the French did, you are intellectually akin to the men who pulled the trigger in the Charlie Hebdo offices. If you only permit liberty to speech and to views that echo your own, you are the tyrant.
Irish Daily Mail columnist Brenda Power lashed out at those who supported Charlie Hebdo journalists, but not her writings on the Travelling community. She was questioned by gardaí over the content of the original controversial article but will not be charged.
Please neuter and spay your feral children, because next time they might club someone whose head isn't as hard as mine and kill them.
Randy Blythe, the lead singer of groove metal band Lamb of God, detailed how he was attacked by a group of teenagers in Dublin.
I want something to change, I want the system to change. Let it not be a mistake, let it be a lesson.
Carol Lennon expressed her angry at how an ambulance for her son was sent to the wrong school.
Source: New Republic/YouTube
The wall will be successful. And if you think walls don't work all you have to do is ask Israel. The wall works, believe me – properly done.
Republican presidential hopeful Donald Trump on building a wall along the US border with Mexico.