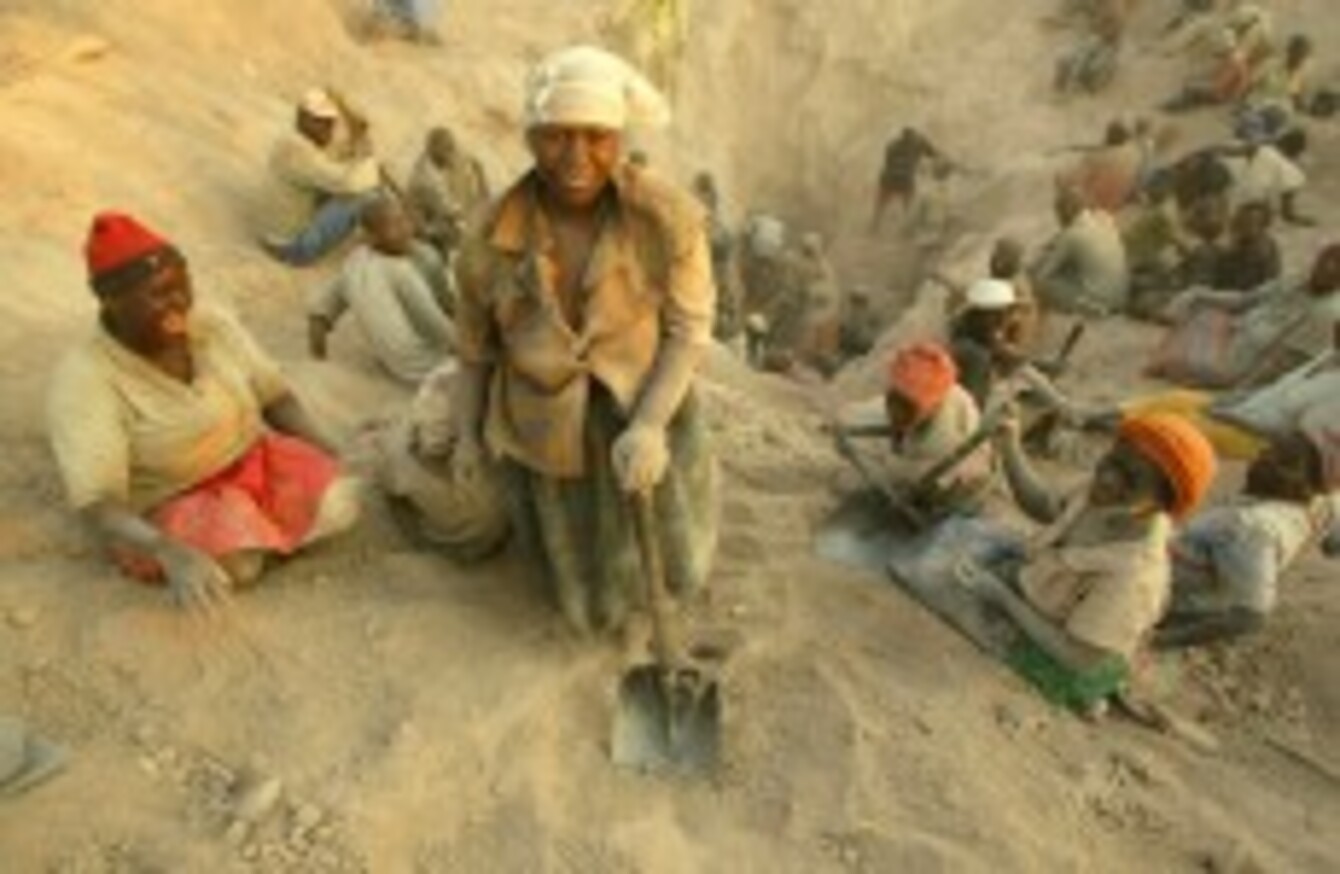 Nov. 1, 2006 file photo miners dig for diamonds in Marange, eastern Zimbabwe
Image: TSVANGIRAYI MUKWAZHI/AP/Press Association Images
Nov. 1, 2006 file photo miners dig for diamonds in Marange, eastern Zimbabwe
Image: TSVANGIRAYI MUKWAZHI/AP/Press Association Images
THE OWNERSHIP OF major diamond mines in Zimbabwe and their impact on human rights has come under the spotlight again today.
Global Witness says that there is a risk that any violence that takes place in the country during its next elections could be funded by diamond revenues.
It released a report today into the complicated ownership of two mines in the Marange field area: Anijin Investments and Mbada Diamonds.
Global Witness says that it is concerned diamond purchases may help to fund the Zimbabwean military.
Nick Donovan, senior campaigner at Global Witness, explained:
Zimbabwe desperately needs diamond revenues for health and education services, not AK 47s and flash cars for the elite. Zimbabwe must ensure that diamond mining companies are not used as an off-budget cash cow by ZANU PF loyalists in the military and police. If the next election is accompanied by violence there's a real risk that any bloodshed will be funded by diamond revenues.
Global Witness says that in 2008, the Zimbabwean army took control of the Marange fields "using troops and helicopter gunships" and killed and wounded small scale miners in the process.
In 2008, the Kimberley Process banned the export of diamonds from the Marange field due to evidence of human rights abuses there.
Global Witness says that since then, several companies have been allocated diamond concessions "in questionable circumstances".
It says these include Anjin Investments and Mbada Diamonds.
Anjin Investments has Zimbabwean board members including the permanent secretary at the Ministry of Defence as well as retired military and police officers, says Global Witness, while Mbada Diamonds has a "complex structure".
It says secrecy surrounding the real owners of Mbada has a number of potential consequences, "including a possible loss of tax revenues and the potential opportunity for officials or military figures to personally benefit from a state asset".
Global Witness today called on the Zimbabwean Government and Mbada to publish all their contracts and details of revenue flows to allay fears of corruption, tax avoidance or off-budget government spending.
The Kimberley Process is a government-to-government certification scheme for rough diamonds, which was set up in 2003 to prevent diamond-fuelled conflict and human rights violations.
The Kimberley Process (KP), the intergovernmental diamond certification scheme, recently approved unlimited diamond exports by Mbada and is considering giving the same endorsement to Anjin. Over the past three years the scheme, which was set up to stop the trade in blood diamonds, has failed to address state-sponsored violence in the Marange diamond fields and resisted calls for reform. 

Global Witness left the KP in December 2011.
Donovan said that the diamond industry "urgently needs to implement a system of 'supply chain due diligence' in order to give consumers the confidence to buy diamonds without any risk that they fund human rights abuses".
Global Witness recommends that the Zimbabwean Government should:
Pass legislation that bans serving members in Zimbabwe's security sector from exerting any control over mining companies – including being the beneficial owners of subsidiaries of companies operating in the country's sector.
Immediately audit every concession granted so far in Marange and publish details of the beneficial owners of Mbada and Anjin
Diamonds were discovered in the Marange fields in 2006, and tens of thousands of diamond panners went there. The government attempted to secure the mines in 2008.
Global Witness says that accurate figures about revenues from Marange diamonds are "notoriously difficult to find". It says customers should not buy diamonds originating from Marange mines until they can be certain they will not fund human rights abuses
You can read the full report by Global Witness here.