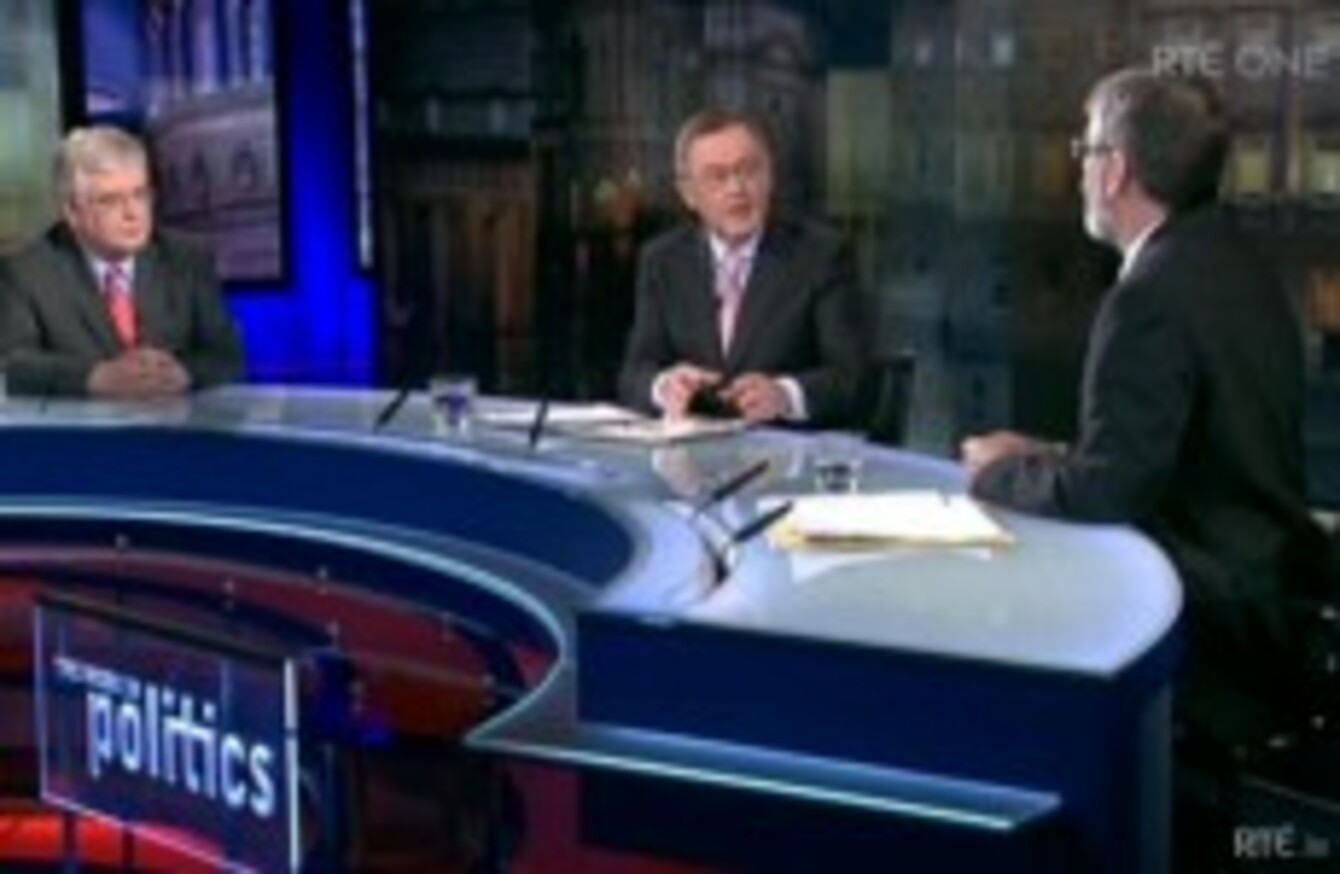 Eamon Gilmore and Gerry Adams debate on The Week in Politics last night
Image: Screengrab via RTE.ie
Eamon Gilmore and Gerry Adams debate on The Week in Politics last night
Image: Screengrab via RTE.ie
SINN  FÉIN LEADER Gerry Adams has said that there is "no social or economic merit" in the Fiscal Compact treaty as Tánaiste Eamon Gilmore insisted that a Yes vote in the upcoming referendum will ensure stability for the euro.
In a debate on RTÉ's The Week in Politics last night, Adams targeted the lack of support for the Fiscal Compact from the trade unions as just one of the reasons why people should vote No later this month.
He said that there was nothing in the treaty about creating jobs or bring investment to Ireland, a view not shared by his Labour Party counterpart, who said that the treaty offered emergency funding if Ireland needed it.
Gilmore said the political uncertainty in Greece was a lesson for Ireland: "The lesson from that for us is to go the route of certainty, to be definite, to make a clear decision on the 31 May.
"To opt for stability as far as the euro is concerned, to ensure that there is confidence from investors and that we can have access to emergency funding if we needed," he said.
By contrast Adams said that austerity was not working and that Ireland needed to change the direction in which it was going, "you won't cut your way out of a recession".
"There is nothing meaningful in this treaty about getting people back to work," Adams claimed citing that as a reason why French president-elect Francois Hollande had not yet signed up to it.
Adams also said that the lack of support from trade unions, with many of the Irish representative bodies calling for a No vote and the Irish Congress of Trade Unions calling for the plebiscite to be delayed, was an indication of the treaty's weaknesses.
"The Tánaiste and the Taoiseach signed off on a treaty which the unions are against, the vast majority of the trade unionists are against it because there is no social or economic merit in it," he said.
"Contrary to what the Tánaiste says there is nothing in this treaty which makes any meaningful and positive and constrictive contribution to the need for jobs and jobs investment."
The pair also sparred over the issue of what funding Ireland could access in the event it rejects the treaty.
According to the treaty, a country that rejects the Fiscal Compact will not have access to the European Stabilty Mechanism bailout fund.
Gilmore said the availability of funding was necessary to assure markets even though he believes Ireland will not need to access it.  However, Adams said that Ireland could still access European funding if the treaty is rejected.