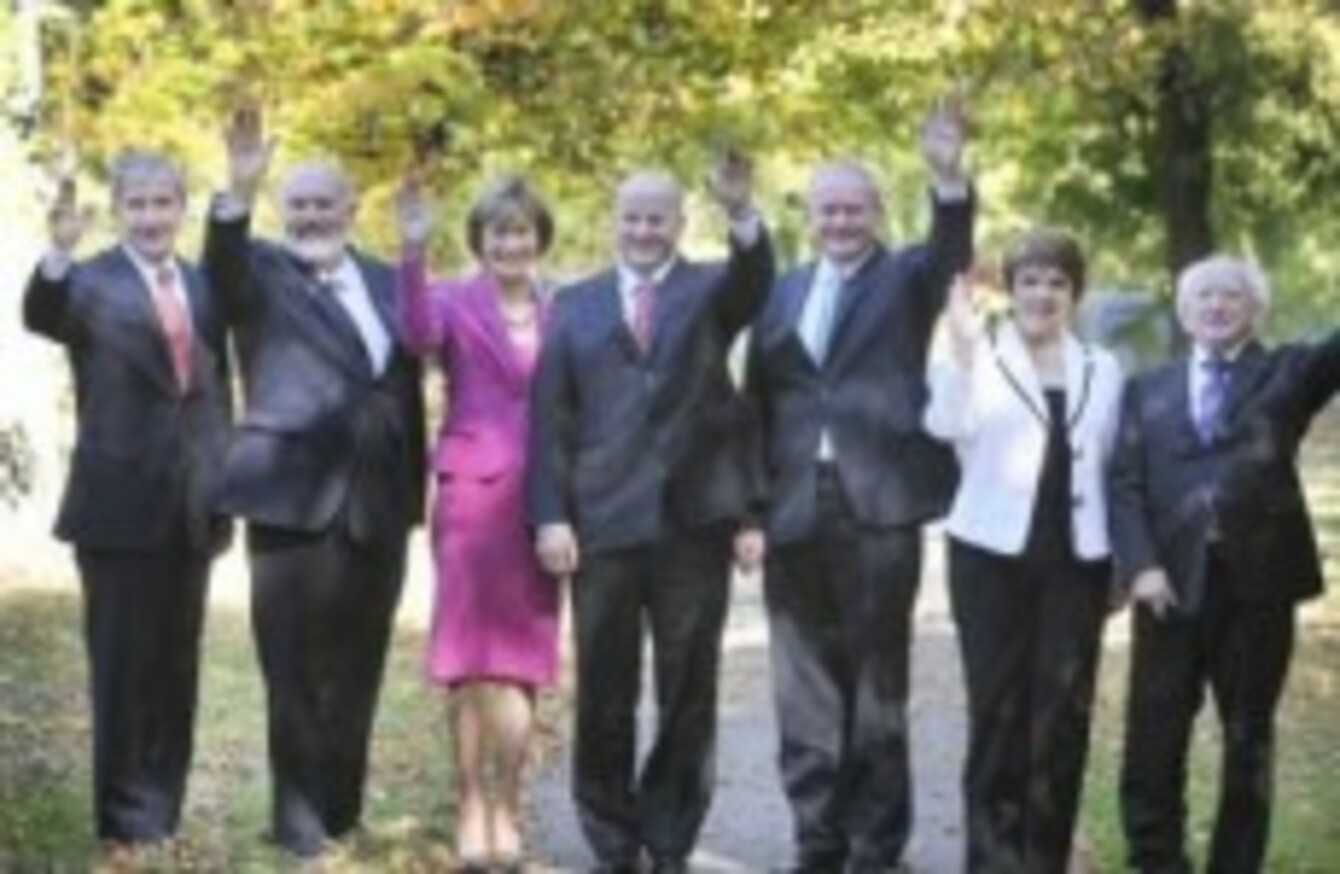 Image: Photocall Ireland
Image: Photocall Ireland
Updated, 15.39
AS THE CAMPAIGN for the presidential election veers toward its final stretch, check out where you can meet the candidates today.
All seven of the candidates will be at the TG4 studios in Baile na hAmhann in Co Galway for the morning, where their seven-way bilingual presidential debate is being taped from 11am. (The debate is being broadcast at 7pm with subtitles, and we will have our usual liveblog.)
Mary Davis will begin her day being interviewed on Morning Ireland at 7:30am, being interviewed from RTÉ's Galway studio. After the debate she heads to Meath, attending a Third Age Event in the community centre at 2:30pm, before heading to Navan for a canvass beginning in the Fairgreen at 4:30pm.
Seán Gallagher will head for Dublin after the debate but will have no public engagements.
Michael D Higgins will follow his TG4 appearance with a visit to Studio Solas, a production studio where Telegael are producing dramas for German, UK and French TV (12:30pm). Later he heads to Galway city where he will visit Griffin's Bakery, Shop Street (3pm) and receive a 'good luck' cake from Galway United FC. After a walkabout in Eyre Square he'll then head to Paddy Power on Prospect Hill to place a charity bet on himself in aid of the Irish Guide Dogs for the Blind (3:30pm).
Martin McGuinness will make his way to Cork after the debate, where he will pop into Newstalk's studios on Opera Lane to appear on The Right Hook at 5pm. Later he will speak at a supporters' relay at the Gresham Metropole Hotel beginning at 7:30pm.
Gay Mitchell will return to Dublin after the debate, meeting US Embassy officials on Mespil Road on Dublin's Grand Canal at 4:30pm. Later, at 6:20pm, he heads to RTÉ to be interviewed on the Six One News.
David Norris will follow his debate appearance with a visit to NUI Galway at 2pm, and later moves onto canvass in the town centre of Mullingar, Co Westmeath.
Dana Rosemary Scallon will be in Roscommon Town after the debate canvassing for support at 2pm. Afterwards she will travel to Carrick on Shannon where she will arrive at 4pm before departing just after 5pm.