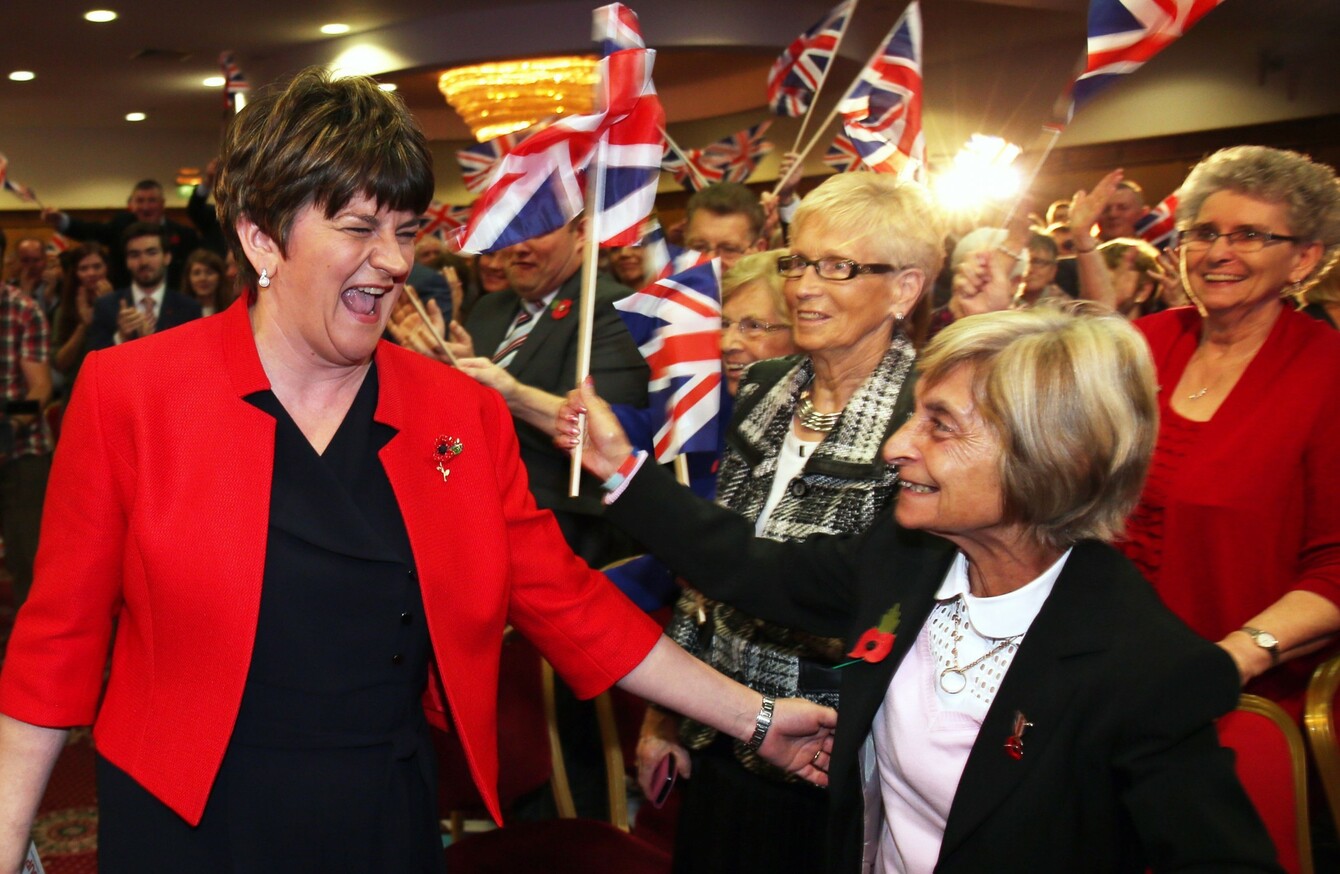 ARLENE FOSTER HAS expanded on comments made yesterday that accused the Irish Government of 'poaching' Northern Ireland's potential investors and talking down their economy.
Foster, the First Minister of Northern Ireland said that she was sure Enda Kenny knew what the IDA was up to, and said that the All-Ireland Forum on Brexit "will end up as a piece of grandstanding".
Speaking on RTÉ's This Week, Foster revealed where she got her information from:
"We have been told by companies and by staff in America that the Irish Government have been going around to our companies, and indeed potential companies that are thinking of coming to Northern Ireland, and portraying Northern Ireland as a negative place to invest in."
"And look I understand, we're in competition with one another, but please don't portray Northern Ireland as not having a good story to tell because we still have the value, we still have the talent, and come 2018 we'll have the tax!"
"I think we have a very good proposition to sell, and we'll continue selling it."
Foster asserted again that there was no will from the party to return to a hard border between the North and Republic of Ireland, but said that the All-Ireland Forum "will end up as a piece of grandstanding" as the DUP refused to take part.
"We need to convince the EU that because of our geography and history that they need to deal with us in a particular fashion and when those negotiations start to recognise that."
Taoiseach Enda Kenny
Foster said that it was right to bring this issue up, as people need to understand what's going on.
Speaking about Enda Kenny, Foster said that "he knows very well what the IDA is up to I'm sure in relation to economic growth in the Republic of Ireland".
Despite the accusations about the Irish Government, Foster maintained that the relationship between the two administrations wasn't frosty, and is the best it ever has been.
"We're big people, we're not that thin skinned. He's a grown up politician and so am I."
"I think it's right that I'm bringing up what going on in America because it's actually happening, and people need to understand that."
"I think the worst thing is if I was saying these things behind closed doors and not saying it straight to Enda – but I think it's right that we're saying what's going on."
'Poaching investors'
Yesterday, the First Minister of Northern Ireland chose her first speech as leader of the Democratic Unionist Party to tackle the issue of investment competition for the North:
"Their representatives are sent out around the world to talk down our economy, and to attempt to poach our investors."
Now, it's clear conference, that the one place that a hard border does exist, is in the mind of the Irish government.
"Well I don't believe in a hard border, and I'm happy to welcome any shoppers looking for a bargain from anywhere across the border anytime soon."
This comes as a Red C Poll published in today's Sunday Business Post shows that one in three of all shoppers in the Republic plan to cross the border to do their Christmas shopping – taking advantage of the slump in sterling.
This could lead to a major drop in revenue for the government, as if true, means the intake from tax on goods will slump.