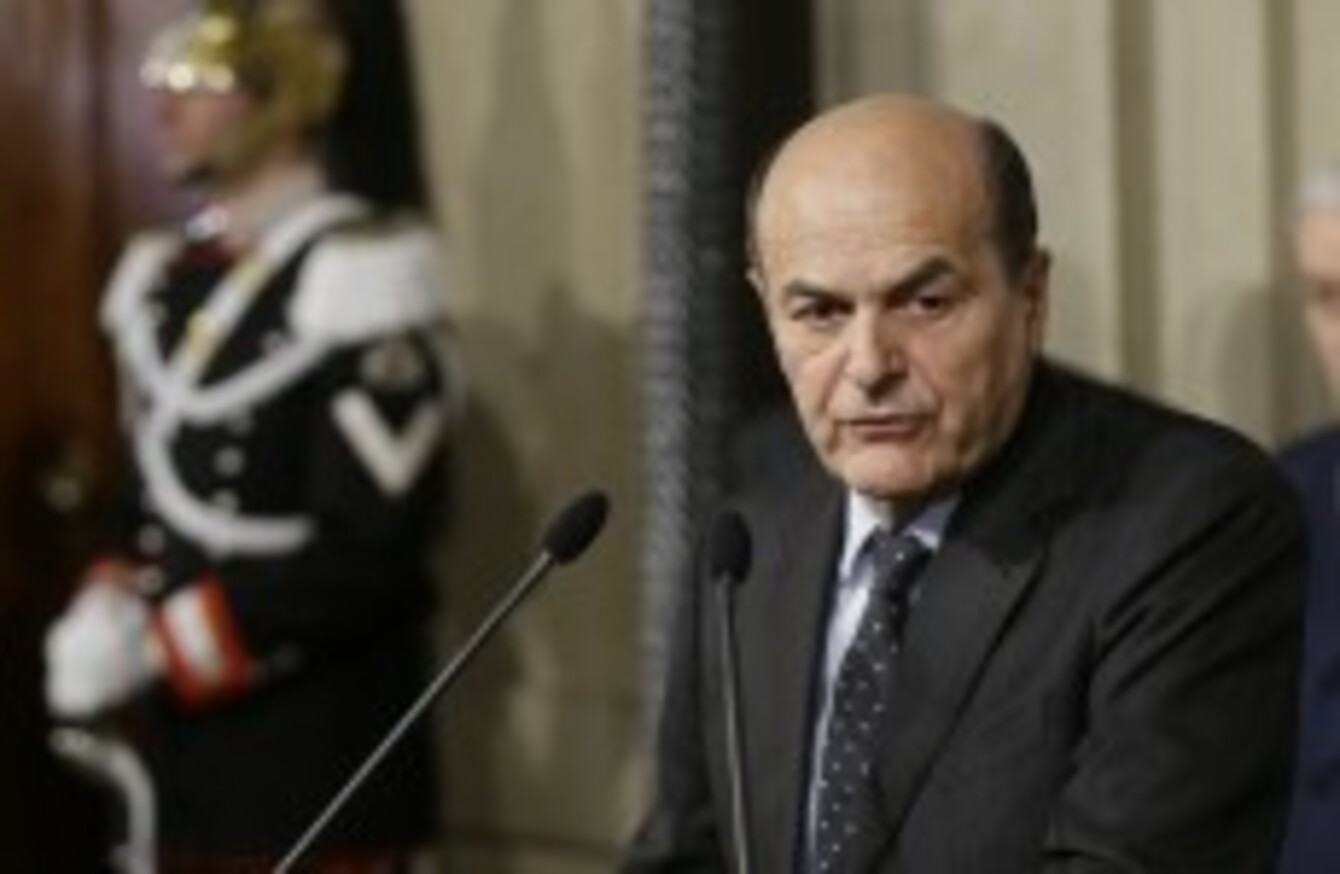 Pier Luigi Bersani speaking to reporters in Rome today.
Image: Alessandra Tarantino/AP/Press Association Images
Pier Luigi Bersani speaking to reporters in Rome today.
Image: Alessandra Tarantino/AP/Press Association Images
ITALY'S LEFTIST LEADER Pier Luigi Bersani has been given the go-ahead to attempt to form the country's next government after elections which left no clear winner as the eurozone's third largest economy struggles with a grinding recession.
President Giorgio Napolitano formally asked ex-communist Bersani to try and break the political deadlock, saying he should move "as quickly as possible" to verify whether he has the support to govern, as Europe looks anxiously on.
"I will start immediately. I will take the time necessary in a very difficult situation," Bersani said, adding that he would go into talks with the other parties "with few words but precise intentions on the road of reforms".
The centre-left narrowly won the February elections but without a majority in the upper house and the stalemate has revived fears the eurozone debt crisis could return to Italy just as a bitter bailout standoff in Cyprus intensifies.
"Today marks the start of a decisive phase in giving Italy a new government," Napolitano said, warning against "sterile delays" in tackling a situation rife with difficulties.
Any new government needs a majority in both houses, and if Bersani is to succeed he needs 35 senators from other parties to back him.
17 seats needed
The centre-left currently holds 123 senate seats. It hopes to be able to count on the support of former premier Mario Monti's centrist party, which holds 18 seats — but still needs another 17 to reach the senate majority of 158.
Should Bersani fail, the reins may be handed to a technocratic government similar to the outgoing one led by Monti or a cabinet combining political and non-political figures but not led by Bersani.
Napolitano indicated that instead of asking Bersani to form a government alone he would have favoured a "grand coalition" between the centre-left and centre-right, but he said obstacles to such a deal "appear significant".
He called for "a spirit of national cohesion", warning: "We can no longer ignore the spread of social unease and expressions of dissatisfaction against political parties," referring to the high number of protest votes in February's election.
Any new government will face urgent economic issues, from high unemployment among the young to a vast and growing debt mountain, as Italy struggles to pull itself out of its longest recession in two decades.
Some observers say Bersani may be forced to woo members of rival Silvio Berlusconi's centre-right in a bid to prevent a rapid return to the polls.
Any deal with the right and the scandal-tainted former premier would prove hugely controversial among leftists but Berlusconi's coalition, which came a close second in the February vote, insists it is the only option.
The centre-left "has to be able to show they have a stable political majority already in place", said Renato Brunetta, lower house leader of Berlusconi's People of Freedom party.
Any attempt by Bersani to exclude the centre-right and still claim a majority "is suicidal and irresponsible", he said.
Five Star Movement
The left has so far failed to garner support from the Five Star Movement, a new protest party that gathered millions of votes at the February 24-25 ballot from Italians fed up with austerity and the perks enjoyed by politicians.
The movement has refused flat out to support Bersani.
Whatever government is eventually formed, analysts say it is likely the country will be forced to return to the polls within months — after the reform of an electoral law widely blamed for the deadlock.
"Whatever government Bersani manages to put together — if he does manage — will have a very short life, perhaps a year to put through some of the more important reforms," said James Walston, international relations professor at Rome's American University.
A return to the polls could delay substantial reforms to the country's stagnant economy and financial markets are watching the situation anxiously.
Italy managed to pull back from the debt crisis under Monti, who was brought in to head up a technocrat government at the end of 2011.
But while his austerity reforms and tax hikes reassured European leaders, public finances are still in a dire state and ordinary Italians are suffering.
"European institutions are very concerned, because if there's no government in Italy, all the reforms which Monti put in place will stop," Walston said.
Should the political and economic crisis which in 2011 brought down the last Berlusconi government rear up again, "it would be dangerous. It was dangerous then, and with the Cyprus crisis it could be catastrophic", Walston said.
The government on Thursday slashed forecasts, saying it now expected a public deficit of 2.9 percent of gross domestic product (GDP) this year — far higher than the 0.5 percent promised before.
It also forecast the economy would shrink by 1.3 percent this year — compared with an expected contraction of 0.2 percent before.