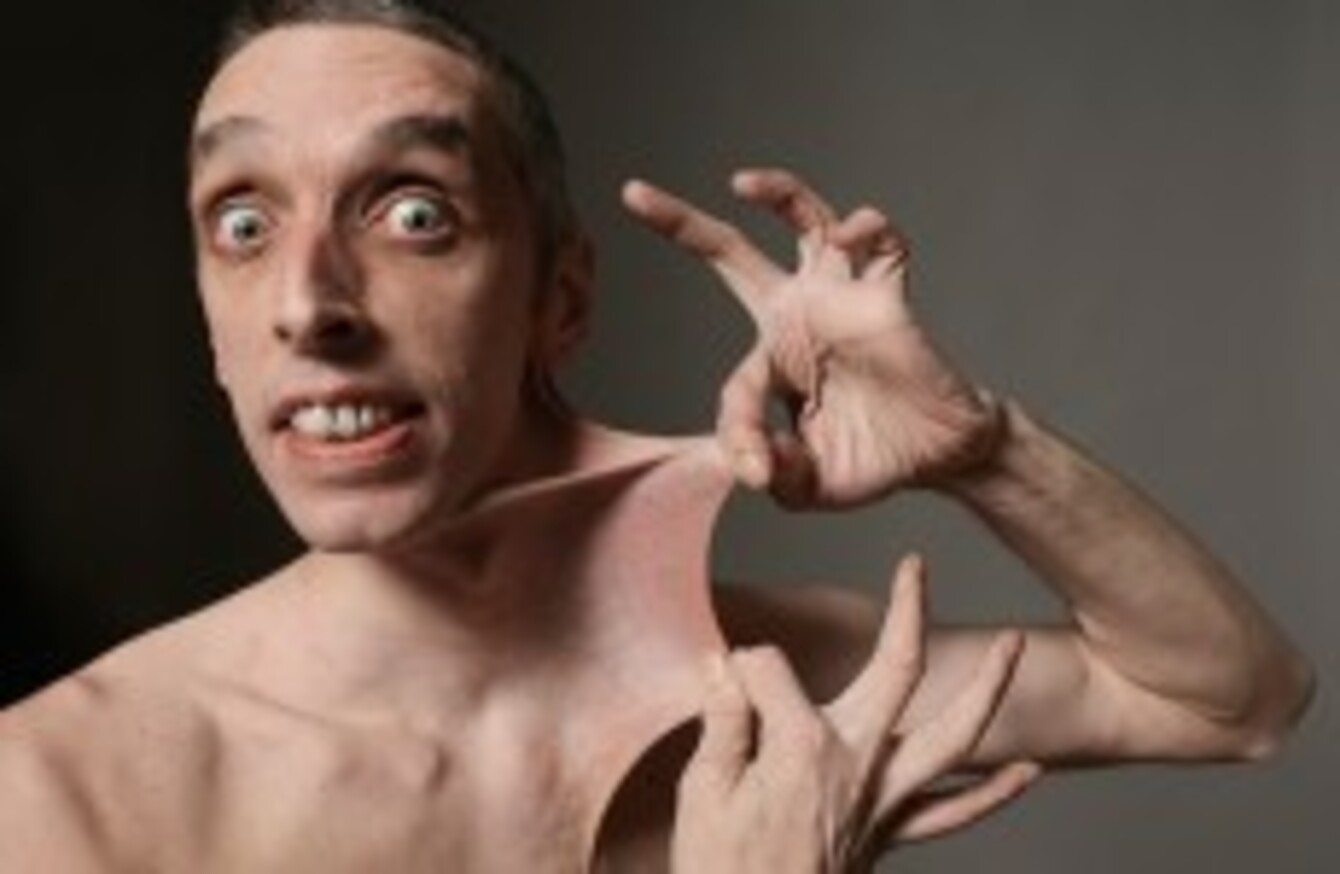 Image: Guinness World Records
Image: Guinness World Records
FOR EVERY USAIN Bolt out there, setting records for tremendous feats of athletic prowess, there will be fifty people seeing how many tea spoons they can stick to their face.
The Guinness World Records are celebrating their 60th anniversary this year and have always provided an egalitarian platform for people to gain notoriety for doing all sorts of unusual things.
To set a record all a person has to do is apply to the organisation and then perform their amazing feat of choice in front of one of the organisations judges. A person can set up an entirely new record in just 12 weeks. 
From skin stretching to hot dog eating – here are some of the weirdest things people have the bizarre mantles of being the best at.
Stretchiest skin
Try and pull your the skin on your neck away from your body. Probably isn't too much give in it. Try the back of your elbow – you might have a little bit more luck.
The odds are that you won't come anywhere near anything that Garry Turner from the UK is able to do.
Gary is able to stretch the skin on his stomach to 15.8 cm. This is due to a rare condition called Ehlers-Danlos Syndrome that affects the connective tissues in the body.
Source: Guinness World Records/YouTube
Most pubs visited
A record that quite a few of us would fancy our chances at. Bruce Masters from the United Kingdom has visited more than 46,495 pubs and drinking establishments since 1960.
The 70-year-old has been pursuing his enthusiasm for locally brewed ale since 1960 and travels everywhere by train.
Oldest male stripper
Bernie Barker began stripping in 2000 at the age of 60 as a way to get in better shape after recovering from prostate cancer.
He had previously worked selling real estate and set the record in 2002 at the age of 62. Unfortunately Barker passed away in 2007 at the age of 66.
Source: tukwdenemem5/YouTube
Most clothes pegs clipped to the face in one minutes
If you find yourself with a bit of spare time on your hands over the long weekend, instead of sitting down with a box set, why not see how many clothes pegs you can stick to your face?
The record of 51 pegs in one minute was achieved by Silvio Sabba in Pioltello, Italy on 27 December 2012.
Not contented with his clothes-peg prowess, Mr Sabba has since been attempting to set records in a number of other obscure areas, including walking blindfolded on top of glass bottles.
Source: silvio sabba/YouTube