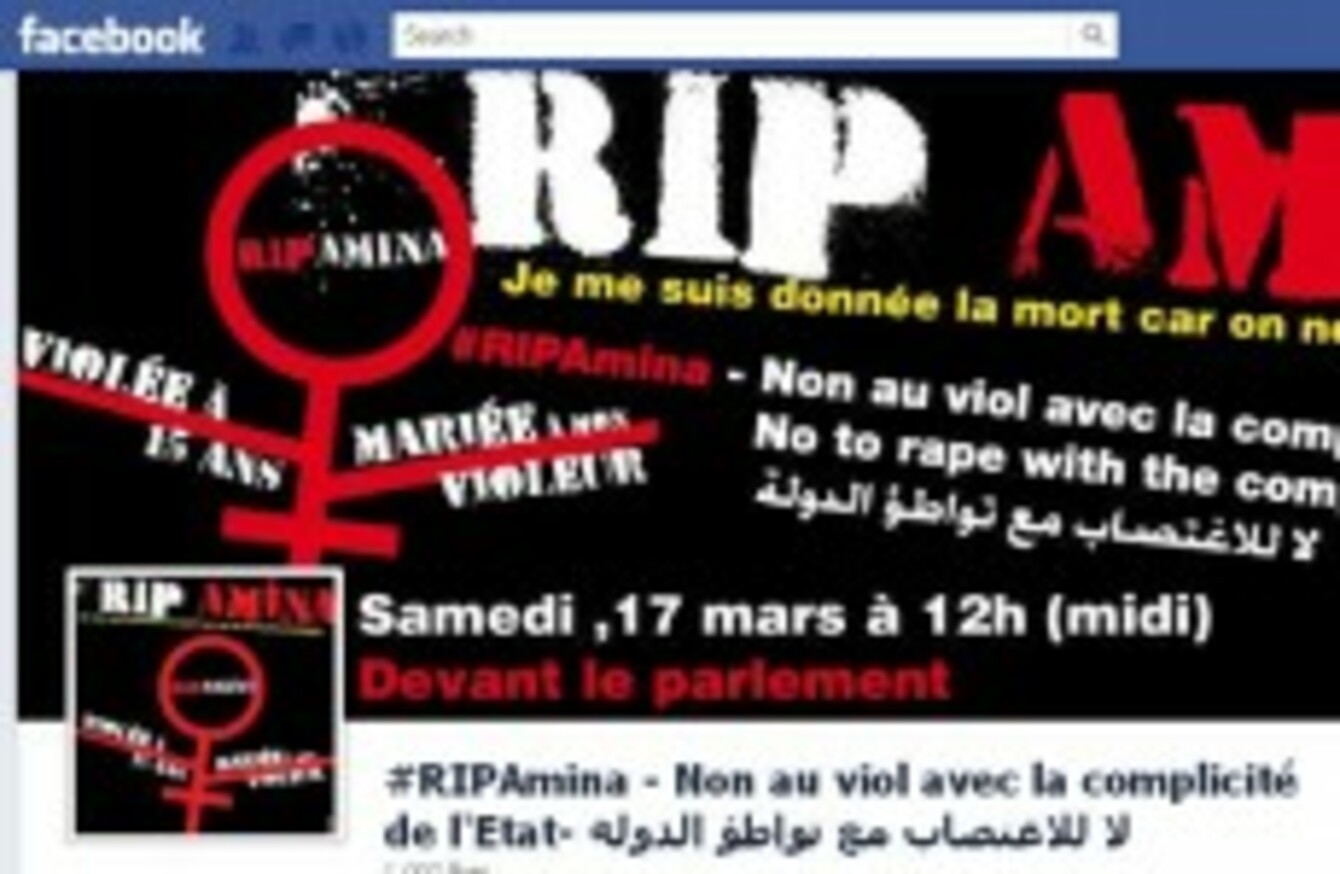 Campaigners on Facebook call for a protest sit-in outside Morocco's parliament tomorrow.
Image: Facebook
Campaigners on Facebook call for a protest sit-in outside Morocco's parliament tomorrow.
Image: Facebook
A TEENAGER'S SUICIDE following her forced wedding to her rapist has sparked outrage in Morocco and calls for the country's laws to be changed.
Under Article 475 of Morocco's penal code, the 'kidnapper' of a minor can escape prosecution by marrying his victim and preserving her family's 'honour'.
Amina Filali, 16, swallowed rat poison on Saturday in protest against her marriage to the man who had raped her a year earlier.
Morocco updated its family code in 2004 in a landmark improvement of women's situation, but activists continue to call for further improvement. In rape cases, the burden of proof often lies with the victim and if they cannot prove the attack, they risk being prosecuted for debauchery.
Filali's father told a Moroccan newspaper that court officials had suggested the marriage option right from when the rape was first reported. "The prosecutor advised my daughter to marry, he said 'go and make the marriage contract,'" said Lahcen Filali in an interview that appeared on goud.ma earlier this week.
He said his daughter had been attacked on the street and raped when aged 15, but hadn't told her parents for two months.
He also said that the attacker had initially refused to marry the girl, and only acquiesced when faced with prosecution. A conviction carries a penalty of up to ten years in prison, though this can be raised to 20 in the case of a minor.
Filali said that his daughter complained to her mother that her husband beat her repeatedly during the five months of their marriage.
Campaigns
A Facebook page called "We are all Amina Filali" has been formed and an online petition calling for Morocco to end the practice of marrying rapists and their victims has already gathered more than 1,000 signatures. The Twitter hashtag #RIPAmina is being used to express condolences for Filali and to call for reforms.
Campaigners are calling for a sit-in outside the Moroccan parliament tomorrow in a push for changes to the law.
Abdelaziz Nouaydi, who runs the Adala Assocation for legal reform, said a judge can recommend marriage only in the case of agreement by the victim and both families.
"It is not something that happens a great deal — it is very rare," he said, but admitted that the family of the victim sometimes agrees out of fear that she won't be able to find a husband if it is known she was raped.
The marriage is then pushed on the victim by the families to avoid scandal, said Fouzia Assouli, president of Democratic League for Women's Rights.
"It is unfortunately a recurring phenomenon," she said."We have been asking for years for the cancellation of Article 475 of the penal code which allows the rapist to escape justice."
Activist Fatima Outaleb of  the organisation Union de L'Action Feminine told the LA Times that the campaign to ban Article 475 had been underway for some time, but that the teenager's shocking death had mobilised people to the cause. She said she believes there is general agreement that the law allows for children to be violated in the name of honour.
- Additional reporting by Susan Ryan