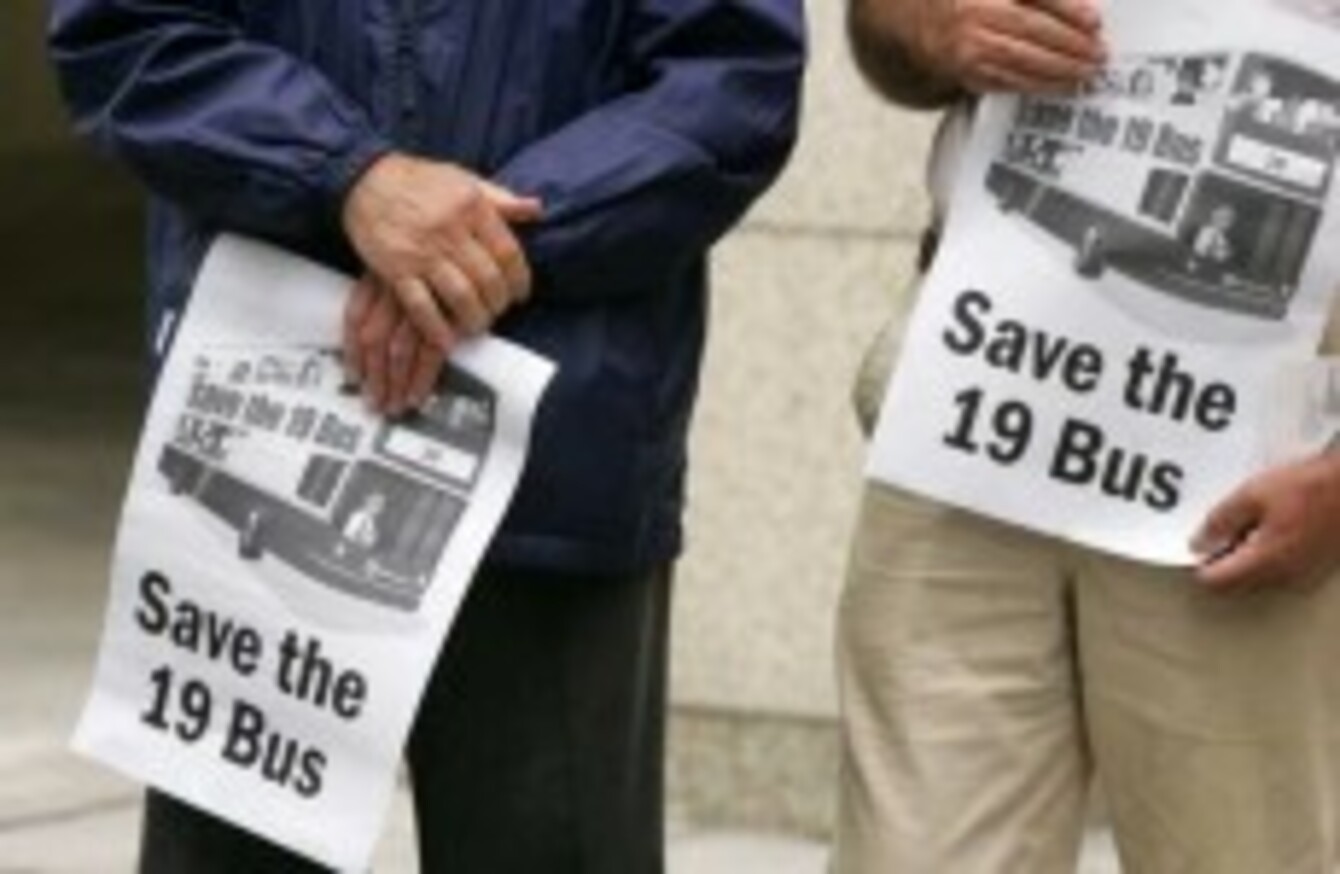 Image: Sam Boal/Photocall Ireland
Image: Sam Boal/Photocall Ireland
THE CAMPAIGN THAT fought to save the number 19 Dublin Bus service has said it will continue to push for the restoration of services to areas affected as the 80-year-old bus route stopped last night.
The number 19 bus took its final journey last night despite months of campaigning by local people, councillors and TDs who pushed for the route to be retained.
Dublin Bus has said the areas affected will continue to be served by alternative bus route numbers.
Campaigners held a number of demonstrations in recent weeks including a protest outside Dublin Bus headquarters on O'Connell Street last week but the route, which travels from Jamestown Road, through Phibsboro towards O'Connell Street and on to South Circular Road and Dolphin's Barn, terminating at Bulfin Road, finished last night.
Spokesperson for the Save our Buses campaign, Mark Lawler told TheJournal.ie today that he was "extremely disappointed" with what had happened.
"There's been a bus or tram route running since the 1930s. We will continue to push for a redress of the situation and campaign for better bus services for people in our community. We're not giving up," he said.
Dublin Bus has said that people can avail of the alternative services through their number 9, 68, 83, and 122 buses.
A recent statement said: "It is untrue to say that Route 19 is being withdrawn or 'scrapped'. The route number "19" will no longer be used but the general areas that it currently serves on both the northside and southside of the city will continue to be served – albeit by different bus route numbers." (Read the full statement).
However, Lawler argued that the additional 68A bus which will run at peak times during week days will need to be more regular.
He predicted "chaos" tomorrow when children return to school and said the campaign, which met with the Lord Mayor of Dublin recently, is pushing for the issue to be debated by Dublin City Council when it returns in September.