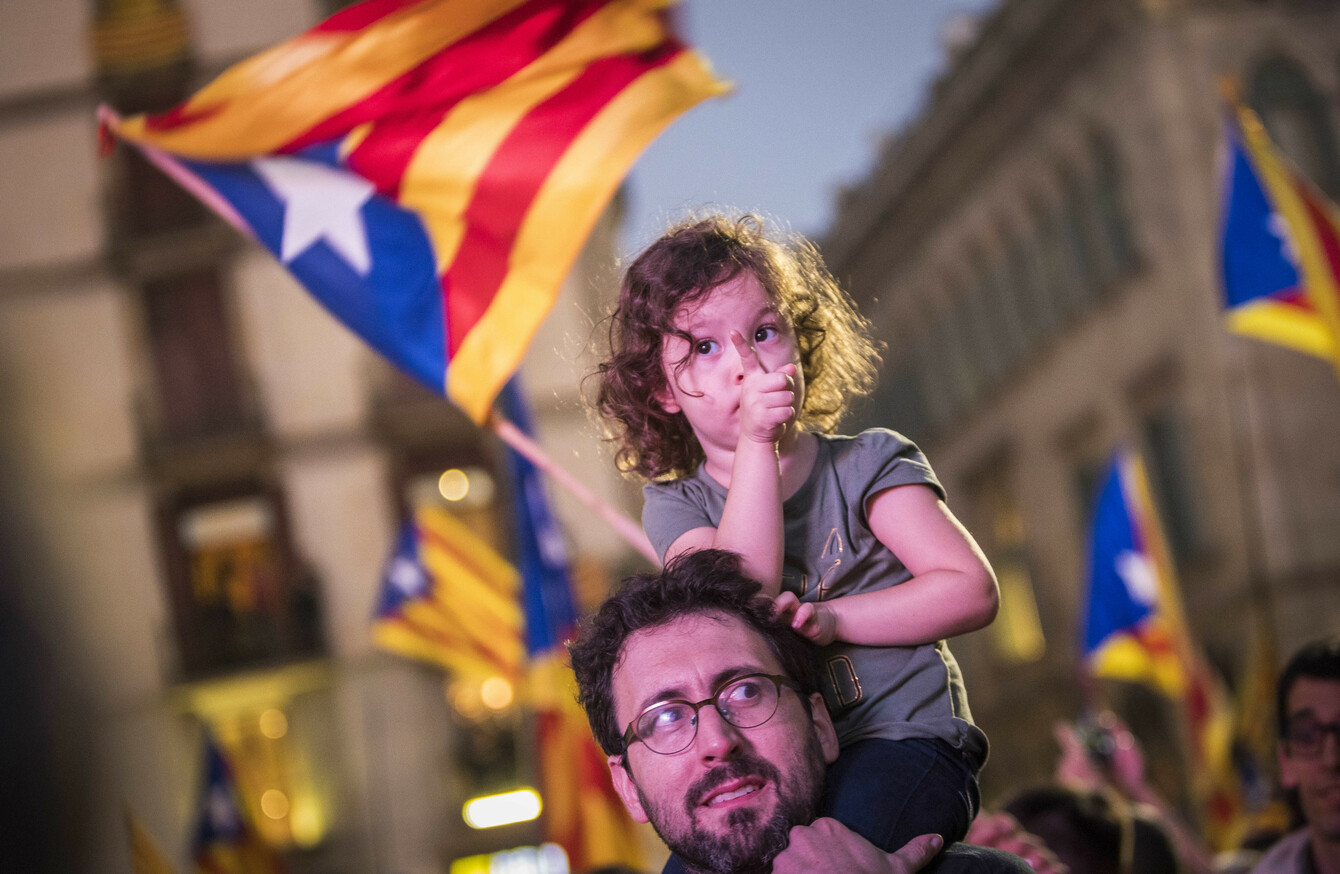 People wave pro-independence flags, outside the Palau de la Generalitat in Barcelona, Spain
Image: Almagro/ABACA via PA Images
People wave pro-independence flags, outside the Palau de la Generalitat in Barcelona, Spain
Image: Almagro/ABACA via PA Images
Updated 10.15am
THE CATALAN FLAG is a step closer to being flown over City Hall after councillors voted in favour of a motion put forward by People Before Profit councillor John Lyons.
Lyons is calling for the Catalan flag to fly over City Hall for a month in solidarity with Catalonia.
The motion was put forward at a protocol meeting of Dublin City councillors this morning and passed with seven for and five against.
It will now be voted on by all members of the council at the monthly meeting on Monday 4 December.
Speaking to TheJournal.ie ahead of this morning's vote, Lyons explained that People Before Profit's Tina MacVeigh wrote the motion but he's going to propose it.
He added that MacVeigh has been over to Catalonia twice in the last month. Lyons said:
I think it's important that Dublin City Council shows solidarity with Catalonia and that we fly the flag in solidarity with them.
He said the people of Catalonia are trying to engage in the democratic process but are being denied the right to do so by the Spanish government.
The Catalan leaders have been accused of rebellion which carries a maximum 30 year jail term as well as sedition and misuse of funds.
Fine Gael councillor Naoise Ó Muirí sent a tweet with the text of the motion in advance of the meeting but he told this website that he wouldn't be supporting it. The motion states:
In solidarity with our twin city of Barcelona this council condemns the Spanish government's repression and violence perpetrated on citizens exercising their democratic right to vote and as such, in an act of solidarity and in recognition of this universal right to democracy and self determination as established by international covenants, we agree to flt the Catalan flag over City Hall for one month.
Ó Muirí said, "I think it's a difficult situation and I think opinion is split on it as it is. It's hard to see how it's going to unfold.
"From my own perspective I have no difficulty with self determination but it has to be peaceful.
I don't support police brutality of citizens anywhere in the European Union but I don't see how flying a flag over City Hall will advance a peaceful solution.
The protocol meeting was made up of members from every party.
Earlier this year, Dublin City councillors voted to fly the Palestinian flag over City Hall as a gesture of solidarity. That motion was also proposed by John Lyons.
Fine Gael and Fianna Fáil members voted against it but it was carried with the support of Sinn Féin and left-wing parties.