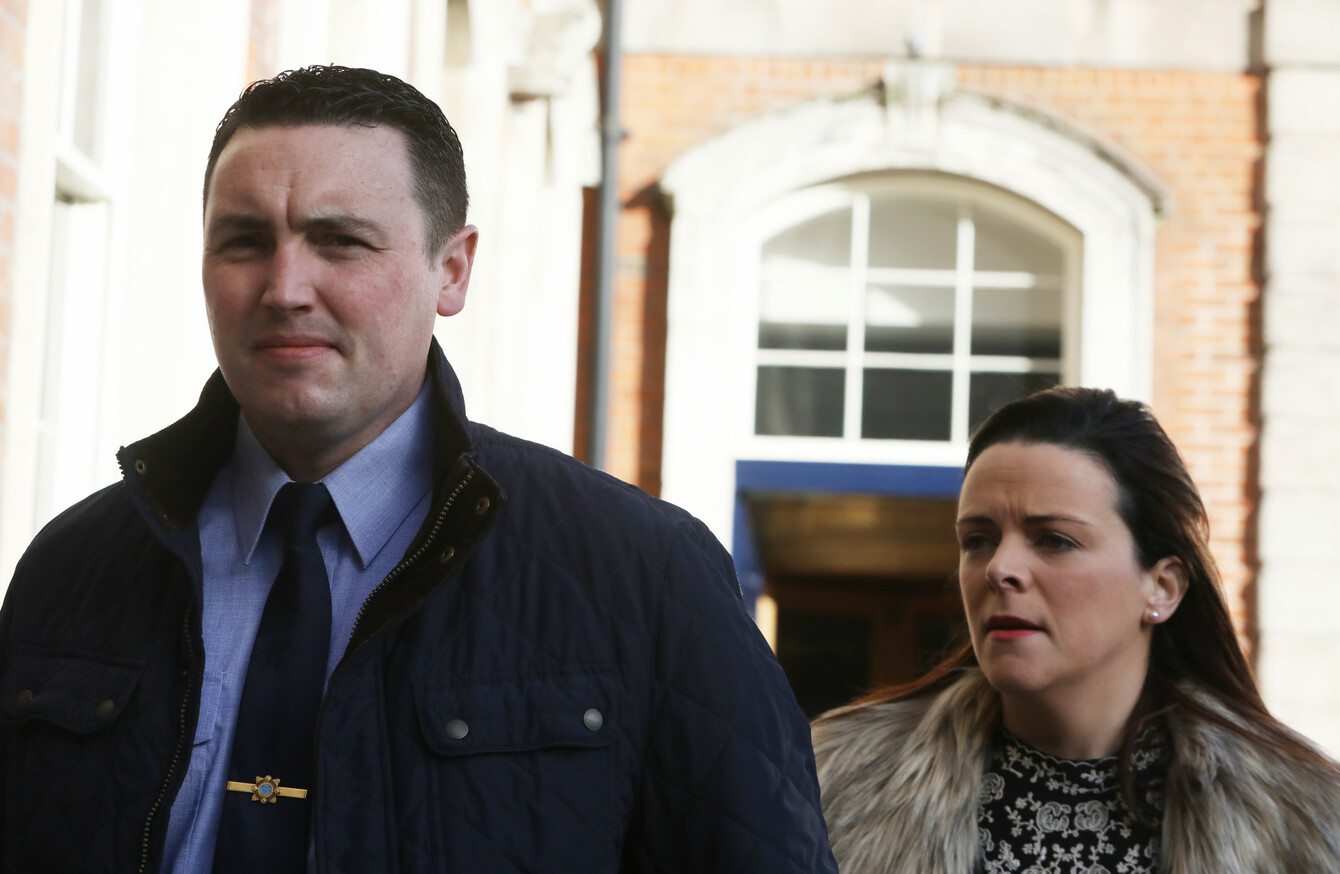 Garda Keith Harrison with his partner Marisa Simms arriving at the Disclosures Tribunal in Dublin Castle.
Image: Leah Farrell/RollingNews.ie
Garda Keith Harrison with his partner Marisa Simms arriving at the Disclosures Tribunal in Dublin Castle.
Image: Leah Farrell/RollingNews.ie
Updated at 7.20pm 
THE CHAIRMAN OF the Charleton Tribunal has asked for new statements from four senior gardaí by tomorrow morning about a meeting which led to referrals about garda whistleblower Garda Keith Harrison to the HSE and GSOC.
Supreme Court justice Peter Charleton said that the Tribunal was only now learning for the first time that there was a reference to retired Northern region assistant commissioner Kieran Kenny being consulted in relation to the garda conference, which was held on 8 October 2013 in Letterkenny, Co Donegal.
Notes from the meeting also referred to Chief Superintendent Tony McLoughlin in the B Branch (Internal Affairs) in Garda HQ.
The chairman said that when he began the Tribunal, he "asked for people who knew things to tell us what they knew".
The October 2013 meeting was "an important pivot", the chairman said, as this meeting led to a referral to the HSE. The Tribunal in its current module is examining contacts between An Garda Síochána and child and family agency Tusla (which became independent from the HSE in 2014) relating to Garda Harrison.
Handwritten notes taken by Chief Superintendent Terry McGinn were handed in to the Tribunal in June, the Tribunal heard, but the chairman said that these were not searchable on the Tribunal's computer system until they were typed up.
The chairman said that he should have received statements about assistant commissioner Kenny and Superintendent McLoughlin's knowledge of the October 2013 conference meeting, possibly from Superintendent Eugene McGovern, who gave evidence today, and probably from Chief Superintendent McGinn.
Justice Charleton said he had no idea if there was a conspiracy against Garda Harrison, and he wanted to emphasise that he tended to "go for the conspiracy theory only when the chaos theory has been out-ruled".
"This is not a case of the Tribunal ascribing blame to anyone," the chairman said.
"It is a case of the Tribunal blowing a bugle and saying wake up and help us.
What I'm saying is things could have been done a lot better.
The chairman said he was requiring statements to be made available to the Tribunal by 10am in the morning from Kenny, Chief Superintendent McLoughlin, Chief Superintendent McGinn and Superintendent McGovern.
Notes 
Garda Harrison's barrister Mark Harty SC complained that he had only just received the notes made by Chief Superintendent McGinn as he was going through his cross examination of Superintendent McGovern.
Harty said the notes were critical to him as they made reference to the retired assistant commissioner for the Northern Region, Kieran Kenny, and his client had earlier this week been asked when giving evidence if he has any evidence of a conspiracy against him outside the Donegal division.
"This isn't a document which was somehow marginal to what was going on," Harty said.
This is Chief Superintendent McGinn's own notes of the meeting which is precisely the meeting which directed contact with the HSE.
Harty said this was the first time anybody had been told Kenny was directly involved in the decision making process on 8 October 2013.
'Serious harm' 
Earlier today, Superintendent McGovern said a decision to categorise a domestic disturbance complaint against Harrison as an incident causing serious harm or death was later questioned by the Garda Ombudsman.
The October 2013 complaint by Marisa Simms against her partner included allegations that he had threatened to "burn her" and "bury her".
McGovern had told the Charleton Tribunal that he regarded the complaint as serious enough to warrant referral to GSOC under a provision relating to incidents where a garda has caused serious harm or death.
McGovern was the officer in charge of the Milford district in Donegal at the time, where Harrison lived.
On 6 October 2013, Simms made her statement to gardaí about her partner. Gardaí had previously received reports from Simms' mother and sister about the threats, which took place during a late night argument following which Simms left the house she was living in with Harrison.
In the current module the Tribunal is looking at contacts between gardaí and the HSE/Tusla relating to Garda Harrison. He alleges these contacts amount to an abuse of power.
Following the statement from Simms, the garda conference, attended by several senior officers in the Donegal division, was held.
McGovern said a decision was taken at the meeting to refer the statement to GSOC.
Superintendent McGovern said the only question was whether the referral would be under Section 85 or Section 102. The latter type is made in cases where a garda has been involved in an incident causing serious harm or death.
Superintendent McGovern said that as far as he was concerned serious harm had been caused to Simms "from an emotional and psychological point of view".
He said that Ms Simms' statement contained "more than simple domestic incidents, there were serious criminal matters in that statement".
"If there was a more serious incident in the future of course we would be criticised," Superintendent McGovern said.
Threats 
The ultimate decision was to make a section 102 referral. Superintendent McGovern testified that he was later contacted by Darren Wright, a senior investigating officer with GSOC, who told him the complaint might not be a Section 102 referral.
Simms later informed GSOC in writing that she did not wish to make a complaint, and later withdrew her statement.
Superintendent McGovern said every officer at the conference meeting had a reason to be there.
Superintendent Michael Finan attended because Garda Harrison was stationed in his district. Inspector Goretti Sheridan had taken the statement from Simms, he said.
Detective Inspector Patrick O'Donnell was looking into separate threats that had been made against Garda Harrison, and Garda Carl Campbell was the liaison with the garda internal affairs department.
The alleged incidents had taken place in Superintendent McGovern's district, and Chief Superintendent Terry McGinn was the senior officer in the division.