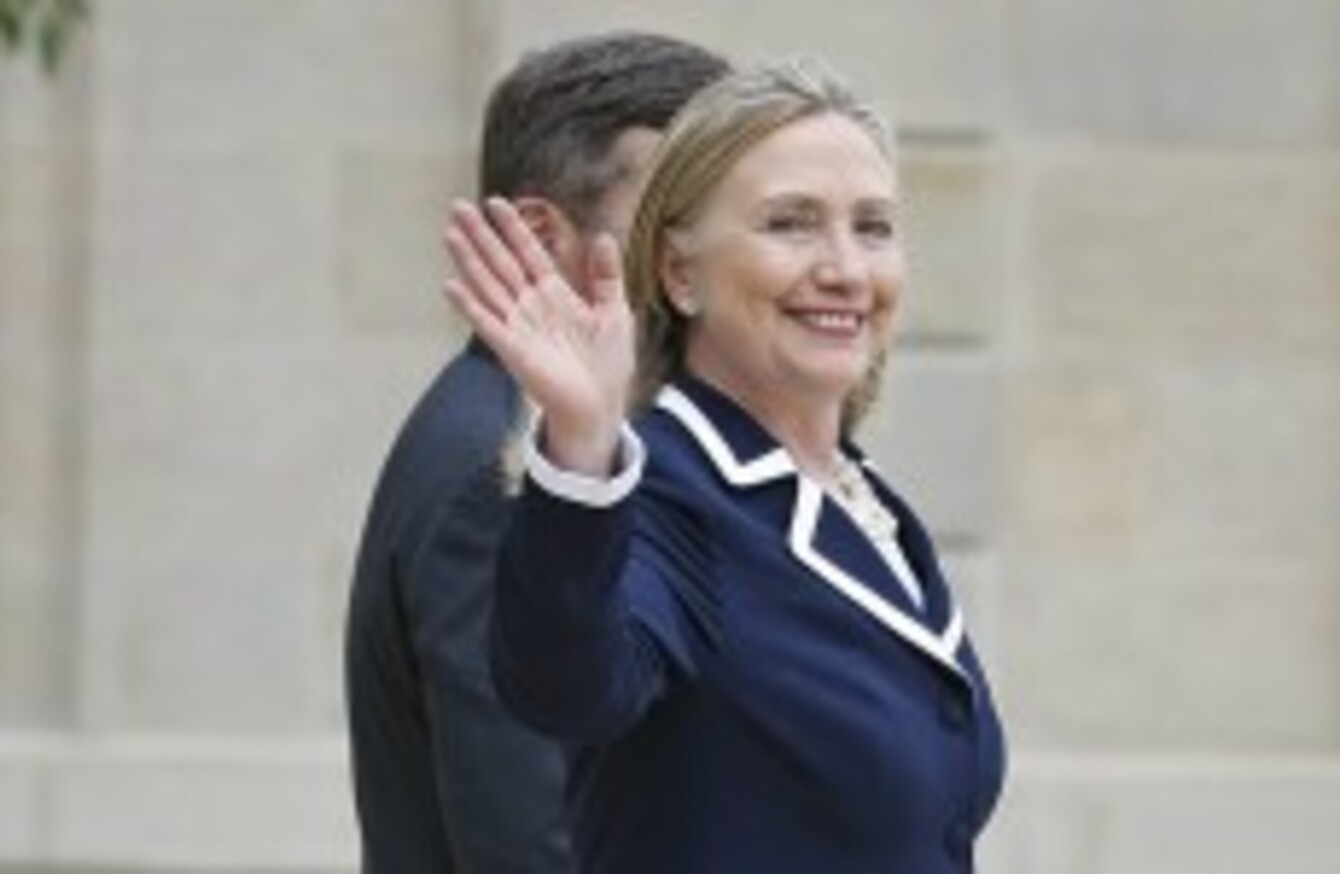 US Secretary of State Hillary Rodham Clinton waves a good bye as she leaves the Elysee Palace
Image: AP Photo/Remy de la Mauviniere
US Secretary of State Hillary Rodham Clinton waves a good bye as she leaves the Elysee Palace
Image: AP Photo/Remy de la Mauviniere
US SECRETARY OF State Hillary Clinton said Friday she had held "productive" talks in Paris with Palestinian leader Mahmud Abbas as all sides seek a way to kick start moribund Middle East peace talks.
During the "candid and productive meeting," Clinton said they "discussed how to build on his exchange of letters" with Israeli Prime Minister Benjamin Netanyahu.
"I underscored that the United States remains absolutely committed to the goal of a comprehensive peace in the Middle East based on two states with two peoples based on peace and security," Clinton told reporters.
She met with Abbas on the sidelines of a Friends of Syria meeting being hosted in Paris, where more than 100 nations and organisations came together to step up pressure on the regime of Syrian President Bashar al-Assad.
"At a time of upheaval across the region we cannot lose sight of the critical importance of resolving this issue," Clinton said.
The talks were the first face-to-face meeting between Abbas and Clinton since September 2011, when they met in New York as the Palestinians submitted their bid to join the United Nations as full member.
They come as peace talks between Israel and the Palestinians remain on deep freeze, with the last direct negotiations grinding to a halt in late September 2010 over the issue of settlement construction.
The Palestinians have said they will not return to negotiations without a new Israeli freeze on settlement construction in the occupied West Bank and east Jerusalem.
They also want Israel to accept the lines that existed before the 1967 Six-Day War as the basis for negotiations on future borders, and they are seeking the release of 123 Palestinians held by Israel since before the 1993 Oslo Accords.
Abbas says Israel previously agreed to release those prisoners but has not fulfilled its commitment.
Last month, he said he would be willing to sit down with Netanyahu if the prisoners were released "for a session of dialogue, but that doesn't mean negotiations."
There are also renewed tensions amid a Palestinian call for an international probe into the death of former PLO leader Yasser Arafat after a report showed he may have been poisoned.
Abbas, who succeeded Arafat, has endorsed exhuming his body from its mausoleum at the Palestinian presidency headquarters in the West Bank city of Ramallah for a forensic examination.
The Tánaiste and Minister for Foreign Affairs Eamon Gilmore also attended the meeting in Paris and said:
We can no longer confine ourselves to mere condemnatory statements and expressions of concern. There is clear need for effective action on the part of the international community to end the violence and bring the Syrian people's long nightmare to an end.
- Additional reporting by Emer McLysaght
© 1994-2012 Agence France-Presse