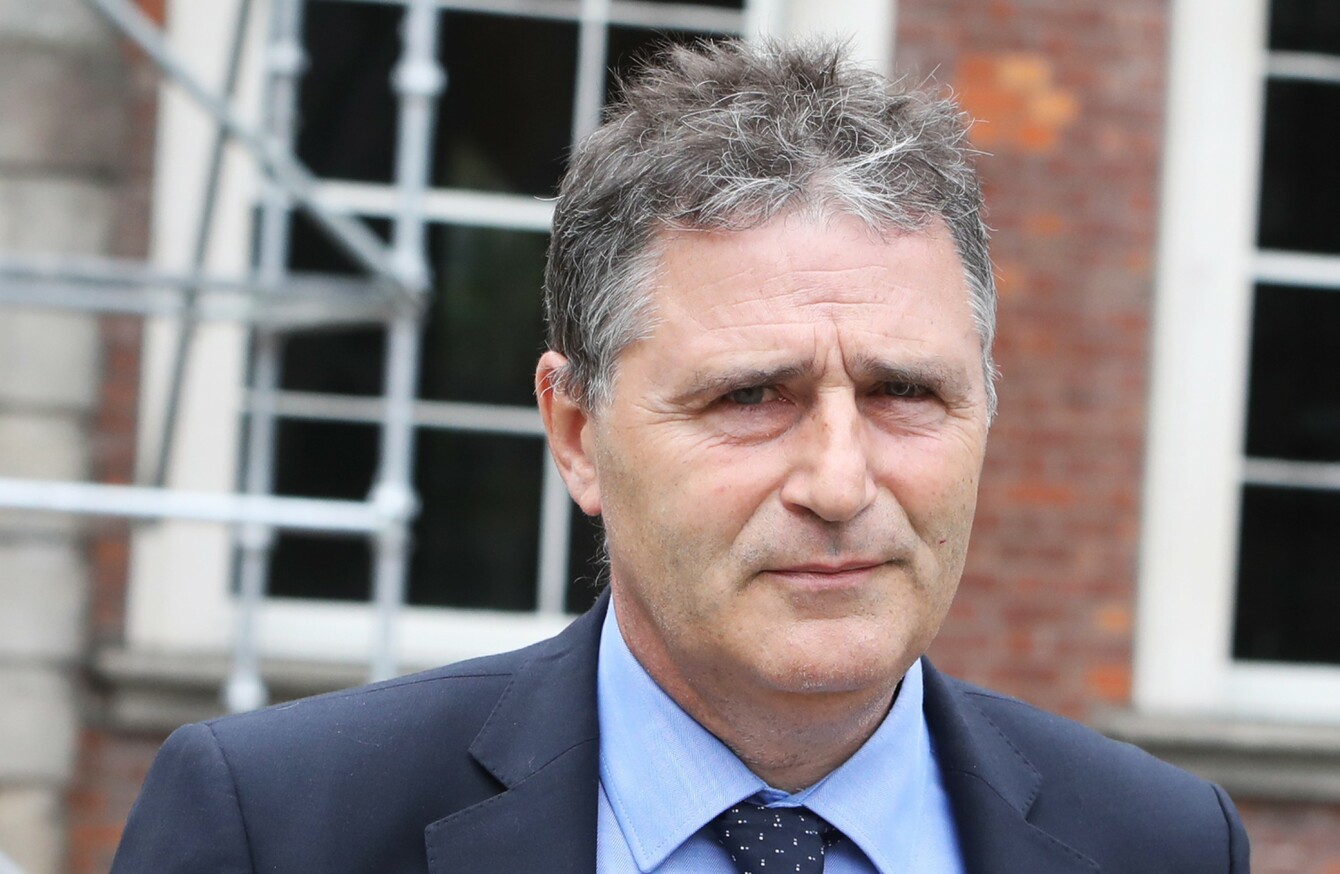 Gerard Lowry told the Disclosures Tribunal today that there was no collusion with gardaí.
Image: Leah Farrell
Gerard Lowry told the Disclosures Tribunal today that there was no collusion with gardaí.
Image: Leah Farrell
A SENIOR TUSLA manager has accepted that the buck stops with him in relation to errors made in handling false allegations of child abuse against garda whistleblower Sergeant Maurice McCabe.
Gerard Lowry, the Tusla manager for Cavan-Monaghan, denied he was trying to blame others for "catastrophic errors" made by the child protection service.
"I don't accept that analysis, I'm accountable to the service both for what I know and for what I don't know," Lowry said.
"The buck has to stop with you with regard to this," Paul McGarry SC put to the witness on behalf of Sergeant McCabe.
"I accept that," said Lowry.
The Charleton tribunal is examining claims that allegations of sexual abuse were used as part of a campaign to smear and undermine the reputation of Sergeant McCabe. The DPP decided against pressing charges in the case due to lack of evidence in 2007.
Lowry said a reference to a "no blame culture" in a Tusla report was to encourage others to come forward when things went wrong so he would be aware of what was happening.
McGarry said a letter sent to McCabe's solicitors was "replete with self-justification before you even get to the apology".
The tribunal had previously heard a "copy and paste error" led to Sergeant McCabe being wrongly accused of serious sexual assault.
The barrister asked Lowry if he could imagine anything more serious than being accused of raping a seven-year-old child.
"I agree dealing with these situations is hugely emotional and difficult particularly for the adult who receives this letter," said Lowry.
Lowry said he did not accept there was an attempt to conceal all the errors that had been made in handling the sergeant's file.
"Astonishing"
Earlier, Lowry denied there was "any coordination, liaison or collusion" with gardaí in creating files containing allegations of sexual abuse against McCabe.
Lowry told Charleton tribunal barrister Pat Marrinan SC that there was no contact with gardaí about the file.
In January 2016, solicitors for McCabe wrote to Tusla after the sergeant received a letter written by social work team leader Kay McLoughlin which contained false allegations of serious sexual abuse by Sergeant McCabe.
The letter contained an allegation that McCabe "digitally penetrated" a girl, Ms D, and threatened her father. These allegations were made in an unrelated case involving Ms Y.
Five months later, in June 2016, Tusla wrote back to the solicitors, stating that this false allegation was being withdrawn, and outlining an allegation that McCabe had "humped" Ms D during a game of hide and seek.
The tribunal chairman Mr Justice Peter Charleton said that Sergeant McCabe denied there was ever a game of hide and seek, and because one of his children has a special need, it is unlikely there would ever have been a game of hide and seek in his home.
Replying to this second letter, Sergeant McCabe's solicitors said that some months before the original complaint was made by Ms D in 2006, the sergeant had reported Ms D's father, a garda, for serious misbehaviour, as a result of which the garda was reverted to other duties.
The solicitors challenged the statutory basis for any investigation by Tusla of allegations which had already been fully investigated by gardai, and said any suggestion the sergeant was a risk to children was "legally unfounded".
The letter said that the lack of any action on the case for 10 years since the allegations were first made until 2016 was "unexplained and inexplicable", and that a delay of five months in replying to their previous letter was "astonishing".
#Open journalism No news is bad news Support The Journal

Your contributions will help us continue to deliver the stories that are important to you

Support us now
After the solicitor's letter was received in June 2016, the McCabe files were passed to a newly formed Sexual Abuse Regional Team (SART).
"I think at that point we felt a bit overwhelmed by it," Mr Lowry said.
Tribunal barrister Mr Marrinan asked if the transfer "could be regarded as shovelling a legal problem to another unit".
Marrinan asked if "having realised this was a hot potato was it appropriate to place it on a silver spoon and hand it over to SART?"
"I wouldn't use that terminology," said Mr Lowry. He said that SART had specialist knowledge.
Lowry said that when solicitors responded to the initial letter sent to Sergeant McCabe in January, Kay McLoughlin "was very anxious, very concerned that she had made such a significant error, and apologetic".
He said McLoughlin informed him there was information on the file that led to her misinterpreting it and sending inaccurate information to McCabe.
"I did ask her to take some further clarification steps, to draft a letter of apology for my approval before she sent it,"Mr Lowry said.
Asked if he was happy with the letter McLoughlin had drafted, Mr Lowry said "I think in hindsight I probably would have made the apology much more prominent in the letter".
The tribunal resumes tomorrow.
Comments have been closed for legal reasons