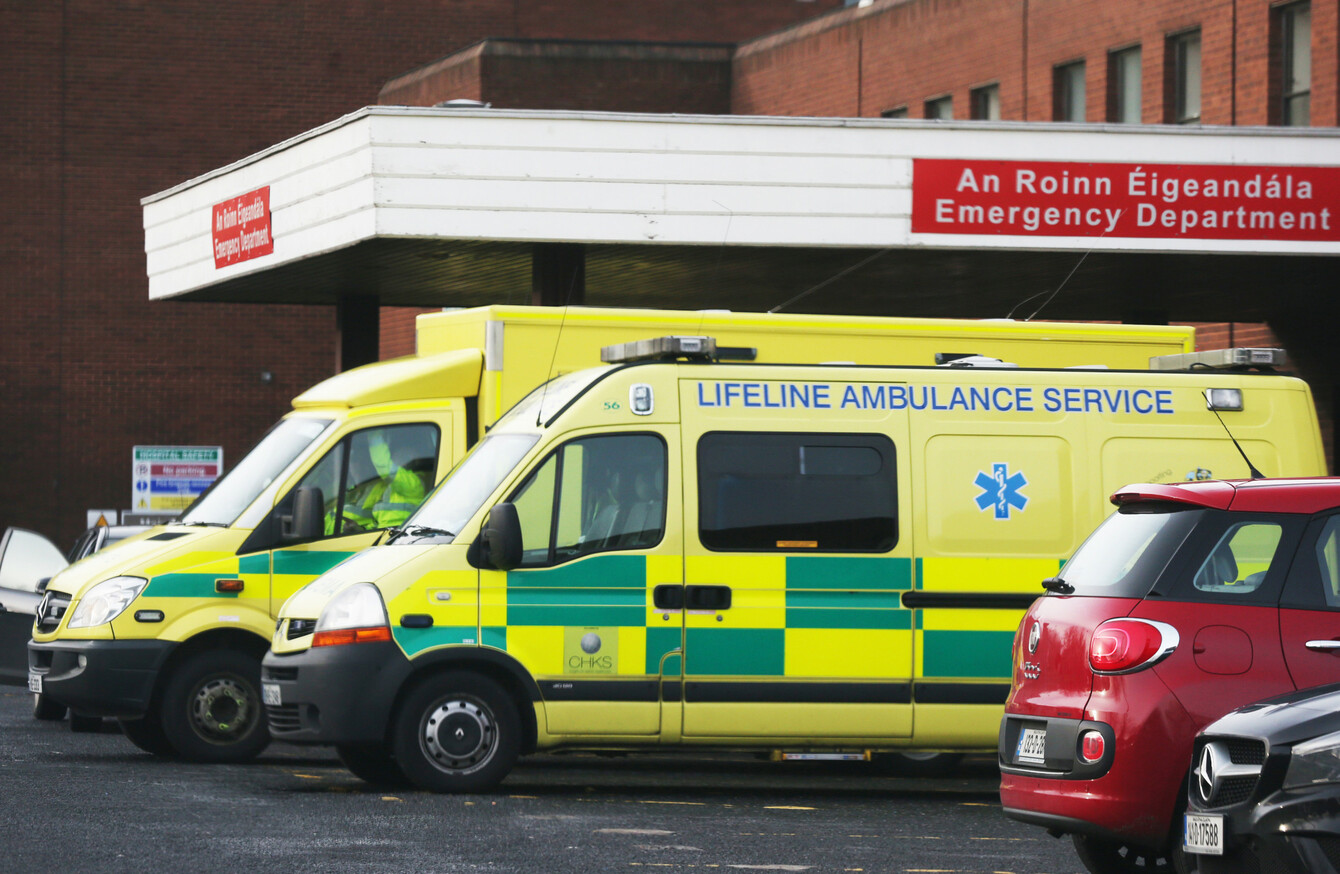 Outside the accident and emergency department at Beaumont Hospital in Dublin.
Image: Leon Farrell via RollingNews.ie
Outside the accident and emergency department at Beaumont Hospital in Dublin.
Image: Leon Farrell via RollingNews.ie
Updated 12pm
HEALTH MINISTER SIMON Harris has said patients should not be used as "pawns" in a pay dispute between hospital staff.
Last night, a number of hospitals came under pressure after doctors employed to work in HSE hospitals through an agency didn't show up for work because of a dispute over pay changes.
It's expected that the number of emergency departments seriously affected by agency doctors who've gone on strike will increase.
"It is absolutely vital that our patients do not become pawns in relation to a dispute over pay," he said, clarifying that all emergency departments are open today.
However, Fergal Hickey of the Irish Association for Emergency Medicine told Morning Ireland that the strikes are affecting emergency departments in Navan, Drogheda, Cavan, Beaumont, Portlaoise, Letterkenny, and Tallaght – "which is a major problem" he said.
"So that's a total of 7 hospitals that we're aware of. I suspect that figure will rise," he said.
But he disagreed with the term wildcat strike as the name for the industrial action taken by doctors.
"If you can imagine you decided to buy a car for a fixed amount of money, and you go into the garage with 85% of the value of what you've agreed, you don't expect them to give you the car. And there's an element of this about it."
Agency workers' pay is being reduced from €40 to €34 an hour in order to bring the doctors' pay in line with permanent HSE staff's pay, a measure which was introduced from 1 September this year.
Harris said locum doctors working alongside HSE doctors, who are equally as qualified and are carrying out the same job, are earning 36% more.
In a statement to TheJournal.ie yesterday, the HSE said that it had been "advised that certain agency medical staff have indicated that they may not turn up for their rostered duty this week. There are well-established and agreed procedures to deal with this".
"Hospitals will continue to work with the contracted employment agencies to source staff and will continue to assess the position over the coming days," it said.
#Open journalism No news is bad news Support The Journal

Your contributions will help us continue to deliver the stories that are important to you

Support us now
But Hickey says the issue raises a larger debate around why so many healthcare professionals are on agency contracts rather than accepting permanent positions.
Why is it that people would rather take locum work rather than substantive contracts? That's an issue the HSE need to address.
Harris also said it was important that the HSE work to hire more staff to work directly for the health service.
"It is important that we encourage people to work directly for the health service, because as we know we are too reliant on locum cover in this country. If we continue to have such a large pay differential between the locum and the person working for the HSE you can see problems arising," Harris told reporters today.
The minister urged workers in dispute to use the normal industrial relations mechanisms.
Ireland's emergency departments have the worst waiting times in Europe, a study in January showed. The added pressure of strike action by emergency doctors is expected to exacerbate those waiting times and patient experiences at hospitals across the country.
Additional reporting Christina Finn