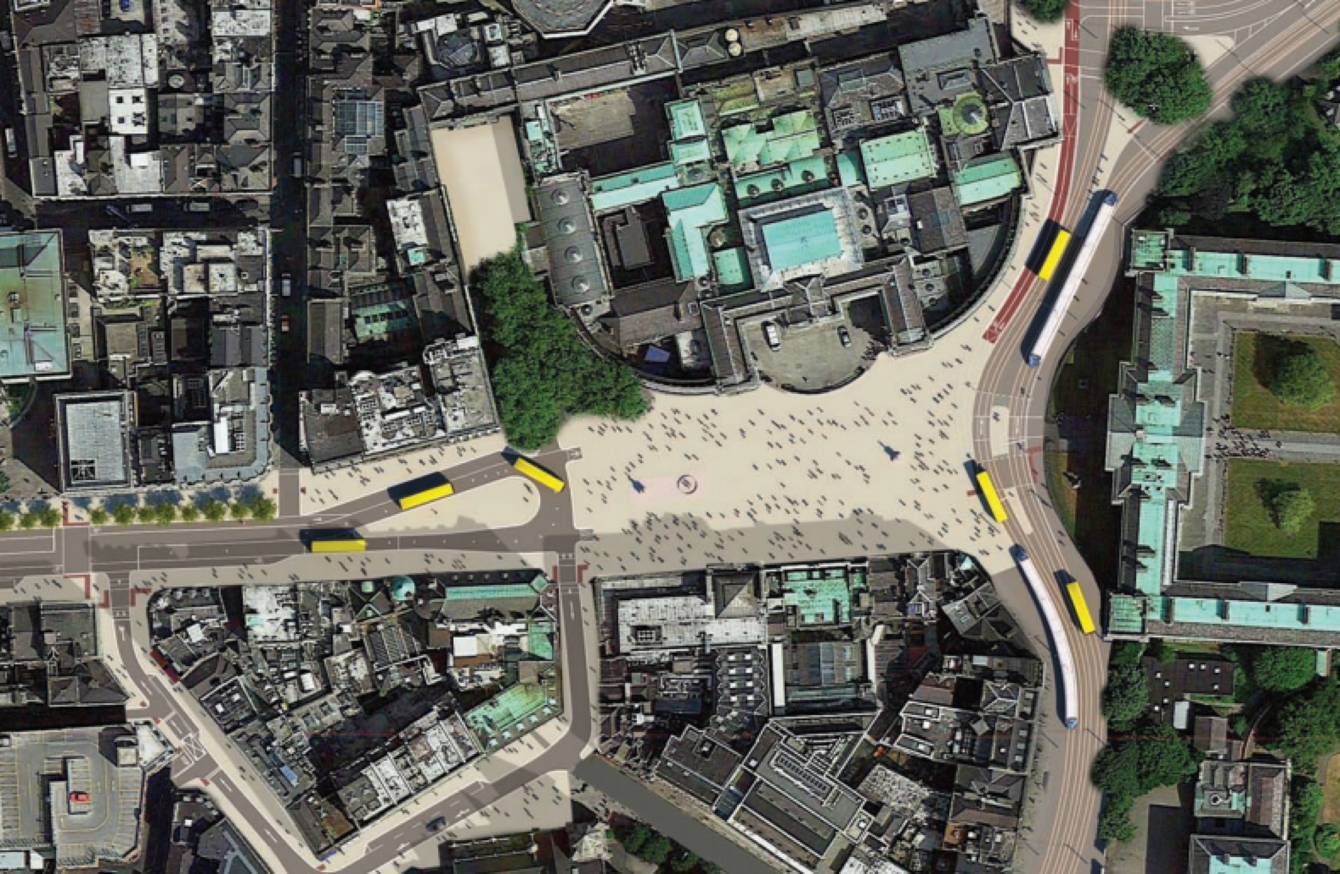 Layout of proposed College Green plaza area
Image: Dublin City Council
Layout of proposed College Green plaza area
Image: Dublin City Council
DOZENS OF BUS routes are set to be diverted from College Green in Dublin as part of new traffic management proposals published today.
The Dublin City Council plan involves at least 40 bus routes – including the 15, 38, 123 and 145 – being amended from mid-2017.
All vehicular traffic will also be stopped from crossing the busy junction to and from Dame Street under the proposal.
The public consultation document says buses and Luas trams will instead share a two-way route running south to north from Nassau Street to Westmoreland Street.
Taxis will be allowed to use the same corridor, it says, "subject to a trial to ensure that they don't impede bus or Luas operations".
Pedestrianised plaza
A two-way segregated cycle track at the Bank of Ireland opposite Trinity College is also included in the plan.
The move means cyclists will be able to use a dedicated path completely separate from Luas and bus movements.
The proposed traffic management measures will allow a pedestrianised plaza to be opened in front of the university.
A separate process will examine options for the plaza area, including street lighting, seating and use of space.
The plan is the result of consultation between Dublin City Council, the National Transport Authority and Dublin Bus on facilitating the Luas Cross City once it is launched next year.
Council officials hope to implement the proposals, which have now been put out to public consultation, by early summer 2017.
The document – and details of the proposed bus diversions – can be read in full here.