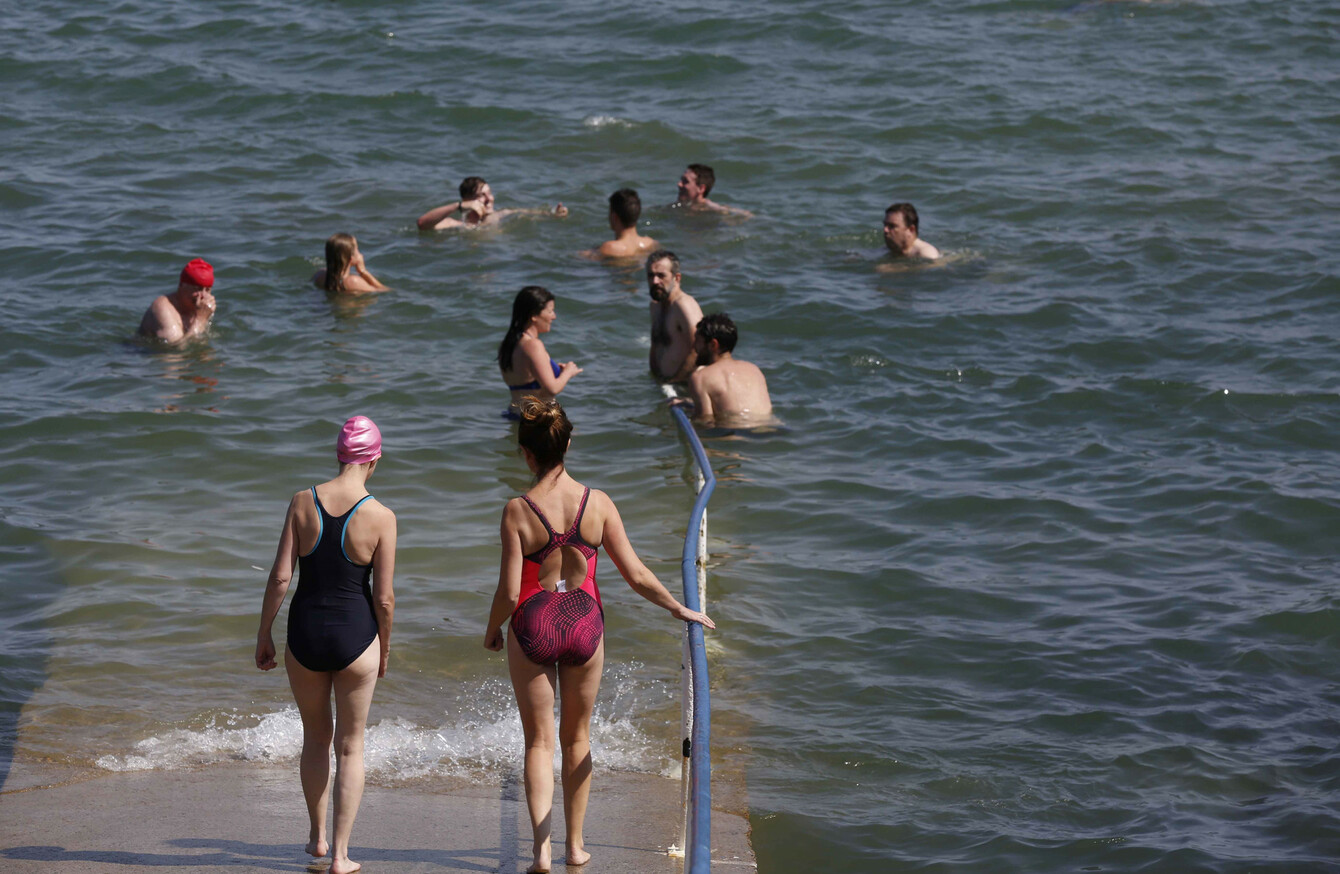 Swimmers at Seapoint in Dún Laoghaire.
Image: RollingNews.ie
Swimmers at Seapoint in Dún Laoghaire.
Image: RollingNews.ie
WHETHER YOUR CHOSEN body of water is the Irish Sea, the Atlantic or somewhere more far flung, there's nothing more invigorating than an ocean dip.
Once you get over the initial shock of the cold waves tickling your torso, it can be hard to leave the water behind.
This weekend, there are plenty of sea, lake and water-based events happening as part of National Heritage Week – no better time to check out new swimming spots around the country.
Here are a few events taking place for the final splash of the summer….
1. Go dolphin-spotting in Clare
When: Sunday August 26, 11am – 4pm
Where: Carrigaholt, Co Clare
Dolphin Watch at Carrigaholt on the River Shannon is offering the tremendous opportunity to see Irish dolphins in their natural habitat, for Water Heritage Day.
You can book a place for a boat trip to (hopefully) see the bottlenose dolphins that often swim near the mouth of the Shannon here.
2. Test your endurance at Seapoint (or cheer the swimmers on)
When: Saturday August 25, from 11am
Where: Seapoint Beach, Dún Laoghaire, Co Dublin
Test your underwater endurance skills at the August Seapoint race which takes place this Saturday morning with two separate races for men and women. Join members of the Templeogue swimming club for this special Leinster Open Sea swimming event – or cheer them on from the shore.
More information about this and future races can be found here.
3. Tour Dungarvan Harbour for Water Heritage Day
When: Sunday August 26, 3pm – 4:30 pm
Where: Meeting point at Waters and Communities Office, Civic Offices Dungarvan, Co Waterford
Dungarvan is one of Ireland's go-to destinations for coastal activities. Take a walking heritage tour around Dungarvan Harbour – and hit the sea for a swim afterwards if you fancy it.
4. Head to Glendalough for a swim with a difference
When: Open daily to the public
Where: Glendalough, Co Wicklow
Located within close proximity to Dublin, Glendalough is a quiet place for those that enjoy a steady swim.
This is an ideal location for families to enjoy a quick dip in the water. For outdoor swimming enthusiasts, why not take this weekend as an opportunity to prepare for the organised Glendalough National Park Swim, taking place in the first week of September.