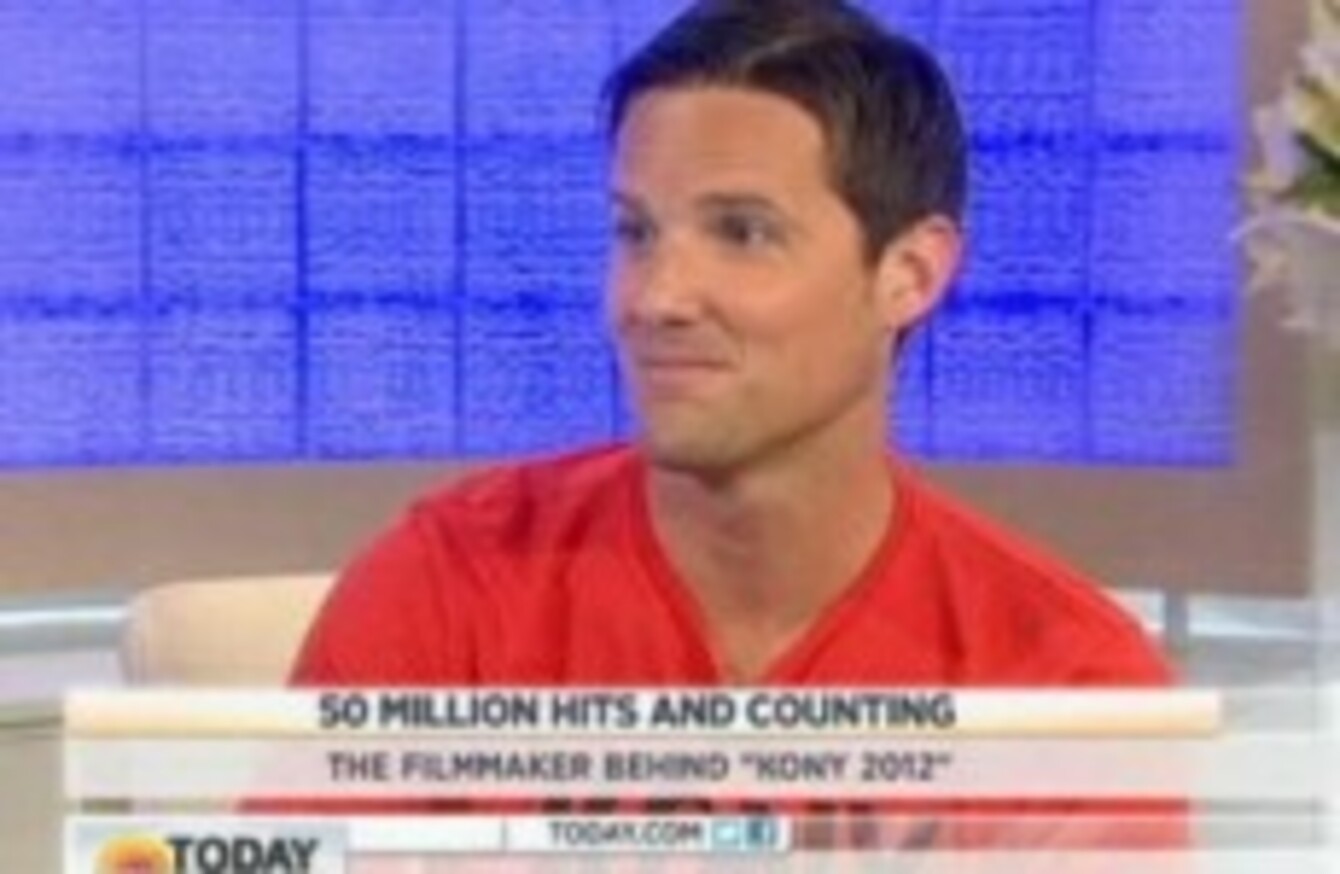 Jason Russell on MSNBC Today recently.
Jason Russell on MSNBC Today recently.
THE WIFE OF THE MAN behind the hugely successful viral video 'Stop Kony' campaign has denied that his sudden admission to hospital on Thursday was connected to drug or alcohol use.
Jason Russell, 33, was taken to hospital on Thursday for medical evaluation after police detained him briefly for being drunk, vandalising cars and masturbating in public. He was reportedly only wearing underwear when police arrived on the scene.
He was not arrested and no charges are expected to be filed.
Late yesterday, his wife Danica Russell said that he "did some irrational things brought on by extreme exhaustion and dehydration".
"We thought a few thousand people would see the film, but in less than a week, millions of people around the world saw it. While that attention was great for raising awareness about Joseph Kony, it also brought a lot of attention to Jason and, because of how personal the film is, many of the attacks against it were also very personal, and Jason took them very hard," she said in a statement.
Danica Russell said the the current focus is on her husband's health and "protecting our family".
"The message of the film remains the same: stop at nothing," she added.
The CEO of the Invisible Children group co-founded by Russell said earlier yesterday that the campaigner is receiving medical treatment and is focusing "on getting better". Ben Keesey said that Russell was suffering from a combination of "exhaustion, dehydration and malnutrition" and said that the past two weeks of campaigning "have taken a severe emotional toll on all of us".
He added that the "toll manifested itself in an unfortunate incident" on Thursday.
The Kony 2012 video calling for people to make alleged Ugandan war criminal Joseph Kony 'famous' in order to help bring him before the International Criminal Court has been watched over 80 million times on YouTube since it was uploaded earlier this month. The ICC issued a warrant for his arrest in 2005 for crimes against humanity.
Critics of the campaign have questioned the organisation's motive and its distribution of funds, and accuse it of oversimplifying Ugandan history.