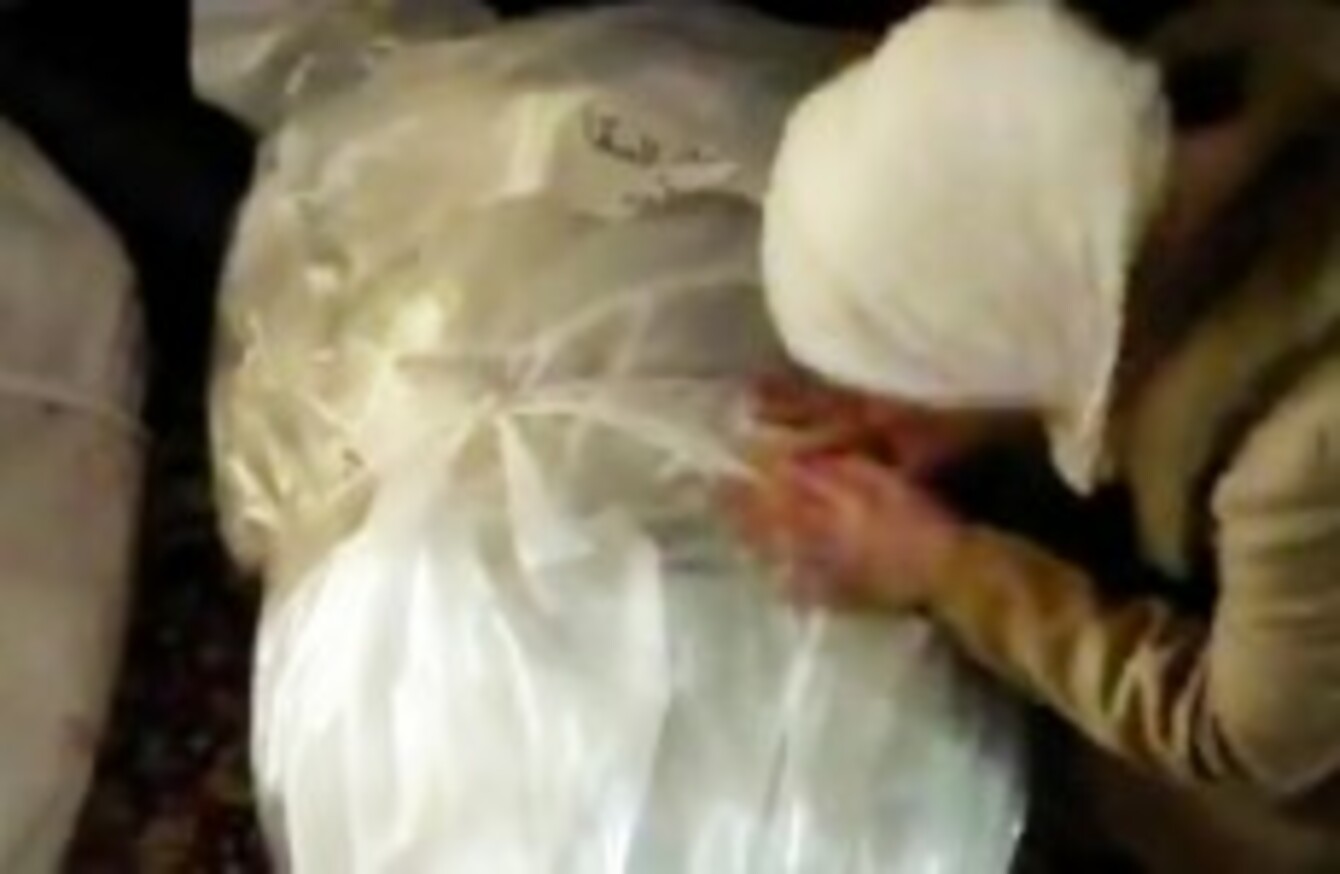 This unverified image made from amateur video and released by Shaam News Network purports to show a woman mourning over a relative who has been killed in Homs, Syria.
Image: AP Photo/Shaam News Network via APTN
This unverified image made from amateur video and released by Shaam News Network purports to show a woman mourning over a relative who has been killed in Homs, Syria.
Image: AP Photo/Shaam News Network via APTN
ACTIVISTS SAY AT least four soldiers have been killed and 12 others wounded in southern Syria in an ambush carried out by a group of military defectors.
The British-based Syrian Observatory for Human Rights says the ambush targeted a joint military and security convoy on the road between the villages of Khirbet Ghazaleh and Dael, in Daraa province.
Thousands of army defectors in Syria have grown increasingly bolder in attacking government forces.
Wednesday's ambush comes as Arab League observers began a second day of work touring districts in the flashpoint central city of Homs.
The observers are also expected to visit Daraa and other trouble spots under an agreement to monitor Syria's compliance with a plan to end the country's nearly 10-month-long crisis.
The Arab observers kicked off their one month mission in the violence-wracked country with a visit yesterday to Homs – the first time Syria has allowed outside monitors to the city at the heart of the anti-government uprising.
Regime compliance
Tens of thousands of defiant Syrian protesters had thronged the streets shortly after authorities withdrew tanks from Homs, in the first sign the regime was complying with the Arab League's plan to end the nine-month-old crackdown against dissent.
A local official in Homs told The Associated Press that a team of four observers were in the city today, touring various districts. He declined to give his details and spoke on condition of anonymity for security reasons.
Homs residents said anti-government protesters were preparing for a second day of demonstrations, despite a massive security presence in the city.
"I can see riot police with shields and batons on main streets and intersections, they are everywhere," said one resident, speaking over the phone. He declined to give his name for fear of reprisals.
Human Rights Watch, meanwhile, accused Syrian authorities of hiding hundreds of detainees from the observers now in the country.
The New York-based international watchdog said the detainees have been transferred to off-limits military sites and urged the observers to insist on full access to all sites used for detention.
HRW's report, issued late yesterday, echoes charges made by Syrian opposition members that thousands of detainees were being transferred to military sites ahead of the observers' visit.
'Unrestricted access'
Syrian officials have said the Arab monitors will have unrestricted access to trouble spots but will not be allowed to visit sensitive military sites.
"Syria has shown it will stop at nothing to undermine independent monitoring of its crackdown," said Sarah Leah Whitson, Middle East director at Human Rights Watch. She said it was essential for the Arab League "to draw clear lines" regarding access to detainees, and be willing to speak out when those lines are crossed.
The report quoted a Syrian security officer in Homs and other witnesses who said hundreds of detainees were moved out "in installments" from a detention facility in the city to other places of detention.
It also said the government was issuing police identification cards to military personnel and dressing soldiers in police uniforms.
The team of about 60 Arab League monitors arrived in Syria on Monday night — the first foreign observers allowed in since March, when the uprising against President Bashar Assad's authoritarian rule began. The League said a team of 12 visited Homs on Monday.
After agreeing to the League's pullback plan on 19 December, the regime intensified its crackdown on dissent; government troops killed hundreds in the past week and Syria was condemned internationally for flouting the spirit of the agreement.
The U.N. says more than 5,000 people have been killed since March in the political violence.