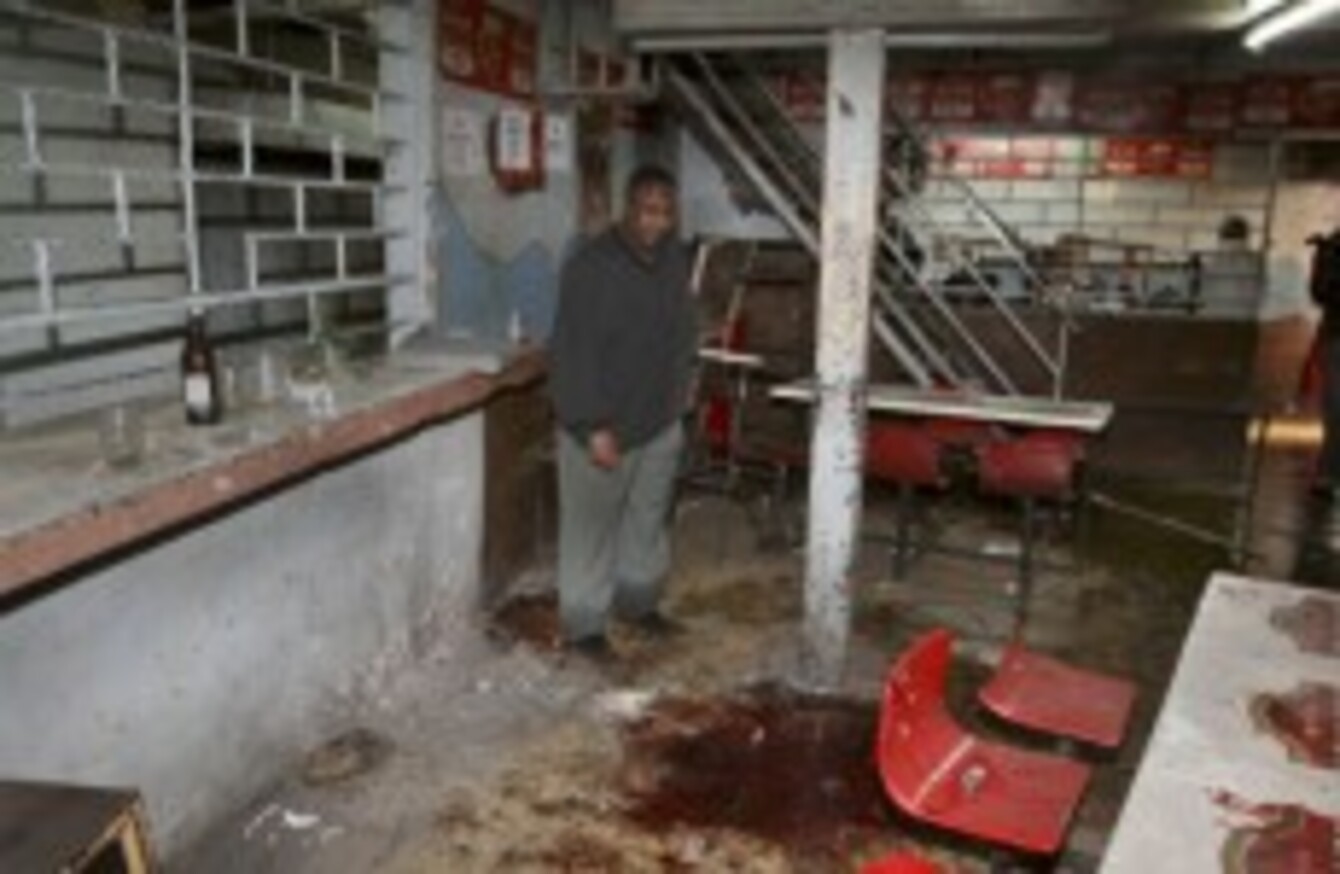 Pub-owner Charles Mwaura observes the bloodstained floor at the scene of a suspected grenade blast at his pub in downtown Nairobi, Kenya early today
Image: Khalil Senosi/AP/Press Association Images
Pub-owner Charles Mwaura observes the bloodstained floor at the scene of a suspected grenade blast at his pub in downtown Nairobi, Kenya early today
Image: Khalil Senosi/AP/Press Association Images
FRANCE HAS DENIED that French naval vessels carried out any attacks in Somalia.
However, a military spokesman said France would soon help supply Kenyan troops fighting al-Qaida-linked militants.
Col Thierry Burkhard said French transport planes will fly supplies from Nairobi to an airport in northern Kenya beginning Monday or Tuesday, but he insisted the operation would be "limited in scope."
A Kenyan military spokesman said yesterday that France's navy bombed a town in Somalia near a stronghold of al-Shabab.
But the French Embassy denied that claim today, and said that no French warships are in the vicinity.
The Kenyan military sent troops into Somalia about 10 days ago to pursue the militants following a string of kidnappings on Kenyan soil that were blamed on Somali gunmen.
Al-Shabab has threatened to launch suicide bombings inside Kenya in retaliation, and the US Embassy warned on Saturday than an imminent terrorist attack is possible.
A grenade attack that wounded a dozen people at a downscale Nairobi pub early Monday heightened those fears and aroused suspicion that Somali militants were responsible.
The US warning said likely targets include shopping malls and night clubs where foreigners congregate – but the grenade explosion occurred at a downtrodden bar where only lower-income Kenyans meet.
The grenade exploded at 1.15 am while 20 people were inside the bar, leading to three people being seriously wounded, he said..
The police do not have any suspects as yet.
Police have tightened security around hotels, bridges and fuel depots.
The Somali president said today that the Kenyan military incursion is "inappropriate and unacceptable," contradicting a statement from both governments last week that they were working together.
Analysts have long said that the weak UN-backed government, which currently only controls the capital, is wary of any potential rivals for its international patronage.
It is also worried that Kenya might install its own administration in Kismayo, which is the insurgency's main source of revenue.
Currently al-Shabab is fighting on two fronts, against the UN-backed government and its African Union supporters in the capital and against Kenyan troops supporting pro-government militia in the south.