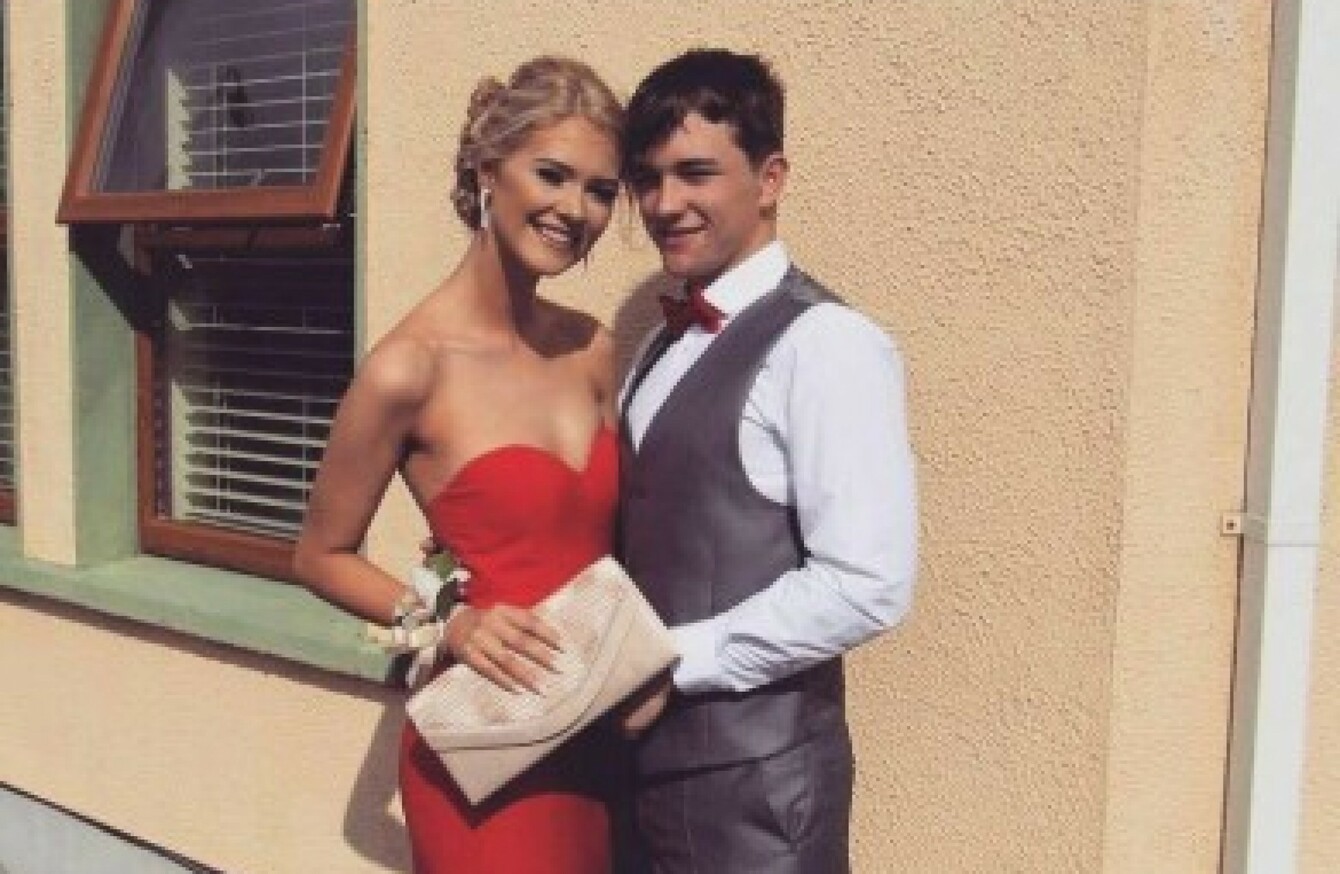 Gary and Delia.
Image: Facebook
Gary and Delia.
Image: Facebook
THE GRANDFATHER OF Gary Kelly (18) told mourners today how the teenager used to kiss his teenage sweetheart, Delia Keary (18) goodbye every day at the school gates and tell her that he loved her.
Bobby Stack worked as caretaker at Rice College in Ennis, Clare, where Gary and Delia sat their Leaving Cert last year and it was Stack's task each day to stand at the gates to make sure students left safely from the school.
Addressing mourners at the end of Gary's funeral mass at St Peter and Paul Cathedral in Ennis today, Stack said: "Everyday, Gary would come out first and then Delia would come out and they would have a kiss and he told her he loved her."
Last Friday, the two teens were on their way to Killarney for a weekend away and died after being involved in a car accident with a truck in Limerick.
Stack said: "Delia was a beautiful girl and was something special. They were meant to go together. I know it is an awful thing to say. Gary loved her so much. For a young lad, Gary put so much love into that woman and she returned it tenfold."
Bobby also revealed that after the family received Gary's clothes back from the emergency services, they came across a card in his pocket from Delia.
Bobby said that Gary – an apprentice electrician – took this card with him everywhere. He said that the card reads:
To Gary, from the love of your life, Delia, the 23rd of January 2016. To the man I love. I can't believe I found you. I am always there for you and you are always there for me. No one in the world can make me feel this way and my love for you keeps growing more and more each day.
Bobby told the packed congregation: "For a young man and a young woman, they found love. Some people go through this life and do not know love, but my God, this fella knew what love was." He said that Gary and Delia "had something special, they were like an old married couple".
He said that the two were couple of the year twice at Rice College, quipping "this meant an awful lot to them". Many of the mourners yesterday were Gary and Delia's former classmates at Rice College and were wearing the dark blue school uniform.
Bobby said that Gary also showed love on a daily basis to his mother, Kim.
He said: "Every morning before going to work, he always told his mother, Kim, 'I love you'."
Stack told mourners: "We are broken hearted." He thanked the emergency services for the work they did.
Tributes
In his tribute to Gary, Fr Jerry Carey said that he sat with Gary's parents, Kim and Shane over the past couple of days and asked them what were Gary's interests "and the answer I got was 'Delia, Delia, Delia'.
Fr Carey recalled a story from when Gary didn't go to school one day and after several phone calls from anxious parents, it emerged that he was in Dublin with Delia because she needed an outfit for the Junior Cert disco.
Fr Carey said that the two "are wedded together forever in our memory". He said: "Whenever you saw one, you saw the other, whenever you heard one, you heard the other."
Laminated cards with a photo of the couple on their grad night were made available at the mass with the words 'Together Forever – Gary and Delia'.
At the end of the mass, friends from their Leaving Cert year last year sang a song in tribute to the one with the words 'Say my name like it's the last time, Live today like it's your last night. We want to cry but we know it's alright, 'Cause I'm with you and you're with me'.