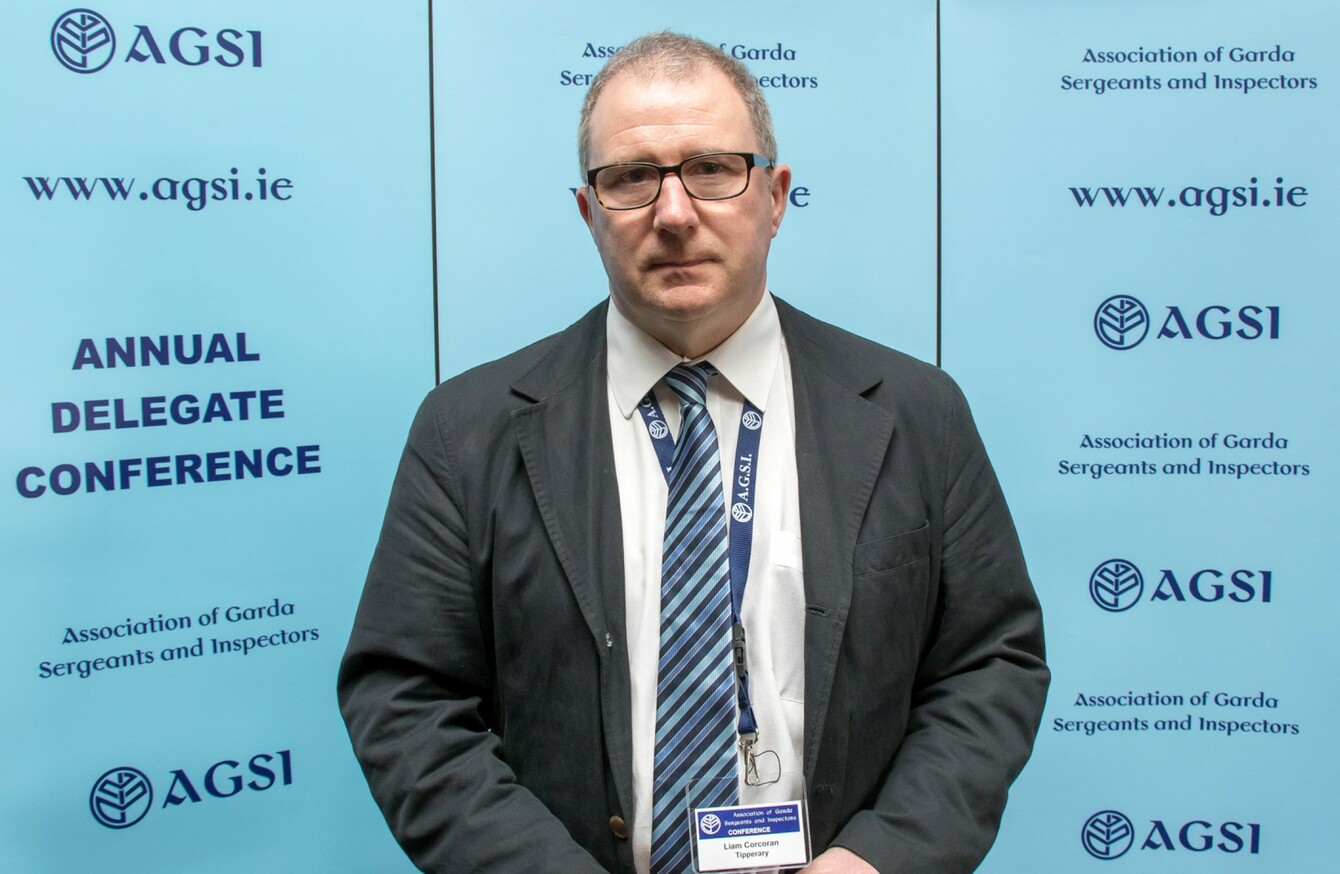 Liam Corcoran, who spoke at the AGSI conference this week in Killarney.
Image: Neil Michael
Liam Corcoran, who spoke at the AGSI conference this week in Killarney.
Image: Neil Michael
WHEN SERGEANT LIAM Corcoran joined An Garda Síochána 33 years ago, he and his 45 classmates at Templemore felt "proud" that they were going to be gardaí.
On his first night, he said they were gathered in a room and for the next couple of hours their "self-esteem was slowly worn down".
"Slowly we were questioned about our body shapes, our hair cuts, our accents, where we came from… and slowly ridiculed. Whatever self-esteem we had coming in was certainly gone and my experience of Templemore training for 22 weeks was a fear of doing the wrong thing, saying the wrong thing and a deep exhalation of relief when we left the place."
Through more than three decades of working in the organisation, Corcoran says that feeling has stayed with him. In his role as a representative for the Association of Garda Sergeants and Inspectors he now sees regularly that feeling embedded in the force.
"It's a difficult role because people are very, very slow to speak up about their personal experience, they feel that they've let themselves down, they feel that they are weak or lesser persons," he told reporters at the association's conference this week.
The sergeant, who is based in Cashel in Co Tipperary, said the bullying often presents as "a general put-down, being made to feel inadequate, made to feel that they're not able to do their job". Sometimes it follows a promotion – or a failure to get promoted.
Corcoran claimed the current policy on bullying and harassment requires the complainant to essentially prove their case.
"To come forward in the first place is a huge step, but then to have to go and justify your actions where the person complained of doesn't have that work to put into it," he explained.
And then in the end, if there is a sanction, the sanction doesn't stand against the bully, if you understand me. The policy doesn't require it to be carried out, so it's almost like it collapses in on itself and people feel even more put upon that they went through the process in the first place with no outcome that they can move on or that they can feel justified.
#Open journalism No news is bad news Support The Journal

Your contributions will help us continue to deliver the stories that are important to you

Support us now
When asked if he believed the current policy favoured the bully over the victim and offered them greater protection, he replied: "That would be my experience."
You have to stay on and swallow it and try to come into work and do your job.
Though garda management has said countless times that a culture change has already begun in the force, Corcoran claims that is not what he is hearing from members.
"Not every member of the gardaí at sergeant rank would deal as an advocate with people so people who are suffering tend to come to me and that's my personal experience, but I don't see a change. I do not see it."
We'll have more from the conference in Killarney today – follow @michellehtweet for updates.