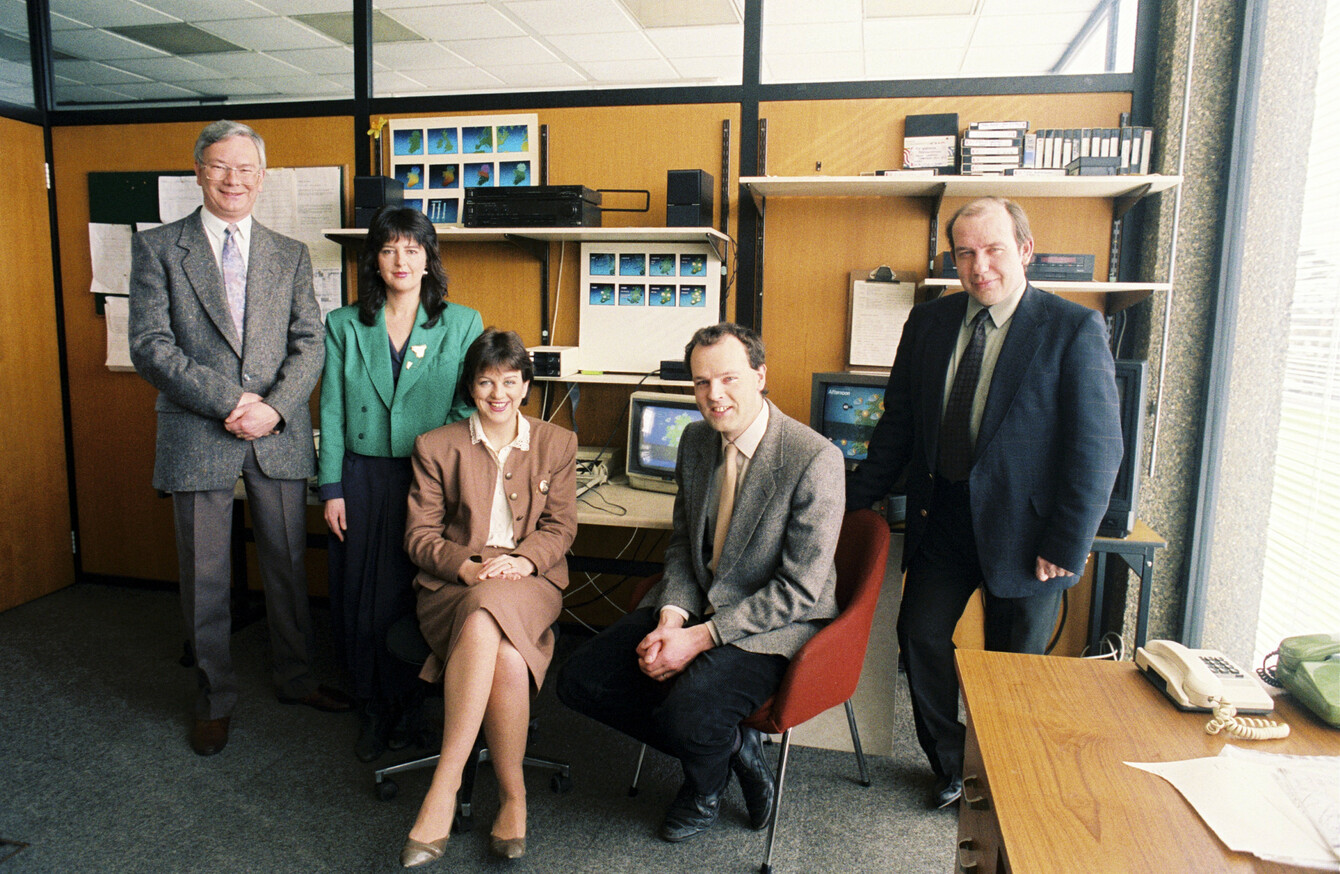 Gerald Fleming, Evelyn Cusack and the Met Éireann presenting team, back in 1990.
Image: RTÉ
Gerald Fleming, Evelyn Cusack and the Met Éireann presenting team, back in 1990.
Image: RTÉ
GERALD FLEMING MADE his TV debut as a weatherman back in 1984. Large pointy sticks where the order of the day in his profession – which was, by modern standards, a comparatively low-tech pursuit.
"There's been vast improvements in the science and technology underlying weather in my working lifetime, which is nearly four decades now," said Fleming, who initially joined Met Éireann in 1980.
Looking at the weather service's recent handling of Hurricane Ophelia, Fleming said there had been enormous leaps in technology and accuracy compared to, say, Hurricane Charley back in 1986.
"Everybody now looks at the weather radar if they want to plan a day out or if they're cycling somewhere or if they're having a picnic or playing a game of golf or farming or whatever.
"We didn't have weather radar in 1986. We did not actually know where that rain was falling until we saw reports coming in from stations.
The weather models we were using were very coarse and could give us only a very vague estimation of the likelihood of heavy rain in the different parts of the country – now we have them much more refined, much more detailed much more localised.
So all of that science has improved hugely. If Hurricane Charley were to happen again we would hope to be able to give three or four days of notice – not just the amount of rain but those places where the rain was likely to fall and the impacts of it.
Fleming, who's retiring from his role as Head of Forecasting at the end of the year, said he was looking forward to stepping away from the "9 to 5″, as he showed TheJournal.ie around the service's Glasnevin HQ (see video above).
Known to TV viewers for his laid-back presenting style and trademark winking sign-off, the Wexford meteorologist stepped down from regular broadcasting almost a decade ago to concentrate on managing forecasting operations.
He said he that, as he was approaching 60 "thankfully in good health", he had now decided to finish up with the weather service to concentrate on other interests.
Fleming won't be stepping away from the world of meteorology entirely. He'll keep his role at the UN's weather forecasting agency the World Meteorological Organisation, where he's part of an expert team "looking at how we deliver the weather to clients".
It's challenging, and it keeps me up to date with meteorology.
He'll likely do other bits and pieces too, once he retires – but won't be looking for another full time job (and he's not interested in running for political office, for the record).
Looking back at this year in weather, Hurricane Ophelia was top of our list to ask about.
In the days after the October storm, everyone seemed to have an opinion on whether it had been as bad as expected.
#Open journalism No news is bad news Support The Journal

Your contributions will help us continue to deliver the stories that are important to you

Support us now
"We do know certainly in terms of the damage that it certainly was more powerful than Darwin (in 2014)," Fleming said.
That's primarily by looking at the amount of electricity customers whose power was disrupted – so it was something like 50% higher for Ophelia than it was for Darwin. That gives us a good idea of the spread and the strength of the wind, because that electricity network is one of the most vulnerable elements to strong winds.
It was also a bigger storm that affected more parts of the country – Darwin was quite contained and only affected a relatively small area but in that area it did a lot of damage.
You'd have to go back to Hurricane Debbie, all the way back in 1961 to find the most comparable weather event.
That storm travelled up along the west coast and gave us some very strong winds up in Galway and Mayo and up in Donegal but of course we didn't have the records then that we have now, so it's hard to compare like with like in that sense.
In years to come, we're likely to experience more serious winter storms, Fleming said.
The likelihood is that we will get somewhat heavier rains in the winter time. As for wind strength and storm strength, the jury is still out on that – whether we are going to get more and more of that. But it's certainly something that we are concerned about.
Met Éireann vs RTÉ
Fleming has overseen a number of changes to the forecasting system during his tenure in charge, including the introduction of the colour-coded (yellow, orange, red) warnings and the storm naming system – a joint project with the UK's Met Office.
He stepped down from regular rostered broadcasting duties in 2009 – but, of course, remained a familiar face as he popped up on news bulletins during various floods, storms and freezes.
Ten years before that, as you may recall, he and his colleagues found themselves at the centre of a row that inflamed public opinion and resulted in RTÉ being inundated with calls from angry TV viewers.
The national broadcaster had tried to scrap meteorologists from their presenting staff and replace them with non-expert staff. It didn't go well.
"Like any relationship there are ups and downs and that was certainly one of the downs," said Fleming.
The decision, of course, wasn't popular at all, and Met Éireann forecasters were soon reinstated as management reversed their decision.
The weatherman insists:
We've had an excellent working relationship with them ever since.
Even as the array of weather-forecasting services and apps available to the average person via their smartphone expands, Fleming says he can't envisage in-person TV broadcasts being dropped from the main stations here anytime soon.
"So much in Ireland the weather is the first topic in most people's conversation.
I still think people will want to see another person standing there explaining things to them, explaining the context.