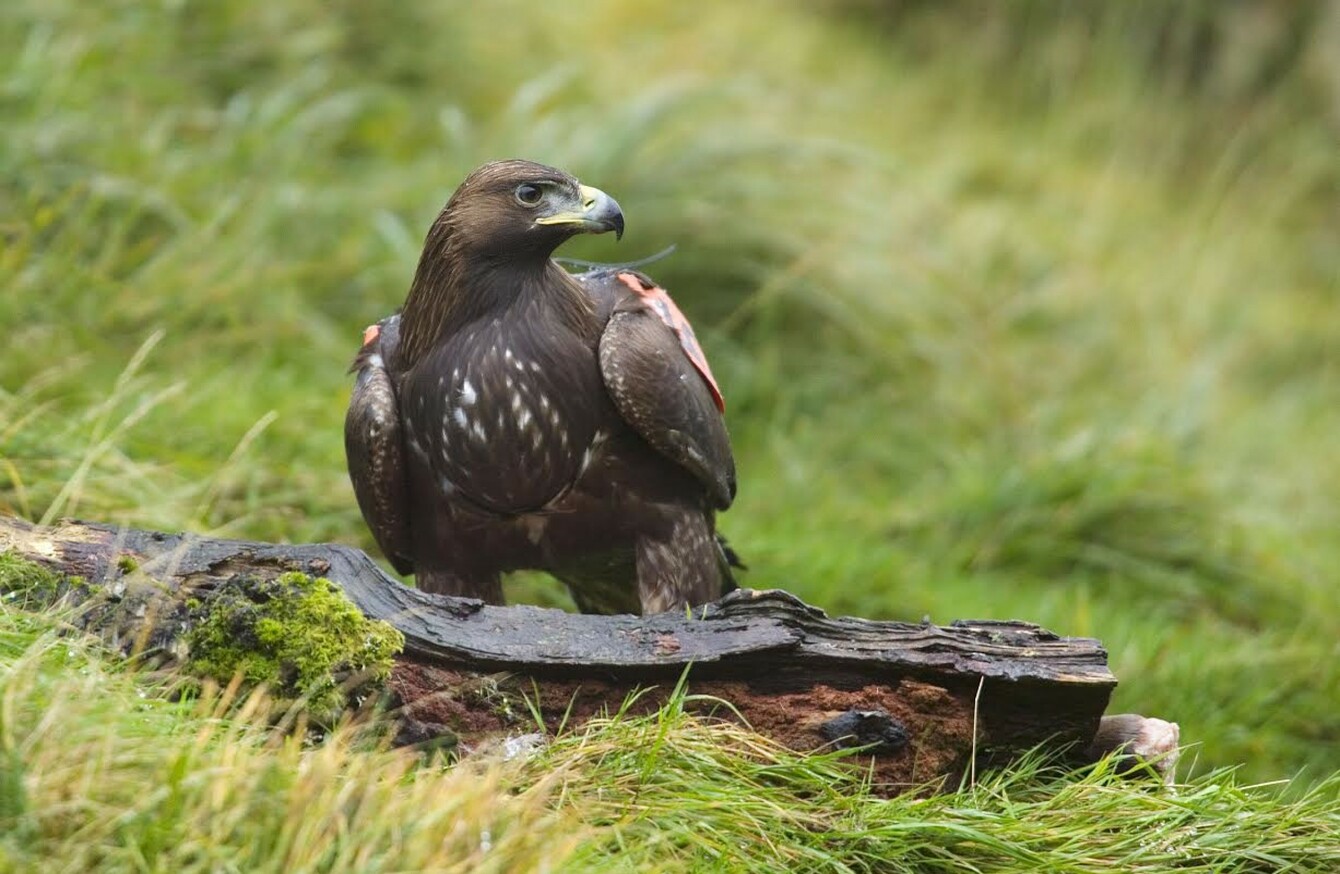 Image: Mike Brown
Image: Mike Brown
A CONSERVATION GROUP has claimed that golden eagles are in critical condition and facing starvation on the Donegal mountains.
The Irish Wildlife Trust (IWT) today called on Minister for Agriculture Simon Coveney and Minister for Arts, Heritage and the Gaeltacht Heather Humphreys to introduce a "Burren-style farming scheme" to save the government's golden eagle reintroduction project.
The group warned that the project, a five-year scheme to reintroduce the species to Donegal, is at risk of failure because of a lack of food on the hills to sustain the birds.
IWT campaigns officer Pádraic Fogarty described the possible extinction of the species as "tragic".
"Their loss would represent a huge blow to Donegal, not least from the tourism potential that these birds present," he said.
Sadly the lack of any management plan for Glenveagh National Park or surrounding 'special protection areas', or any conservation measures to protect the eagles is now placing the future of golden eagles in Ireland at threat.
The IWT cautioned that time is running out to build a "viable population" of these eagles, saying only three chicks have fledged in the area since the beginning of 2014.
In Scotland, golden eagles typically eat hares or red grouse, but the birds in Donegal prefer crows and badger cubs, meaning there are low numbers of their preferred prey, according to the IWT.
'Human actions'
The warning comes after the Golden Eagle Trust last week confirmed that golden eagles are struggling to cope with conditions in Donegal.
"To date our annual productivity has ranged from 0-3 birds annually. It is not enough," the group said in a Facebook post.
It added: "The Golden Eagle Trust feel that the conditions of the Donegal Mountains can be improved, if there are appropriate management tools in place.
"It is human actions that have shaped the limited capacity of our hills and we also have the same ability to improve the hills of Donegal."
The Department of the Environment has been asked to comment.