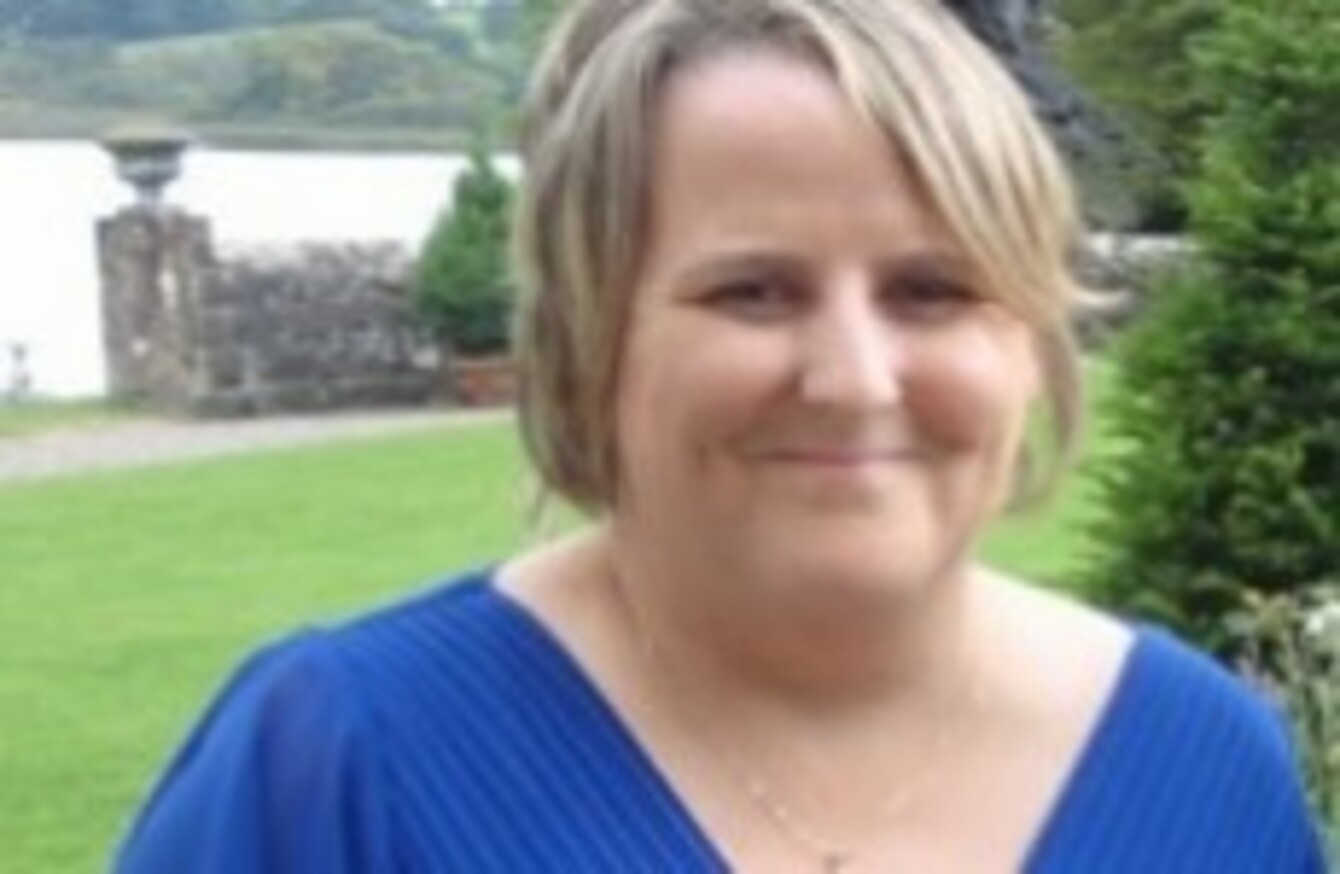 Undated image of Elaine O'Hara
Image: Garda Press Office
Undated image of Elaine O'Hara
Image: Garda Press Office
THE GRAHAM DWYER trial has heard from two men who met Elaine O'Hara on a website that caters for alternative sexual tastes. The murder trial jury also saw Ms O'Hara's profile page from that website, in which she said she hoped to meet someone caring.
The court heard the testimony today on the 14th day of the 42-year-old's trial at the Central Criminal Court.
Mr Dwyer is charged with Ms O'Hara's murder in the Dublin Mountains at Killakee, Rathfarnham on 22 August 2012, hours after she was discharged from a mental health hospital.
The Cork-born father of three of Kerrymount Close, Foxrock, Dublin has pleaded not guilty to murdering the 36-year-old childcare worker on that date.
Robert Cullen Jones testified that he met Ms O'Hara through a website called alt.com in March 2011.
"It's a website for people who like being submissive and dominant," he said, explaining that submissive meant 'people who like to give control to someone else in a sexual way'.
He explained that people had to join the website to meet other users on it. He recalled that Ms O'Hara's user name was Helpmelearn36-F and that 'she described herself as submissive'.
He said they met for coffee a few weeks later in Dundrum Shopping Centre. They spent about an hour there, before going back to Ms O'Hara's apartment in Belarmine Plaza, Stepaside, where they had sex.
The witness said that she mentioned that her interests included being restrained and tied up, but that this didn't form part of their sexual relations that day.
He said that she had shown him some sexual paraphernalia that day.
"I remember her handcuffs. She had them in a drawer by the side of her bed," he recalled. "I remember seeing the one pair: silver with a small link between the two cuffs."
He thought he also saw a couple of battery-operated vibrators that day.
Contact
He said that there was 'the odd text' between them until he met her again in Dundrum Shopping Centre in May 2012. This time they spent about half an hour together and didn't return to her apartment, he said.
He thought that it was at this meeting that she mentioned having been depressed and that she had lost one of her parents.
He said that was the last time he met her. Again, there was 'the odd text' between them after this, but he deleted her phone number a few weeks later, he said.
He said the first he knew of Ms O'Hara going missing was when gardai approached him on 30 August 2012. He confirmed that gardai had found his phone number on Ms O'Hara's phone.
He confirmed that he had provided gardai with swabs for DNA analysis and made his laptop available to them.
Evidence
He also recalled the gardai showing him a number of items. Seán Guerin SC, prosecuting, asked if he recognised anything.
"I remember seeing one of the handcuffs and it could well be the same ones I saw when at the apartment," he said. "I couldn't be certain."
Mr Guerin asked for Trial Exhibit 72 to be shown on the court screens.
"I think it's known as a butt plug. I can't remember seeing it to be honest. I merely remember the handcuffs and vibrator," he said. "I remember seeing something of that shape alright, but I couldn't say for sure what it was"
He said he had seen two such items.
The witness confirmed that the only fantasy she had discussed with him was her wish to be submissive in giving up control of her situation. He agreed that she told him she had a fantasy to engage in sexual games of bondage or restraint.
Difficult to give evidence
Remy Farrell SC, defending, opened his cross examination by telling the witness that he appreciated how difficult it was to come forward and give evidence in such a case.
Mr Cullen Jones agreed with Mr Farrell that alt.com catered for alternative sexual tastes, including relationships sometimes referred to as 'sub-dom' relationships.
"Sometimes the profiles would give someone's status away," he said, referring to the words: submissive and dominant.
He confirmed that he had heard of 'breath play'."I imagine it's restricting someone's breath," he said, agreeing that this would be by asphyxiation.
He was asked about 'wax play'. "I presume it's using candles," he replied.
When asked about 'knife play', he said it was 'like cutting'.
He said that his username on alt.com was DublinMaster and confirmed that it was clear from their usernames that Ms O'Hara was submissive and he was dominant.
He agreed that he had used his middle name, William, on the site and this is what Ms O'Hara had saved him as in her phone.
He agreed that Ms O'Hara had a number of sex toys in her apartment. He said it was 'fair to say' that she was more in to that kind of thing than him and that he felt he couldn't keep up.
Ms O'Hara's profile from alt.com was then shown on screen and Mr Farrell read out her introduction.
"Hi. I hate these things," it began. "I've been a sub on and off for a while. I've learnt a lot but I still have a lot to learn. My fetish is bondage. I love being in chains. I'm here to learn. I serve my master."
It said she would love a 24/7 relationship, but had no expectations. "Call me f**k meet," it continued.
'Similar to Facebook'
Mr Farrell then read the section under the heading: 'My ideal person'.
"Someone who can train me to be the best submissive/slave I can be… honest, loyal, frank and trustworthy and possibly caring, as well as strict," he read.
"I'm also looking for someone who wants a 24/7 slave."
A number of boxes had been ticked to show the activities in which HelpMeLearn36-F was interested. These activities included knife play, sensory deprivation and verbal humiliation.
The witness confirmed that the photograph accompanying the profile appeared to be of a female, bent over and tied up.
Mr Cullen Jones explained that a user could build up a network.
"You can add people as your friends, similar to Facebook," he added.
Mr Farrell then asked him about the items he had seen in Ms O'Hara's bedside locker.
"I think it was the black butt plug, which I had mistaken for a vibrator," he said.
He said there was a second, similar item and 'there could easily have been' a third.
He said that they had swapped a number of texts concerning her fantasies and that she had texted him about the idea of 'being shackled' in order to give control to another.
He was asked about sending her a text at 1.16am on 19 August 2012.
"It could have happened alright," he said, explaining that he thought he had deleted her number shortly after May of that year.
Second person
The jury also heard from Mark Guerin, who said his alt.com username was 'Time2Kill in Dublin'.
He said that Ms O'Hara had contacted him through the site a number of years ago and that they had met twice.
He said that she first took him to her bedsit at Ardmeen Lodge in Blackrock, where she placed restraints on the bed.
He was shown a photo of an item recovered from Vartry Reservoir and said that it was similar to what she had placed on the bed.
"I recognise the cuffs and chain," he explained.
He said that Ms O'Hara was quite nervous and not very affectionate that day. He said they had spoken about her past and self-harming.
Asked if she had a low opinion of herself, he replied: 'Very much so'.
"She talked about her previous partner and showed… cutting marks that weren't consensual," he recalled, explaining that he thought these marks were on her abdomen.
He said he was there about an hour but that they didn't have sexual relations.
"We found out we had different interests," he said.
He said that she got in touch again when she moved to her new home in Stepaside. He went to her apartment there and, again, she laid out some restraints on the bed.
He was shown the photograph of the anal plug found in the reservoir.
"She had three of those," he said. "She had brought them out initially."
"She was in a much lighter mood than she had been previously," he said, confirming that they had sexual relations this time.
However, they decided they had different preferences.
He agreed that she was more into restraints, blood-letting, degradation and humiliation, while he was more into 'Wax Play' and 'Light Kink'.
Under cross examination by Mr Farrell, he agreed that her interests were substantially more extreme than his.
The trial has heard that Ms O'Hara was last seen in Shanganagh, South Dublin on the evening of 22 August 2012. Her skeletal remains were discovered at Killakee on Friday 13 September 2013. A cause of death could not be determined.
Glasses found in Vartry Reservoir in Roundwood a few weeks later matched her prescription and frames, and keys to her home and car were also found in the water there around that time.
The trial continues before Mr Justice Tony Hunt and a jury of five women and seven men.