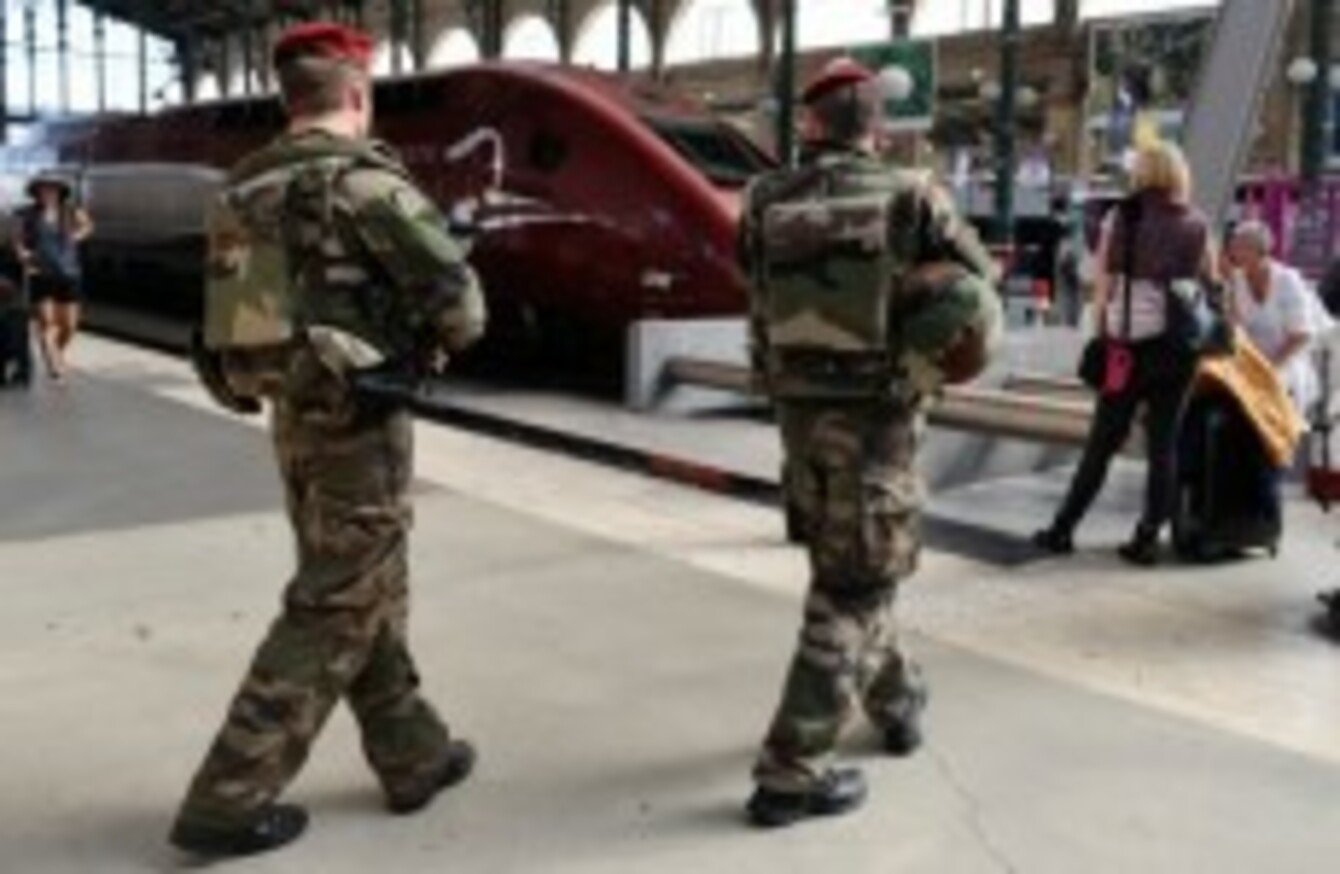 French soldiers patrol at Gare du Nord train station in Paris, France.
Image: AP/Press Association Images
French soldiers patrol at Gare du Nord train station in Paris, France.
Image: AP/Press Association Images
THREE AMERICANS, A British businessman and a French passenger are being praised as heroes for stopping a gunman who opened fire on a train from Amsterdam to Paris.
American President Barack Obama, UK Prime Minister David Cameron and French President Francois Hollande have all praised those involved.
AFP reports that US serviceman Spencer Stone was the first to reach the gunman, Stone was slashed in the neck and hand by the attacker.
Alek Skarlatos, a 22-year-old member of the National Guard in Oregon, told reporters that he then grabbed the gun and "basically started beating him (the gunman) in the head until he fell unconscious."
Anthony Sadler, a university student, who was travelling with his friends Stone and Skarlatos told Associated Press:
"As he [the gunman] was cocking it to shoot it, Alek just yells, 'Spencer, go!' And Spencer runs down the aisle.
Spencer makes first contact, he tackles the guy, Alek wrestles the gun away from him, and the gunman pulls out a box cutter and slices Spencer a few times. And the three of us beat him until he was unconscious.
The White House said the tragedy would have been far worse without the intervention.
Meanwhile, David Cameron has praised Chris Norman, a 62-year-old British consultant living in France, saying:
The bravery of Mr Norman and the other passengers helped to prevent a terrible incident.
While French Interior Minister Bernard Cazeneuve said a French passenger was the first to tackle the gunman before being assisted by the Americans.
French President Francois Hollande is to meet the off-duty servicemen.
Video footage shows what appears to be the gunman lying on the floor with his hands and feet tied up with t-shirts.
Source: PigMine 2/YouTube
The gunman was arrested after the train pulled into the station in the northern French town of Arras.
The 26-year-old  Moroccan who lived in Spain was armed with a Kalashnikov assault rifle, an automatic pistol, nine cartridge clips and a box-cutter.
French Interior Minister Bernard Cazeneuve said the suspect was "signalled by the Spanish authorities to French intelligence services due to his membership of the radical Islamist movement."
Additional reporting by AFP.