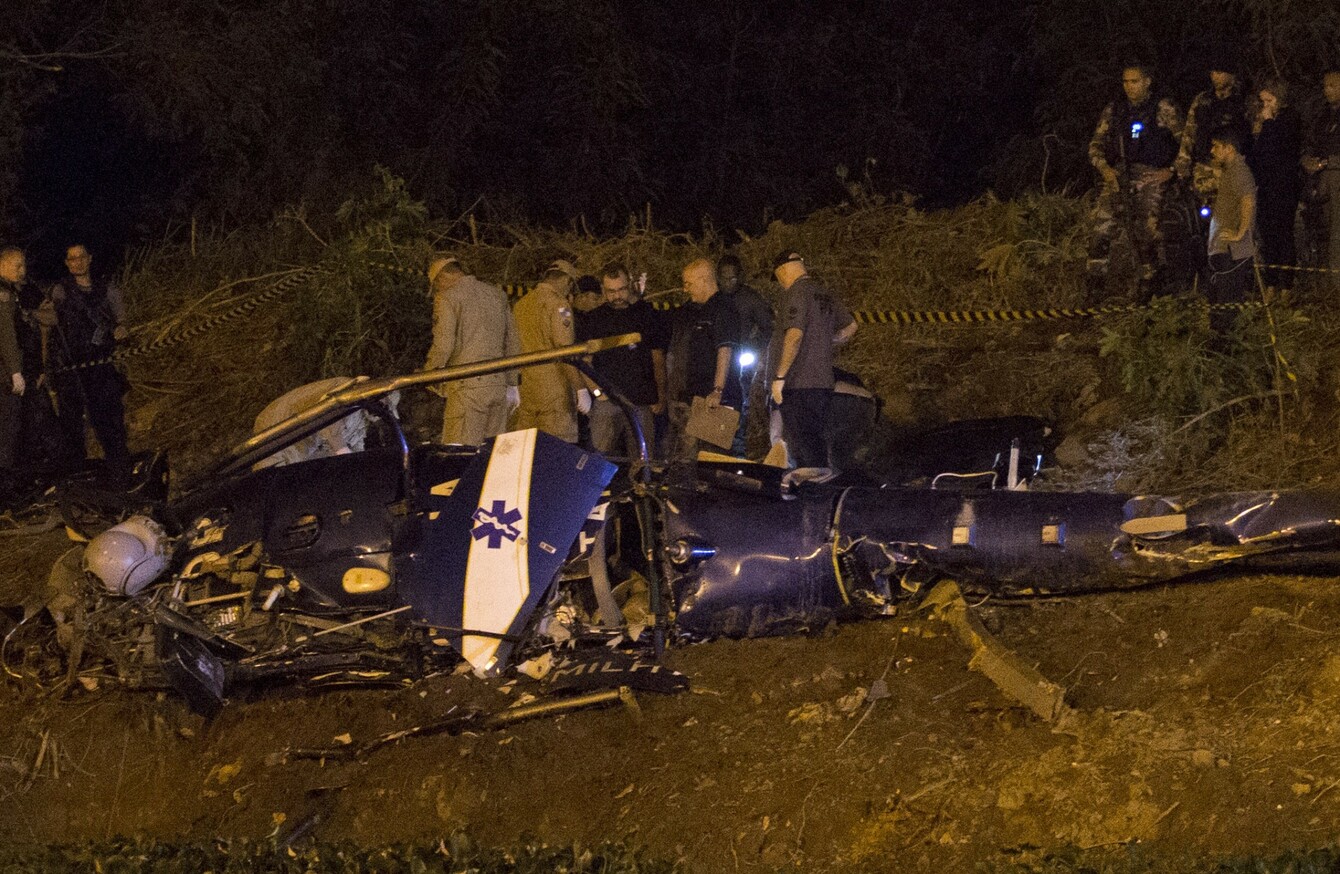 Police gather at the scene of the crashed helicopter
Image: Leo Correa
Police gather at the scene of the crashed helicopter
Image: Leo Correa
A POLICE HELICOPTER has crashed near one of Rio de Janeiro's impoverished favela neighborhoods, killing four officers after a day of intense gunfire in the area, according to Brazilian police.
"We do not yet have information on the causes, an investigation will be opened," a police spokesman told AFP, confirming that security forces had carried out operations earlier in the day in the Cidade de Deus favela near the site of the crash.
Video shot by witnesses and broadcast by Brazilian media showed the helicopter spinning out of control as it fell from the gray, late-afternoon sky.
It is not yet clear if the gang fire was what brought the helicopter down. However, if that is the case, it would not be without precedent.
Source: Keep Fishing RJ/YouTube
In 2009 another police helicopter sustained heavy damage from gang gunfire before exploding and crashing on a football pitch killing both pilots.
The crash followed a tense day of clashes with officers in the densely populated area, causing the flow on one of the city's major highways to be cut off.
In a separate clip published by Brazilian news site UOL, the rumble of gunfire can be heard coming from the streets in the area.
Clashes occurred in the morning and again in the afternoon when drug traffickers blocked a street and set garbage and tires on fire, sources from the Police Pacification Unit (UPP), which was set up to restore order in Rio's crime-ridden slums, told Folha de Sao Paulo newspaper.
Rio, which is home to 6.5 million people and drastic social inequality, faces high levels of crime fueled by bands of heavily armed drug traffickers.
Since 2008, security forces have occupied several favelas that were in the hands of drug traffickers for 30 years and have also deployed the UPP in 264 impoverished, crime-hit neighborhoods housing more than a million people.
Although the areas are patrolled by around 10,000 officers, drug trafficking groups are pushing to regain control of some of the favelas.
Between January and October, 115 police officers were killed and 556 were injured in Rio state, most of them while they were off duty, official figures show.
Human Rights Watch released a report in July in which it counted more than 8,000 deaths of citizens at the hands of state police in the past decade. Among those, 645 were killed last year alone.
Additional reporting Cianan Brennan