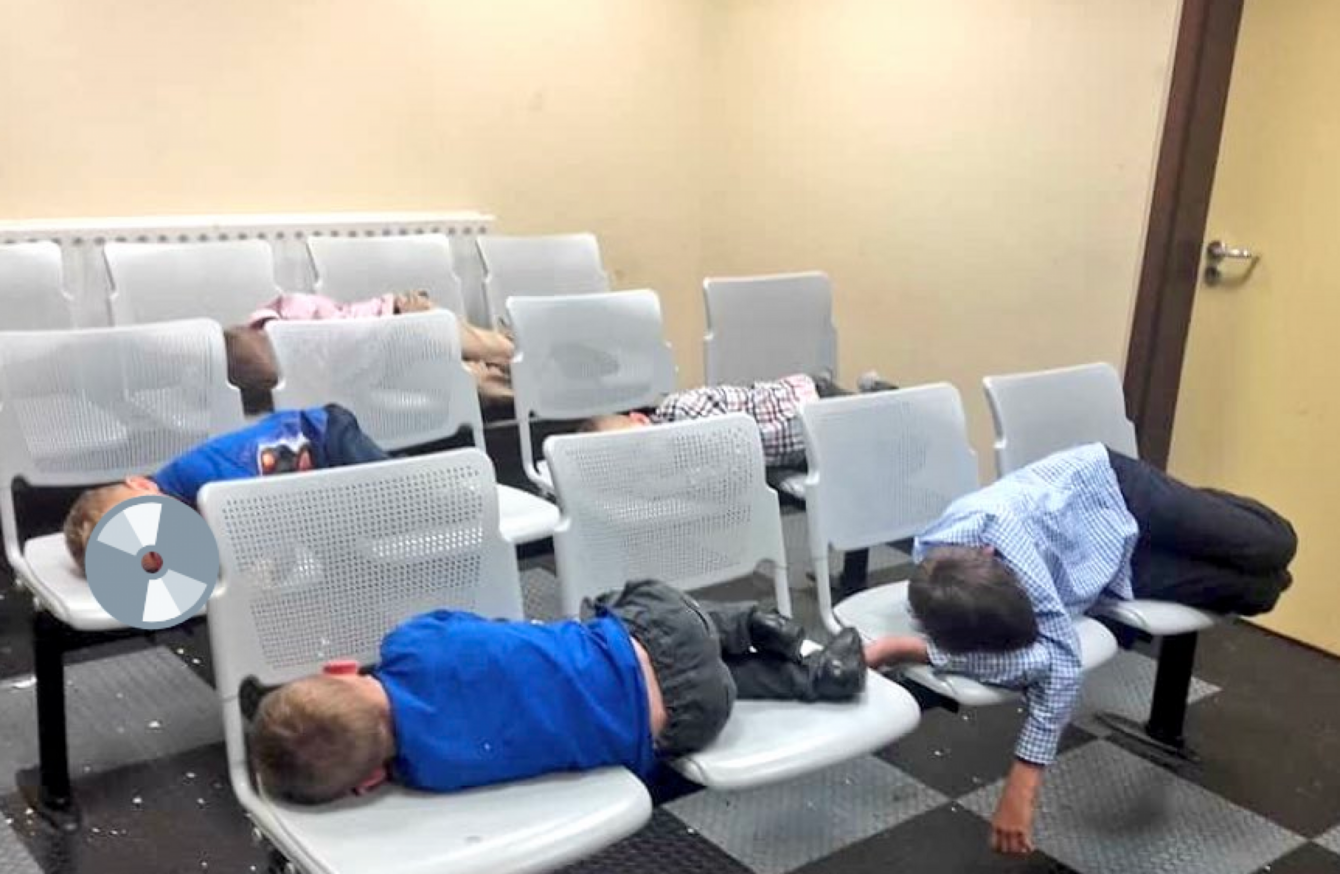 A photo of the children who spent the night in Tallaght Garda Station, which the mother asked to be shared online
Image: ICHH
A photo of the children who spent the night in Tallaght Garda Station, which the mother asked to be shared online
Image: ICHH
Updated Aug 9th 2018, 1:00 PM
A FAMILY OF seven spent the night in a Dublin garda station last night after failing to secure emergency accommodation.
Gardaí confirmed that a young mother and her six children – aged from one-year-old to 11 years old) presented to Tallaght Garda Station during the night as "they had nowhere to go".
Members of An Garda Síochána tried all emergency lines in relation to homeless shelters and no accommodation was located.
A number of local hotels were also phoned.
Gardaí said the family was cared for during the night by members working.
They received a hot breakfast this morning at the station.
The family has now left Tallaght Garda Station and are on their way to South Dublin County Council's Housing Department, according to gardaí.
Latest figures from the Department of Housing show that 9,872 people were in emergency accommodation during the week of 18-24 June, an increase of 26 people compared with the previous month.
The figure includes 6,048 adults and 3,824 children.
Speaking to TheJournal.ie, Brian McLoughlin of Inner City Helping Homeless said: "It's absolutely heartbreaking. It's terrible that we've nearly 4,000 children who are growing up in hotels, bed and breakfasts and family hubs.
We've seen reports of the mental impact it has on their mental health and the child's development when they're living in these surroundings but to have them sleeping in a garda station is just absolutely outrageous.
"It's a case where there should never be a position where a small child has to sleep on a chair in a garda station."
South Dublin County Council said in a statement that families are assessed on a case-by-case basis at the homeless clinic.
"If homeless priority is granted, families would either be accommodated in a homeless home (where availability exists) or granted self-accommodation," the statement said.
Self-accommodate allows applicants to self-source hotel accommodation on a short-term basis, according to the council.
"If a family cannot source hotel accommodation, a freephone number is supplied and families can access accommodation through the family intake team on a night-by-night basis.
"All efforts are made to ensure families have accommodation on a temporary basis until more permanent arrangements can be put in place."
'An ever worsening problem'
Dublin Region Homeless Executive said that last night "an unprecedented number of families presented out-of-hours seeking emergency accommodation".
DRHE was notified by the Family Homeless Action Team that they were actively engaged with 10 families who were unable to source their own accommodation.
"Our Central Placement Team were able to source emergency accommodation for five of the families. One family refused the offer of accommodation, two of the families were linked back in with their region (outside of Dublin) and two did not seek further assistance," the statement said.
"One of these families is the family that spent the night in the garda station."
Sinn Féin spokesperson Eoin Ó Broin has called for an immediate statement from Minister for Housing Eoghan Murphy in relation to last night's issue.
"As the holiday season reaches its peak and with the added pressure of the Pope's visit to Ireland many hotels are withdrawing their rooms from emergency accommodation," Ó Broin said.
"This along with the increasing numbers of families presenting as homeless led to last night's crisis situation," he said.
#Open journalism No news is bad news Support The Journal

Your contributions will help us continue to deliver the stories that are important to you

Support us now
"Given that this problem is likely to recur during August, Minister for Housing Eoghan Murphy must make a public statement on the matter today outlining what additional measures he will put in place to address this ever worsening problem."
Anthony Flynn of Inner City Helping Homeless told TheJournal.ie: "Last night was one of the worst nights I've ever seen in the five years that I've been doing this."
Focus Ireland Advocacy Manager Roughan MacNamara said in a statement that "the fact that some families had nowhere to sleep last night except in a garda station is totally unacceptable".
"Focus Ireland is working hard every day with Dublin Regional Homeless Executive to support families and help them when they become homeless. While last night was exceptional, it was part of an escalating crisis for families that Focus Ireland has been warning the government about for over two years," MacNamara said.
Government reaction
The Department of Housing said in a statement today that "addressing homelessness is a priority for this government and we are absolutely committed to increasing the delivery of housing to ensure that we can deliver solutions for those experiencing homelessness".
"Given the continuing number of families presenting to homeless services, as well as the continuing use of hotels, Minister Murphy commenced a Rapid Hub Programme in early January that will see additional family hub places added to the existing hubs."
The Department said it is working with local authorities on the development of further family hubs.
"One of the measures put in place to support families, through the use of HAP, was the establishment of a Homeless HAP Placefinders service in the Dublin Region Homeless Executive, which leads the response to homelessness in the four Dublin local authorities, and in Cork early in 2017," the statement said.
"The homeless HAP service supports families in emergency accommodation by nominating them to viewings with the Placefinders Service, and encouraging and supporting them to find private rented accommodation themselves."
The Department later added that Minister Murphy has spoken with DRHE and they have confirmed that they are reviewing the processes in place for those who present late at night in need of emergency accommodation.
"Emergency accommodation was available last night but there is clearly urgent need for better communication between the DRHE, our Partner Organisations and State Agencies to ensure families can be accommodated at short notice when they present."