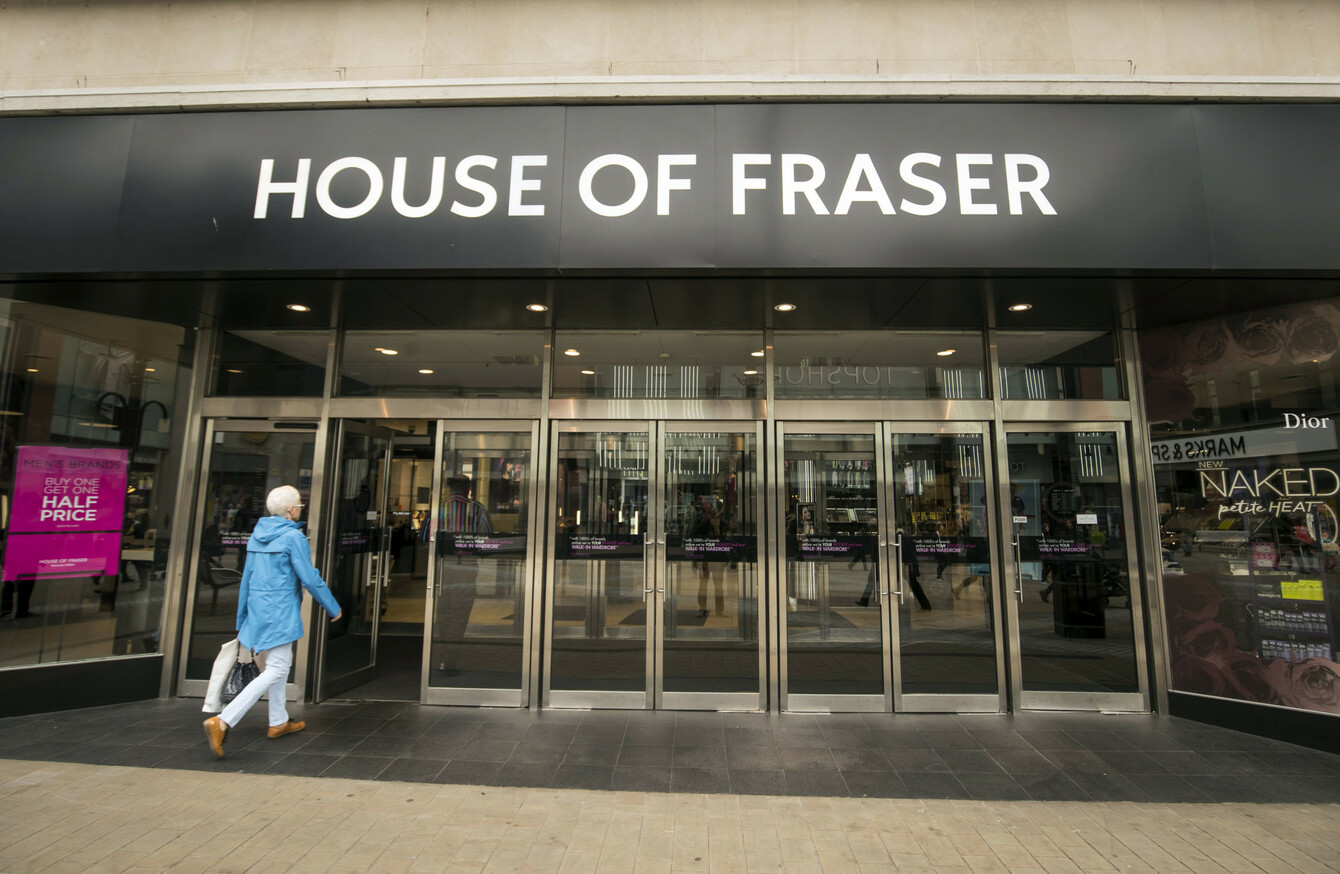 Image: Danny Lawson
Image: Danny Lawson
DEPARTMENT STORE CHAIN House of Fraser announced today that it will close more than half of its branches in a rescue deal that places 6,000 jobs at risk.
House of Fraser, which has suffered from high costs and fierce online competition, said in a statement that it will shutter 31 of its 59 stores, however the branches in Dublin and Belfast will not be affected.
The closures are part of a company voluntary arrangement (CVA) – a process often used by businesses in financial difficulty seeking to elude the threat of administration or liquidation.
A spokesperson told TheJournal.ie that Dundrum is not part of the CVA because only UK stores are included. The company decided that the Belfast store will remain open.
The group has become the latest high-profile casualty on the British high street, which is struggling to compete with online titans like Amazon at a time of weak household spending.
Chinese conglomerate Sanpower had bought a majority 89% holding in House of Fraser in a deal worth €546 million in 2014.
Today's announcement is aimed at securing the sale of a 51% stake to China's C.banner International Holdings, which already owns London toy retailer Hamleys.
House of Fraser chairman Frank Slevin said:
The retail industry is undergoing fundamental change and House of Fraser urgently needs to adapt to this fast-changing landscape in order to give it a future and allow it to thrive.
A spokesman confirmed the figure of 6,000 job losses, adding that this would comprise both company employees and concession staff.
Stores scheduled for closure include the retailer's flagship shop on London's Oxford Street, as well as its store in the capital's City finance district.
"Our legacy store estate has created an unsustainable cost base, which without restructuring, presents an existential threat to the business," added Slevin.
"So whilst closing stores is a very difficult decision, especially given the length of relationship House of Fraser has with all its locations, there should be no doubt that it is absolutely necessary if we are to continue to trade and be competitive."
The group also plans to relocate its London head office to a new location in order to cut costs.
Affected stores are expected to remain open until early 2019, while employees have already been informed of the news.
"Today's announcement is one of the most important in this company's 169-year history," chief executive Alex Williamson said.
© – AFP, 2018 with reporting by Céimin Burke