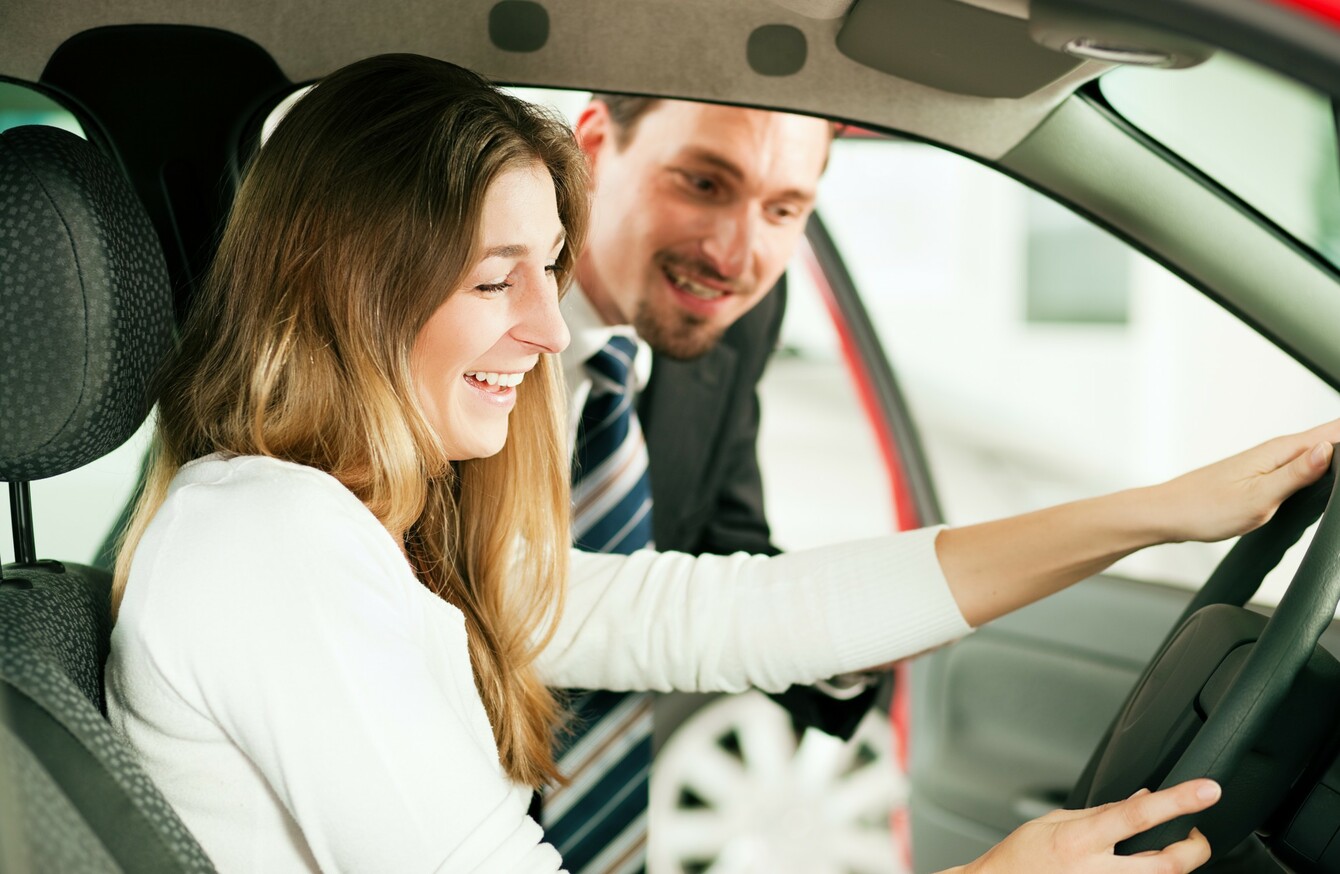 Image: Shutterstock/Kzenon
Image: Shutterstock/Kzenon
PURCHASING A NEW car is no small decision and with so many potential variables, it can be difficult to know how to begin narrowing down your options.
With all there is to consider, how can you be sure a new car is right for you? 
Whether you're keen to have extra space in the boot, want to cut down on fuel costs for your commute, or have to fit your kids' car seats across the back seat, your own lifestyle will dictate many of those new car decisions. 
If you're starting your car search, these tips from motoring journalist Geraldine Herbert will help you get off on the right foot.  
1. First up, choose the right car type
Choosing the right car type is the first step in a car-buying journey. Herbert explained,
For small families, hatchbacks are ideal and there is a huge choice on the market. Estates and saloons are a good option if you need that extra boot and cabin space. Nothing beats the versatility of MPVs and while not as popular on the road as they once were, there are great bargains to be had by buying second-hand.
While you might be tempted by an SUV, you'll need to consider whether it has enough space in the boot, Herbert said, "Generally, SUVs offer a high riding position, good space and often come with some off-road capability, but the boot space is often not that generous."
In order to land on a car type, you'll also want to consider how you would use the car, whether you have a long commute, the journeys you typically make around town, and any city centre driving you do. "If you commute, you'll need an economical model," she said, "but if you regularly take long trips you'll need a car with a larger engine."
2. Buy the greenest option you can afford
It can be difficult to know whether to choose a diesel or petrol vehicle, or indeed a hybrid or electric vehicle. Herbert broke it down to a simple mileage consideration, "The decision is as much about the kind of driving you do as the mileage. Unless you do high mileage – more than 20,000km per year – there is little reason to opt for diesel."
For those driving around town and on the motorway, Herbert suggested, "Consider a plug-in hybrid and dip into the electric car experience of plugging your car in overnight."
Bottom line? "Ideally, buy the greenest option you can afford – and don't underestimate how good electric cars are," said Herbert.
Electric motorists can avail of a SEAI home-charger grant of up to €600, and the government has announced future investment in a network of high-powered electric vehicle charging points across the country – making an electric vehicle even more appealing. 
3. Make sure your family fits
You'll obviously need to ensure your current family fits in the car, but you should also think ahead to any future family members on the horizon. Herbert explained, 
If you are buying a family car, a three-door car may seem like a viable option, but after a few months of wrangling an infant seat into the back from the driver's door, you and your back you will reckon it's time to reconsider. A more family-friendly five-door will save your back the trouble. 
If you already have kids, take any child seats you use with you to your test drive and check that they fit, Herbert said: "Make sure to assess how difficult they are to actually get in the back and how easy they are to install." 
She also suggested checking the EuroNCAP (European New Car Assessment Programme) safety rating of the car you intend to buy to make sure it's a safe option for your family. 
4. Plan your test drive right
Test driving a car can be a little nerve wracking, so you'll want to make a plan ahead of time to ensure you get the information you need about the vehicle before you consider purchasing it. Herbert suggested asking for a half hour's drive, so that you'll have adequate time to take the car on a route through town, open roads and, if possible, a motorway.
Once you're behind the wheel, can you adjust the seat and steering so you're comfortable? Are the front seats supportive (not too soft or hard) and is the leg room adequate for you? Can you reach the pedals, and easily switch between the brake and accelerator?
She also reminded test drivers, "Try every gear, including reverse, and test all the controls, including wipers and lights."
5. Don't forget to test drive the boot
Boot space is a key to finding the right car fit, especially if you regularly need to bring larger items in your car.
Herbert reminds test drivers: "The boot is really important in a test drive, so bring all the stuff you regularly use with you and see if it fits in there, from prams and bicycles to golf clubs. If you use it regularly, it needs to fit."
6. Make sure you're covered after you purchase
Many people forget to think about what happens once they purchase a car and drive off the lot. "Good after-sales service should be a key factor when you're buying a car," Herbert explained, "but it is probably one of the most overlooked."
There's a huge convenience in knowing that if something goes wrong with the car, the after-sales department is there to sort it out. Herbert suggested making sure your after-sales plan has a few particular things included:
You should inquire about options such as overnight servicing with drop-off and collection from your home, or while-you-wait servicing within an hour, courtesy cars and longer opening hours. 
7. And finally, consider any associated costs
Before you sign on the dotted line, Herbert reminded potential buyers to consider any additional costs:
You'll want to consider your running costs along with the initial purchase price – it's important to work out an estimate of fuel consumption along with road tax, insurance and maintenance costs to ensure you're buying a car you can actually afford to drive.
With all of those considerations in mind, you should have quite a lot of information to start your 201 car search – and hopefully land on the model that's right for you. Drive safely! 
Volkswagen knows that whatever change life brings, choosing the right car is an important decision, and they're excited to help you make the change. If you're looking for a new car over the coming months, you can check out the new Volkswagen 201 range here.