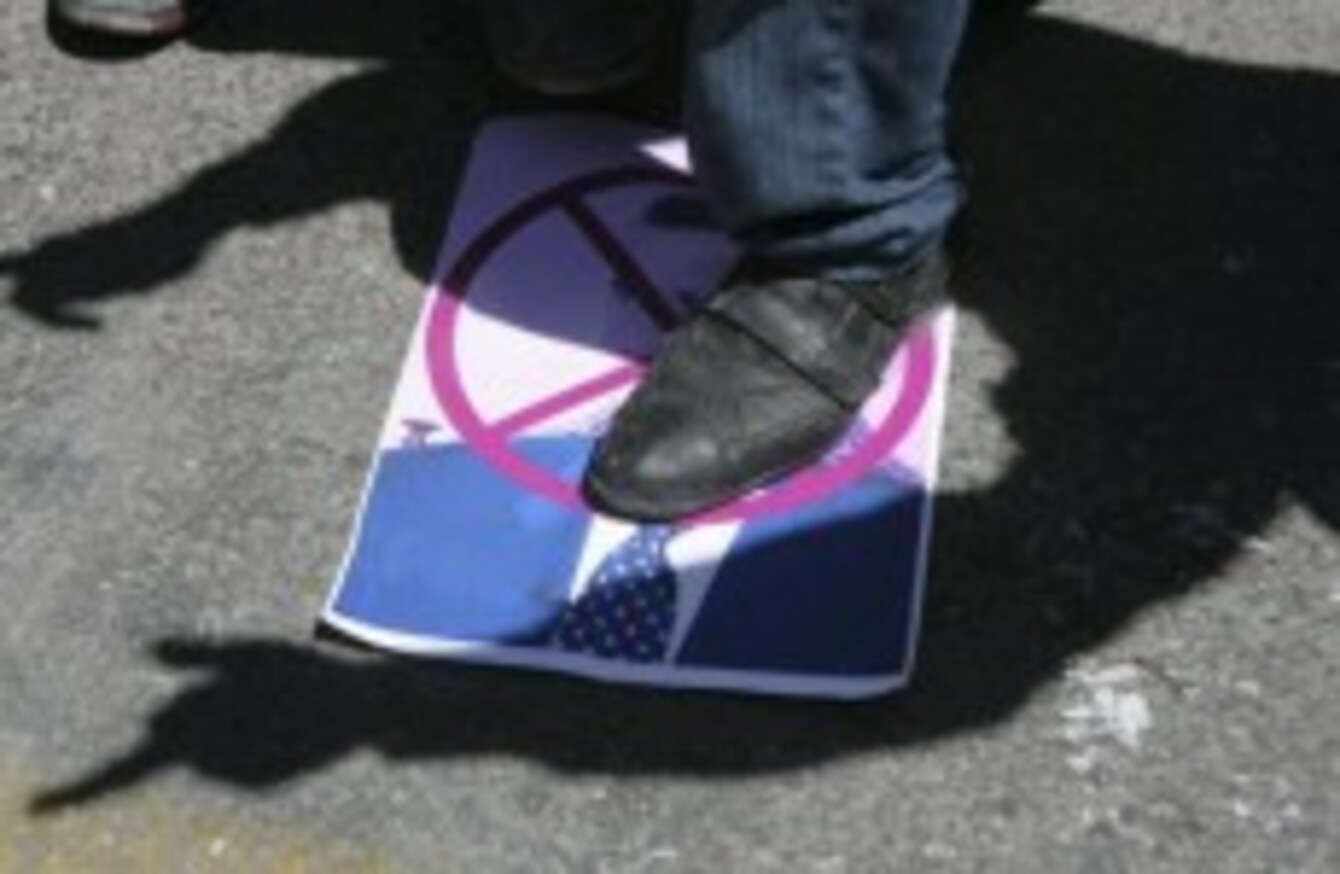 A Syrian protester symbolically steps on a picture of the Syrian president Bashar Assad during a protest to express solidarity with Syrian people in front of Syrian embassy in Amman, Jordan, Sunday, April 24
Image: Nader Daoud/AP/Press Association Images via PA Images
A Syrian protester symbolically steps on a picture of the Syrian president Bashar Assad during a protest to express solidarity with Syrian people in front of Syrian embassy in Amman, Jordan, Sunday, April 24
Image: Nader Daoud/AP/Press Association Images via PA Images
THE UNREST IN Syria is continuing, with hundreds of people reported to have been arrested in the country.
Al Jazeera is reporting that Syrian security forces have arrested at least 500 pro-democracy activists as part of a violent crackdown on anti-government protests.
A Syrian rights activist told Reuters that at least 20  people were killed in the city of Deraa in the aftermath of a raid by troops loyal to Syrian president Bashar al-Assad yesterday.
Witnesses told Reuters that eight tanks and two armoured vehicles were deployed in the old quarter of Deraa, with several bodies seen lying in a main street near the Omari mosque.
A witness also reported that security forces wearing army fatigues had been shooting at random at houses after tanks moved in.
The United States has been urging Americans to leave Syria amid the current violence.
Syria has closed all its land border crossings with neighbouring Jordan as of yesterday, after Syrian tanks were deployed in the Southern border city of Deraa.
A day after entering the coastal town of Jabla, Goverment forces stormed the Damascus suburbs of Douma and Mouadhamiya yesterday, where they were seen shooting and making arrests.
More than 390 people have been killed in the violence since mid-March. Amnesty International has said that the Syrian military assault against protesters "must end".
Malcolm Smart, Amnesty International's Middle East and North Africa Director, commented:
By resorting to the use of artillery against its own people today, the Syrian government has shown its determination to crush the peaceful protests at virtually any cost, whatever the price in Syrians' lives.
- Additional reporting by AP