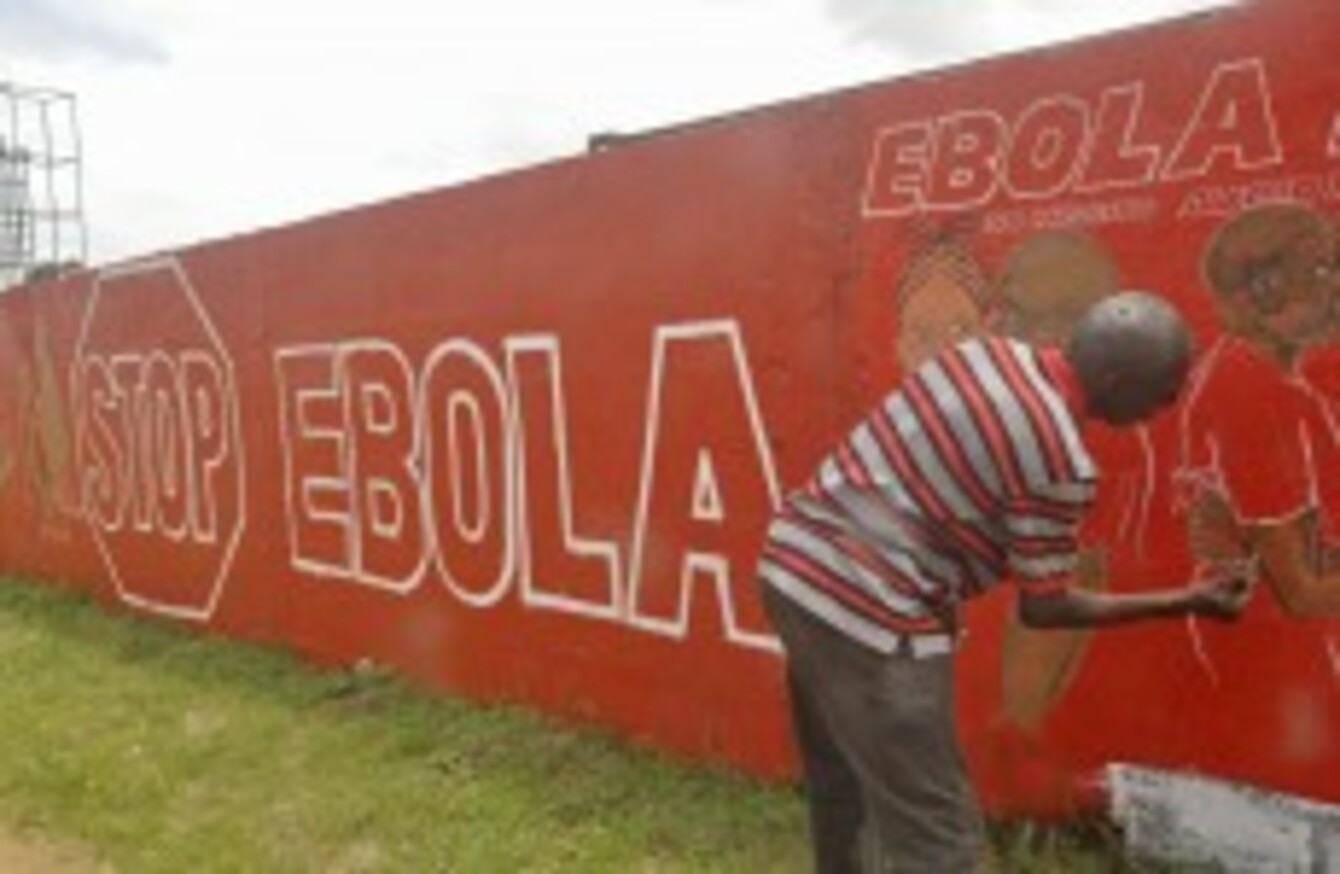 A Liberian artist draws a mural that reads 'Stop Ebola'
Image: AP/Press Association Images
A Liberian artist draws a mural that reads 'Stop Ebola'
Image: AP/Press Association Images
A WORKER FOR Irish Irish aid organisation Concern Worldwide has died in Liberia. It is thought he may have died from the Ebola virus.
Dauda Konneh, Concern's Community Development Officer for Construction, died overnight yesterday. Konneh had been suffering from a long-term illness for which he had been receiving treatment.
The 42-year-old man was married with two children. Concern Worldwide issued a statement yesterday expressing sympathy and support for Konneh's wife and children.
Konneh's condition deteriorated over the last ten days of his life as he began to display some of the symptoms of Ebola. He presented to his local Emergency Ebola Testing Unit last Friday (September 19). He was turned away due to over demand on the service.
It is thought that Konneh's symptoms could have been the result of another condition, such as typhoid fever.
Concern Worldwide stipulated that they are not front-line responders to the Ebola crisis and that their staff are not in direct contact with those suffering from the virus. The role of Concern Worldwide is to provide secondary support such as advice and training.
There is currently one Irish individual working for Concern Worldwide in Liberia.
There have been 3,373 cases of Ebola in Liberia during the most recent outbreak with 1,709 of these proving fatal. In September alone there has been 336 fatalities in the country from the virus.
Speaking to TheJournal.ie, spokesperson for Concern Worldwide Austin Kennan, said:
What is actually happening is that the system is being overwhelmed. The number of treatment centres and testing centres…there are huge crowds of people who are trying to get testing and trying to get treatment.
Ebola is spread through exchange of bodily fluids. One way that the virus has been contracted is through a person getting into a taxi recently vacated by someone with the condition.
Another way it has been spread is through contact with dead bodies by individuals attending funerals.
The past week has seen a lock down in Sierra Leone in an attempt to prevent the virus spreading any further. The measure saw the country's 6 million residents confined to their homes as volunteers went door-to-door to educate individuals.
In September 115 people died in Sierra Leone from the Ebola virus.
The situation is thought to still be escalating although the situation in Senegal and Nigeria seems to have stabilised.