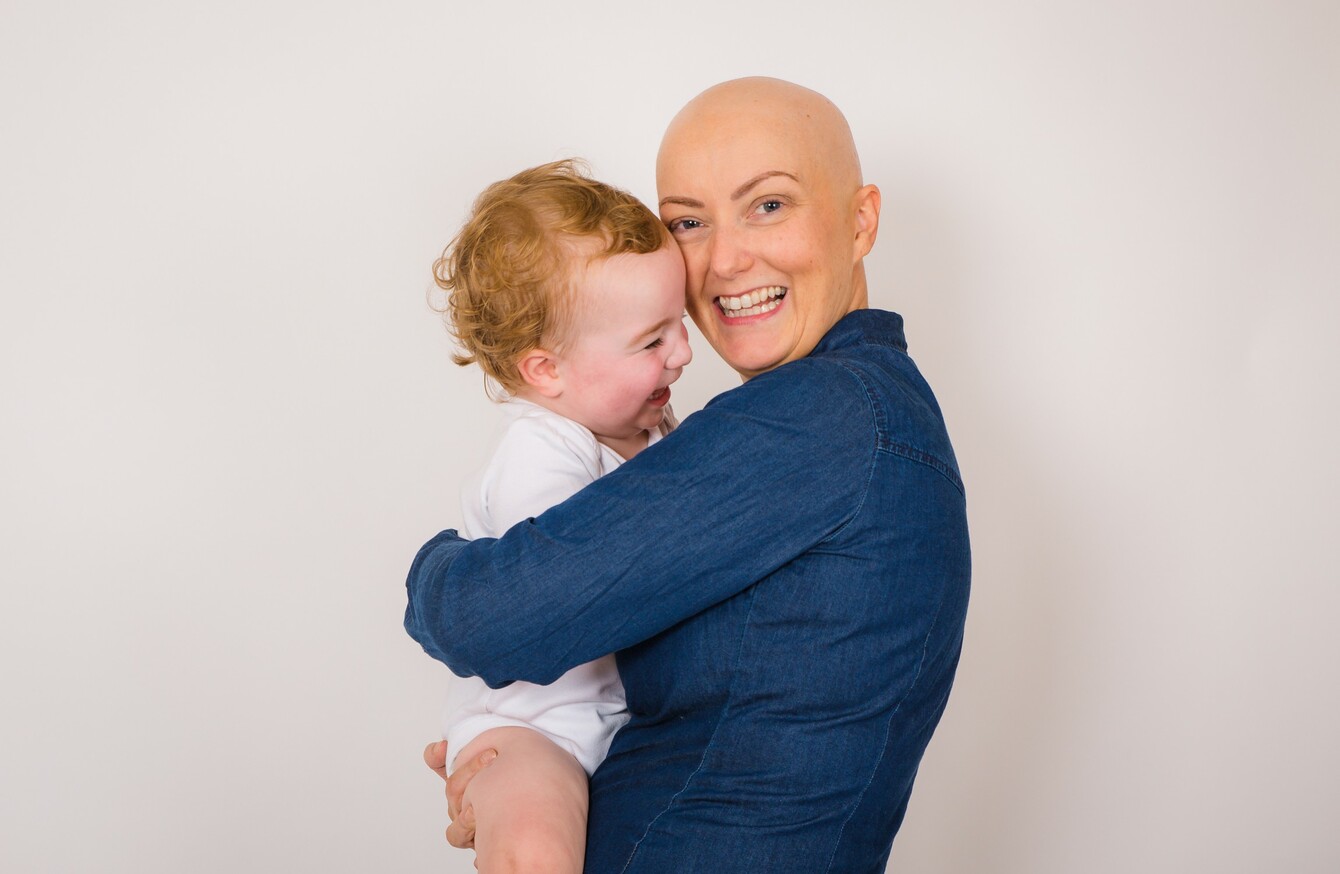 Image: Edel O'Malley
Image: Edel O'Malley
"HARLEY IS MY focus, it took a long time to have him, I'm not checking out when he's not even potty trained."
Claire Graham is fighting a brain tumour and breast cancer while also caring for her two-year-old son who was diagnosed with cancer and had surgery to remove his eye – all in the last year.
The 38-year-old Westmeath woman, who has lived in Drimnagh for the past 10 years, was diagnosed with triple negative breast cancer around this time last year.
During her chemotherapy treatment, her two-year-old son Harley was diagnosed with an extremely rare form of cancer that resulted in his eye being removed within one week.
Graham later discovered her cancer had spread and she is now battling a brain tumour.
She was told a drug called pembrolizumab is her best option but, while the drug is being trialled in Belfast, she cannot receive it here in the Republic.
"I've exhausted every avenue and the only way I can do it is self funding and it costs €100,000 a year.
Eye removed within one week
It all started when she developed a painful lump in her breast last March. Graham said she wasn't expecting bad news when she went to get her test results.
She told TheJournal.ie, "I hadn't even brought anyone with me, I just couldn't believe it. They had to call my husband to come for me.
I remember saying to the doctor, 'Will I turn into a sick person now?' I haven't worked since, the chemo has been very difficult.
Graham underwent chemotherapy from May to October. In August, right in the middle of her chemo treatment, her only son was also diagnosed with retinoblastoma – an extremely rare cancer of the eye. "That was a whirlwind", said Graham.
Both her and her husband had noticed a change in colour in a part of the pupil of Harley's eye.
I was having chemo that day so my husband took him to GP.
The GP told Declan to take Harley to Crumlin Children's Hospital and once there, Declan know something serious was wrong.
He called me upset, the urgency scared him.
The couple arrived back to the hospital at 8am the next morning. "It was a Wednesday and within one week, his eye was removed.
It was in stage four and they needed to remove it quickly because the tumour was growing fast.
Harley's surgery was successful and test results show the cancer hasn't spread but Graham said he will be monitored for life and will be in and out of Temple St, where he had his surgery, for the foreseeable future.
Harley is now using a prosthetic eye and is doing very well.
'I can live longest on this' 
In December, Graham underwent a lumpectomy and sentinel node biopsy and lymph node clearance for her breast cancer. Following on from that she developed headaches and was sent for an MRI.
That's when they discovered the cancer had spread and she had a brain tumour.
"The brain spread was discovered the 2 February, the same day breast radiation was due to start, so that was cancelled."
Graham was sent to see a leading London-based medic, Professor Justin Stebbing, by a UK charity called Team Verrico. That's when she heard about pembrolizumab.
We flew over on 7 March – he looked at all my records. They look at the tumour and your histology and take everything into consideration and I can live the longest on this. It's showing great potential and great results.
It was only when Graham returned to Ireland that she discovered that it wasn't available to her here and her only option is self funding.
I never did the 'why me?' because as soon as I joined my support group I realised how many people join this group everyday.
#Open journalism No news is bad news Support The Journal

Your contributions will help us continue to deliver the stories that are important to you

Support us now
"I'm alive today and I'm doing everything I can. I believe it's all going to work out the way it's supposed to."
Describing how she's doing now, Graham said, "My breast cancer is really escalating so they've put me on a drug to try and keep it at bay but my most recent scan for my brain tumour shows its reducing as it should be."
'I've had mammy my whole life and I want Harley to have that too'
Graham says she's putting all her focus on fundraising and that not only family and friends – but her whole community is gathering behind her.
She described Drimnagh as "an old style community with a new fresh generation".
"The community spirit is keeping me going, from organising a pub quiz next week to a coffee morning this morning, people are doing everything they can. All the local shops are donating prizes and my neighbours drive me anywhere and arrive in with chicken soup.
For someone with such bad luck, I just feel I'm so blessed. It's incredible how all these people in my life have dropped everything to help me.
The fundraising target is €100,000 and over €45,000 has already been raised.
"I don't want anybody stretching themselves, the small is all that's needed. I don't want to put any pressure financial on anybody."
Graham also discussed how she has 'no worries' for her husband Declan and Harley as they get on so well but that she wants to be there for Harley growing up.
I have my mammy, I've had mammy my whole life and I want Harley to have that too.
"I have no worries for those two but I want to be there."
To donate to Claire Graham, you can donate here.