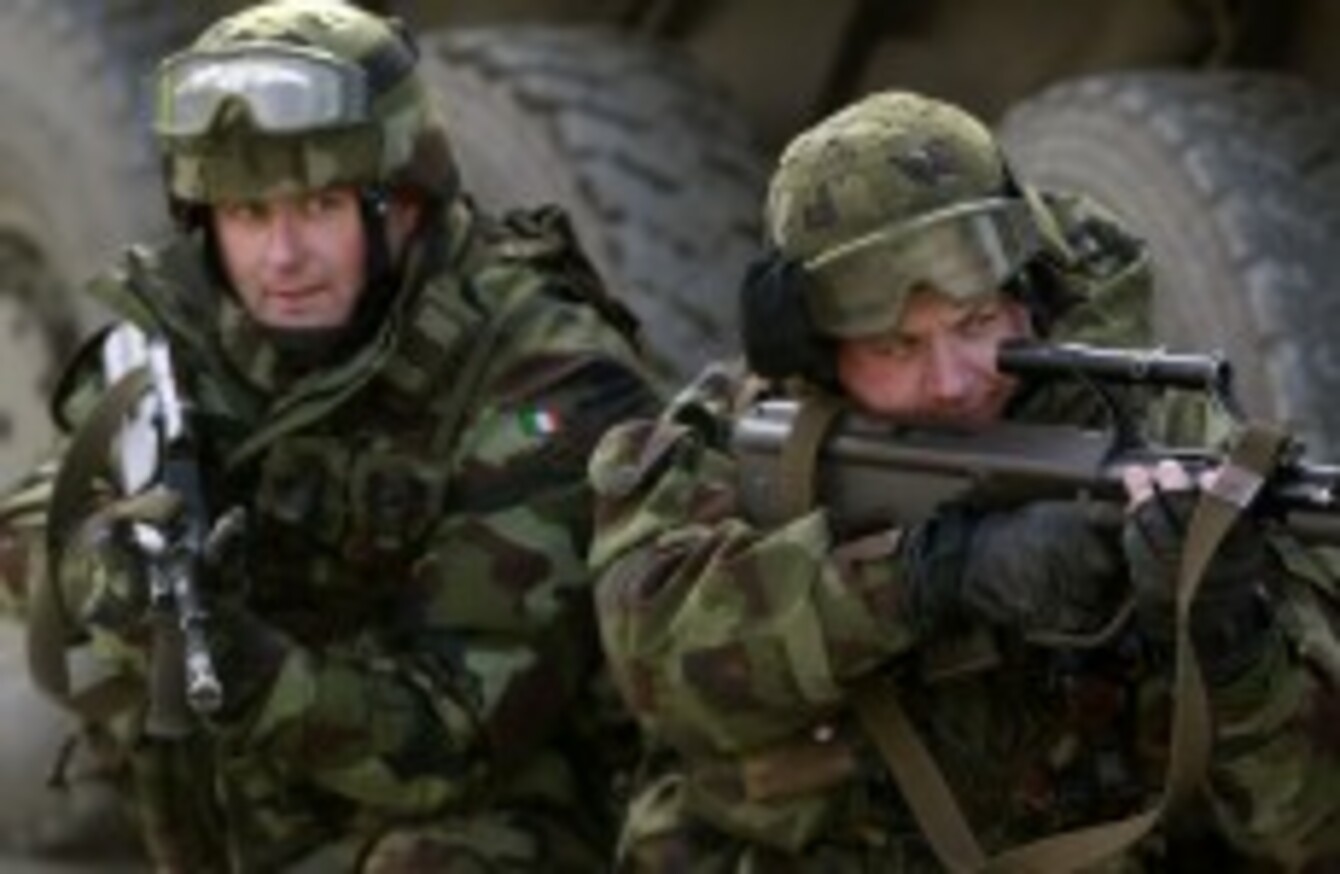 Irish forces on exercises ahead of deployment to the Golan Heights
Irish forces on exercises ahead of deployment to the Golan Heights
AHEAD OF A decision on Ireland's future role in UN peacekeeping in the Golan Heights, Israel has downed a Syrian warplane in the region.
It's the first such incident in three decades and Israel has warned that it would respond "forcefully" if its security is threatened.
Defence Minster Simon Coveny is expected to make an announcement on the plans for Irish peacekeeping troops in the Golan Heights region of Syria shortly before 7pm this evening.
The minster has said that the current UN mission is one of peacekeeping and said that he would not allow Irish troops become involved in a civil war.
The troops there are serving as part of the United Nations Disengagement Observer Force, set up in 1974 to police a ceasefire between Israeli and Syrian troops in the area.
Israel seized 1,200 sq-km of the strategic plateau from Syria during the Six-Day War of 1967, then annexed it in 1981 in a move never recognised by the international community.
Tensions along the Israel-Syria border have increased in recent months as a result of the ongoing civil war in Syria with the Israeli Defense Forces today describing the situation as "highly unstable".
The IDF's shooting down of a Syrian plane is the first time it has done so since 1985.
Defence Minister Moshe Yaalon said the army had brought down "a Syrian fighter plane which approached Israel's sovereign territory on the Golan in a threatening manner, and even crossed the frontier."
A senior military official quoted by Israeli public radio said the Russian-made Sukhoi Su-24 had penetrated some 400m into Israeli air space before being shot down.
The downing came just three weeks after Israel shot down a drone over the Golan as heavy fighting raged on the Syrian-controlled side of the plateau, most of which has been seized by rebels fighting to overthrow President Bashar al-Assad.
The Assad regime has been hitting back with frequent air strikes in a bid to retake control. Some have been close to Israeli positions.
Damascus said the downing of its fighter jet showed Israel's support for the rebels on the Golan, who include Al-Qaeda loyalists who held 45 UN peacekeepers hostage for two weeks before releasing them earlier this month.
It described it as a "flagrant violation" of a UN Security Council resolution passed earlier this year calling for international action against jihadist groups.
Respond 'forcefully' 
But Yaalon warned that Israel would not tolerate any threats to its security and would respond "forcefully".
"We will not allow anyone, whether it is a state actor or a terror organisation, to threaten our security and breach our sovereignty," he said.
#Open journalism No news is bad news Support The Journal

Your contributions will help us continue to deliver the stories that are important to you

Support us now
"We will respond forcefully against any such attempt, whether it is an error or intentional."
Since the uprising against Assad's rule erupted more than three years ago, the Golan has been tense, with a growing number of rockets and mortar rounds hitting the Israeli side of the ceasefire line.
Most of them have been stray, but there have been several incidents of intentional fire, one of which killed an Israeli teenager in June, and Israel has occasionally retaliated.
Some 510 sq-km of the Golan remain under Syrian control, with UN peacekeepers overseeing a buffer zone along the armistice line stretching some 70 km from Lebanon in the north to Jordan in the south.
Last week, the UN Disengagement Observer Force, which monitors the ceasefire, was forced to withdraw hundreds of its peacekeepers to the Israeli-occupied sector after rebels advanced on their positions.
The UN Security Council held a special session on the deteriorating security situation on the Golan, at which members called on the rebels to withdraw from the buffer zone and return peacekeepers' equipment.
The session was convened over concerns for the safety of the UN force after 45 Fijian peacekeepers were held captive for two weeks by Al-Qaeda affiliate Al-Nusra Front. They were eventually released unharmed earlier this month.
Additional reporting by © – AFP 2014