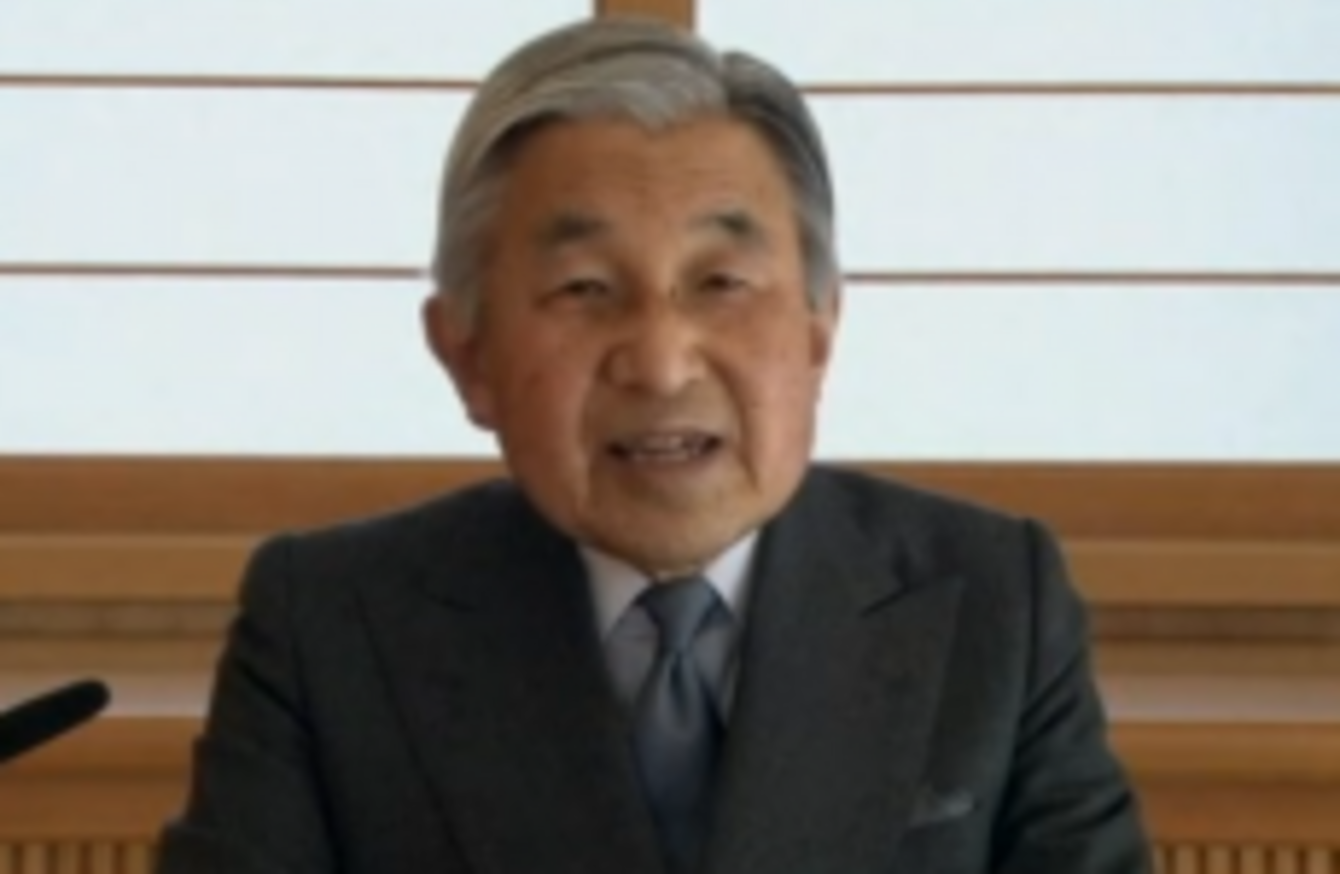 In a rare TV appearance, Japan's Emperor Akihito admitted he was "deeply worried" by the crisis facing his country.
In a rare TV appearance, Japan's Emperor Akihito admitted he was "deeply worried" by the crisis facing his country.
JAPAN'S EMPEROR AKIHITO has made a rare public TV appearance to speak about his concerns over the problems facing his country following the earthquake and tsunami last week.
In a live broadcast – one of only a handful any sitting emperor has ever made – Akihito urged the Japanese public to assist in an all-out rescue effort and described the problems facing the country as "unprecedented in scale".
Akihito spoke as nuclear authorities reported a sudden increase in the level of radiation being emitted at the troubled Fukushima I power plant at around noon, but that they fell back shortly afterward.
Such is the reverence with which the Japanese hold their titular head of state that his image does not even appear on currency, for fear that any banknote or coin on which his face is imprinted could be tarnished or damaged in any way.
The main concern at Fukushima has now turned to reactor number 3, as plant operator Tokyo Electric Power Company (TEPCO) confirmed that the explosion at reactor 3 on Sunday caused some damage to its nuclear containment vessel, though the government says major damage there is unlikely.
Any leak of radioactive material from that reactor would be a major concern, as reactor 3 is the only one at Fukushima to run on a mixture of uranium and plutonium oxide, or 'MOX fuel'.
Both reactors 3 and 1 have both seen the supply of sea water – which is being pumped into the reactors as an emergency measure to keep them cool – exhausted in recent days, with authorities struggling to keep up the supply from the Pacific Ocean.
TEPCO released a photograph suggesting that a significant portion of reactor 4′s outermost containment wall had collapsed.
That plan had been adopted after TEPCO said it believed the storage pool at reactor 4 had begun to boil – a prospect which raised the possibility of exposed nuclear rods reaching a critical temperature.
70 per cent of the nuclear material in reactor 1 has been damaged, the country's nuclear agency said, as a result of the cooling problems that led to the explosion at the containment building there on Saturday. About a third of the nuclear material in reactor 2 has also been damaged.
TEPCO has also continued pouring seawater into reactors 5 and 6, both of which were offline when the earthquake and tsunami hit.
The Irish government has approved a €1m donation to the Red Cross relief efforts in Japan.