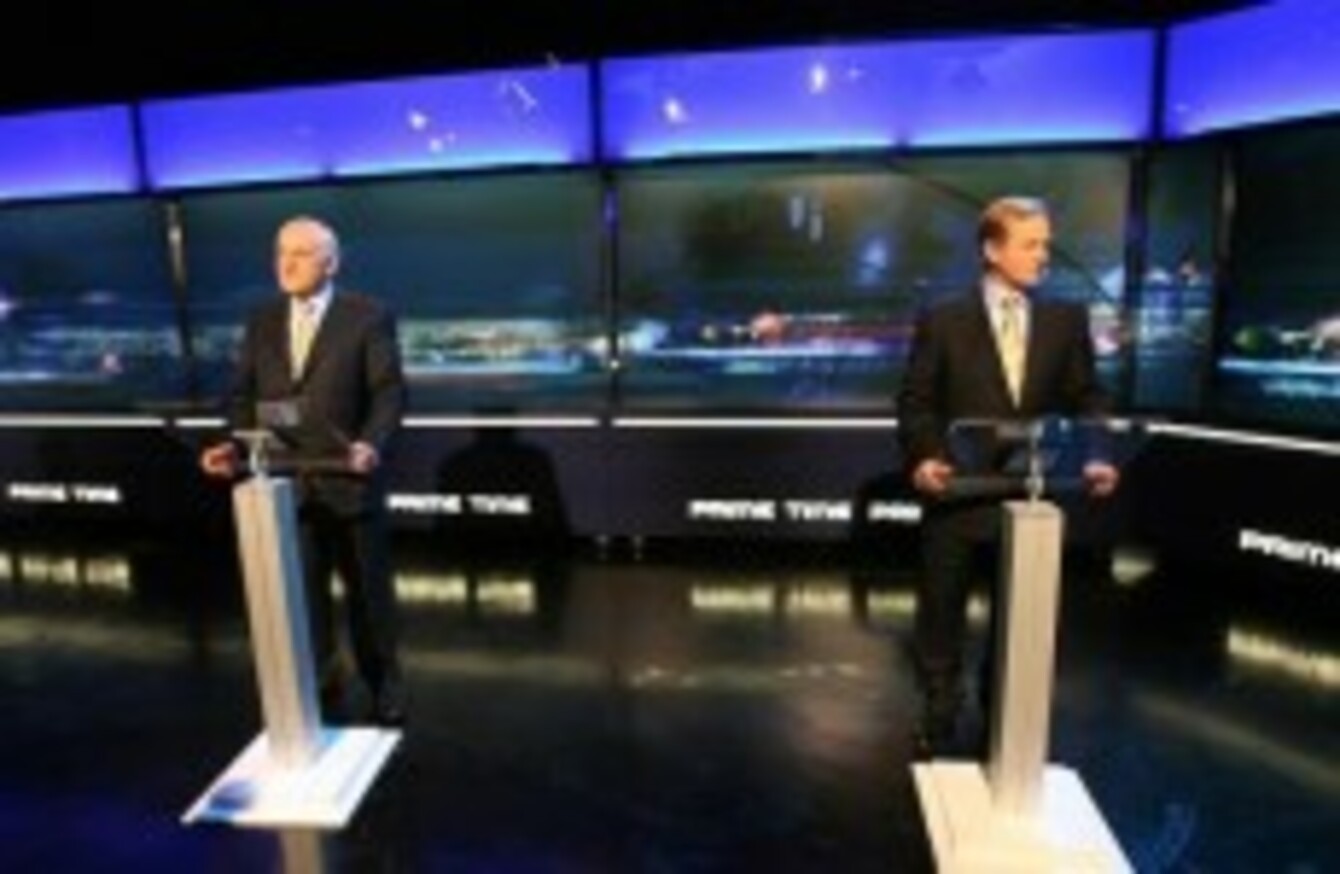 Image from the pre-election debate between FF's Bertie Ahern and FG's Enda Kenny in May 2007.
Image: Julien Behal/PA Wire
Image from the pre-election debate between FF's Bertie Ahern and FG's Enda Kenny in May 2007.
Image: Julien Behal/PA Wire
THE GREEN PARTY HAS joined in the discussion on the leadership election debates, saying it has "no fear of taking on all comers" in an all-party debate.
So, where do the five main parties stand on the issue of a televised debate?
Fianna Fáil
Yesterday, newly-elected leader of Fianna Fáil Micheál Martin said he had written to Eamon Gilmore and Enda Kenny calling for an "extensive and detailed series of debates":
Specifically, I have asked them to agree to hold two debates between us three, one at the start of the campaign and one at the end. In addition there would be a series of one-on-one debates between us and a separate debate in the Irish language.
Labour
Eamon Gilmore last night said he agreed "in principle" to a series of debates as proposed by Martin. The Labour leader said he had been "urging agreement" on a set of debates for almost a year:
It is now urgent that the three parties enter into discussions with each other and with the broadcasters to finalise logistical and other technical issues to allow the debates to proceed.
Fine Gael
Fine Gael leader Enda Kenny has dismissed Martin's proposal for a three-way debate, saying that he believes five parties should be involved.
Kenny said he was happy for this to be conducted in English or Irish, but believes Micheál Martin is not in a position to decide the format of any such debate.
Micheál Martin said afterwards he was amazed Kenny was avoiding a three-way debate.
Green Party
Speaking outside the Dáil today, John Gormley said that efforts to confine a TV debate to Fine Gael, Fianna Fáil and Labour hampered political accountability.
Referring to his own's party's role in government and that played by the PDs, Gormley said:
Several recent elections resulted in people from parties other than these three holding senior government jobs with a direct impact on citizens' daily lives.
He called for a "broad debate – not a narrow personal popularity vote" and said that under the Irish electoral system, any of the five parties could head up government departments.
Sinn Féin
Gerry Adams said today that "citizens need to see an inclusive debate with all leaders of parties represented in Leinster House dealing with all the issues of concern". He said his party had been in communication with the "main broadcast organisations" in the state and has insisted on their inclusion in the main leaders' debate.
Adams accused Martin of clearly wanting to exclude Sinn Féin, and said "the politics of exclusion will not facilitate the open and informed debate that is in the interest of all citizens".